November 18, 2013
This, friends, is my FAVORITE soup. Perhaps of all time. During the cold months I make it every other week, oscillating between Team Farmer's Seriously Healthy 4-Bean Chili on the off-weeks.
This Lemon Chicken Rice Soup is hearty, and yummy, and lemony perfect.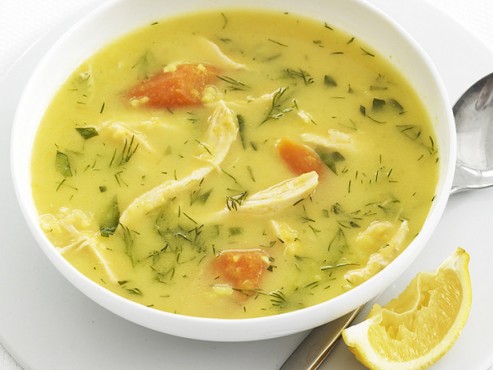 Ingredients:
6 cups chicken broth
1 chicken bouillon cube
1/2 cup rice, uncooked
1/3 cup carrot, diced
1/2 cup celery, chopped
1/4 cup onion, finely chopped
1 cup chicken, cubed and cooked
2 tablespoons butter
2 tablespoons flour
3 eggs
3 tablespoons lemon juice, or more to taste
salt and pepper
lemon slice (optional)
Dill, fresh, chopped.
*I regularly double this recipe so we can enjoy it for the week.  Add 1 cup rice, a whole head of chopped celery, similar amount of sliced carrots, and I usually juice 2 full lemons for the doubled recipe (but we like it REALLY lemon-y).
Directions:
1  In a large saucepan, combine chicken broth, bouillon cube, rice, carrots, celery and onion.
2  Bring to a boil.
3  Reduce heat, cover and simmer 20 minutes or until rice and vegetables are tender.
4  Stir in chicken.
5  Remove from heat.
6  Then, in a small saucepan, melt butter and stir in flour until smooth.
7  Gradually add 2 cups of broth mixture, cook until slightly thickened, stirring constantly.
8  In a small bowl, beat the eggs until frothy.
9  Gradually beat lemon juice and 2 cups thickened broth into the large pot of soup.
10  Very slowly add egg mixture into the soup, stirring constantly. Do not do this if your soup is boiling or very hot or your eggs will split. You may want to take the soup off the burner for a few minutes before you add the eggs.
11  Heat gently until soup thickens enough to coat a spoon– do not boil!
12  Add salt and pepper to taste, and the dill.  Garnish with lemon.
This recipe courtesy of Food.com, but I've tweaked it.  Thanks!!
Share this post
You might like...
Category: Cookin'
6 Comments »
Heidi Farmer

on February 28, 2013 11:21 pm

This was absolutely perfect! Making another batch tomorrow – double the recipe for extra leftovers – it reheats well.

---

Celeste Won

on November 19, 2013 8:33 pm

Hey Heidi! I made this tonight and Nicholas had 3 bowls! We all loved how comforting it tasted. Hope you all are healthy and happy-Celeste

---

Heidi Farmer

on November 19, 2013 9:28 pm

Celeste – so great to hear your family enjoyed it! Makes me happy and smiley. Love to you all!

---

on November 24, 2013 1:47 am

This sounds delish. It turned wintery today. .. I will be heading to the store for the ingredients in the morning. Thanks for sharing.

---

Christi

on January 7, 2014 9:53 pm

what are the eggs for? Are the eggs necessary?

---

Heidi Farmer

on January 8, 2014 8:55 am

You could try without, but it helps to thicken the soup and I would probably miss them if left out. If you have an allergy, go ahead and go without though. This soup is too good to miss!

---
Leave Us Some Comment-Love