July 2, 2014

Written by Marykate O'Malley, mother of three wonderful children, Gladwyne PA
Hello Friends!! I received a lot of questions about Hershey Park lately and so re-posting our guide during the summer park season! We have been having a gorgeous summer on the East Coast – mother nature is making up for our winter. I hope you all are having the same!
*************************************
Funny enough, I am not a big Amusement Park person. In fact I kind of dislike them – the crowds, they always feel dirty, the crowds, feel dirty. I have repressed this emotion, along with the ones about not liking things with characters on them, and wanting to dress my children and watching Teen Beach Movie for the 50th time this summer and starting to like the songs. All those things Moms things. This year we hit Hershey Park on Opening Day, and then Dutch Wonderland, followed by Disney and then again Hershey Park with some very very dear friends from CT. Repression – a very effective parenting technique.
All of that aside, I truly love Disney and think it is simply spectacular. And Hershey, PA  is absolutely adorable. Let me start by telling you that all the street lights in town are Hershey kiss shaped with bountiful baskets of flowers hanging by every one. And everywhere you look you are reminded that you are in the "sweetest place on earth". My youngest said to me, "Mom, so we have been to the happiest place on earth (Disney) and the sweetest place on earth (Hershey). Now we need to go to the most beautiful place on earth." She is a high achiever. I suggested Philadelphia, she wasn't buying it.
As soon as we turned on Main Street my kids started squealing with the decorative pictures of smiling Reece Pieces and Hershey Bars lining the street and the large towers of the chocolate factory with Hershey written down the center almost like twin lighthouses beckoning, letting you know you have arrived.
The park is about an hour's drive from us and so on our first excursion we were up and back in one day with Gladwyne friends. This time we decided to stay overnight so we could spend more time with our out of town visitors.
Here is my Must Do Hershey Park:
Logistics – Where to Stay
We stayed at the Hershey Lodge. The service at the hotel was wonderful, and a good lesson for my crew – I love pointing out those little business nuggets to get them thinking about customer service and client experiences. Do they care? Probably not, but I enjoy these little conversations (with myself). They have characters in the Lobby and offer a packed schedule with activities from a nature reserve visiting with live animals to mini golf, indoor and outdoor pools, tennis courts and smore's roasts. In hindsight I wish we did 2 nights to have a day at the hotel.
My guys love the Hershey kiss theme carried throughout the hotel. Kisses on the wallpaper in the bathroom, on the bedding, chocolate shampoos and soaps and Hershey kisses left on your pillow at night. It seems every time you turn around in Hershey someone is handing you a piece of candy – exiting movies, upon arrival at the hotel, leaving the hotel, on tours – it felt like Halloween.
There are many hotels to choose from – Hershey has the Hershey Lodge and the Hershey Hotel and there are plenty of other options in the area.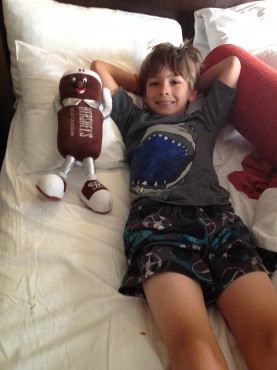 Lounging at the Lodge, Hershey style (aka chocolate for breakfast lunch and dinner)
Activities – What to Do
The Park

, of course. Hershey Park, as any good amusement park, is very well staffed. I like to ask directions and questions (I am one of those people) and there are employees everywhere. We saw a lost child upon arrival being shuttled along by an empathetic park employee. We later spotted a lost child and immediately found a park employee to pass her along to and our friend stopped a child from exiting a play area without Mom. If you stay at a Hershey Hotel you can enter the park an hour before opening to avoid lines and wait times. There is a water park. We spent half the day in the water park and the other half in the regular one. You could easily devote one entire day to each section.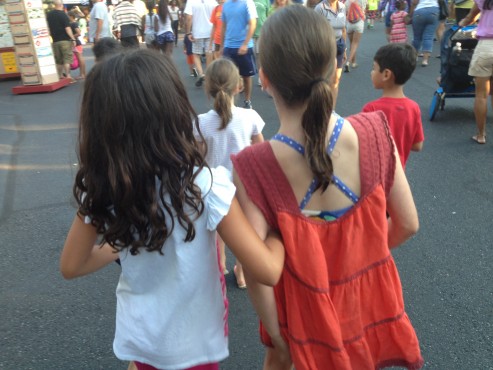 Best friends since 3
Two peas in a pod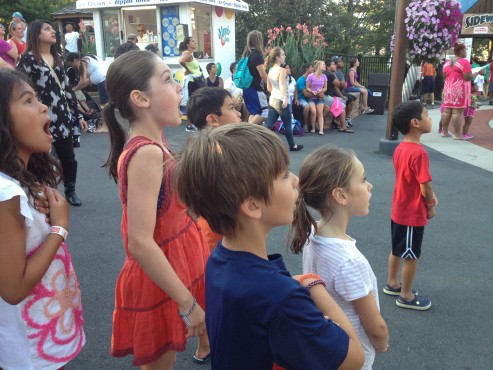 My crew thinks roller coaster are the scariest things imaginable. Love the facial expressions while watching a ride.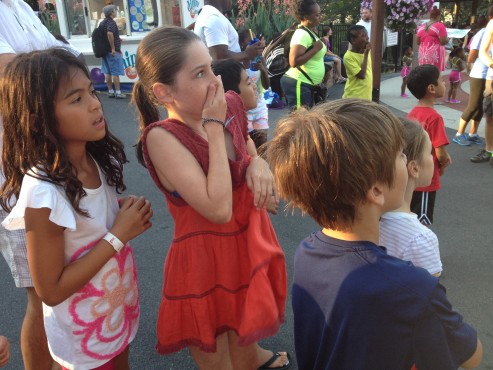 And another. By the way, my oldest is wearing my shirt because hers  was wet. My suit kind of looked like a top so it was fine (repression).
Hershey Park is also very pretty which may sound funny to say about an amusement park. As you enter the park there is a winding road that leads you to a Tudor type village with shops and restaurants. It feels happy and like Disney is clean and simply pretty – lots of flower beds and stone paths.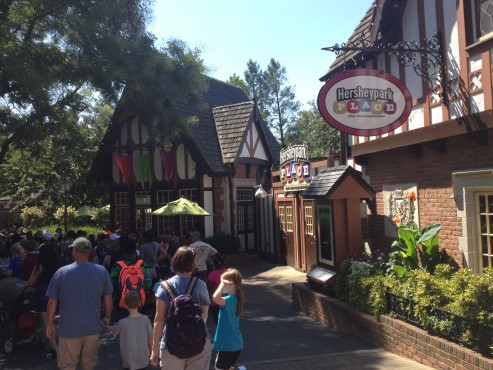 Hershey's Chocolate World

– this was a highlight for us. There is a hands on experience where you actually create your own Hershey bar from conception to completion. It was educational in the sense that we got to experience firsthand what goes into making candy. We first dressed the part, designed our candy bar, watched it go through the factory process and saw how candy is made. And finally we designed the branding and packaging for our bar. A must do!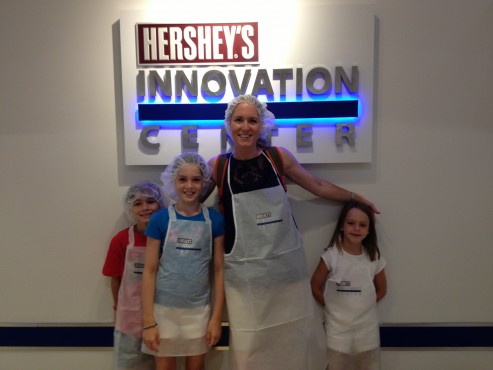 Choco fun!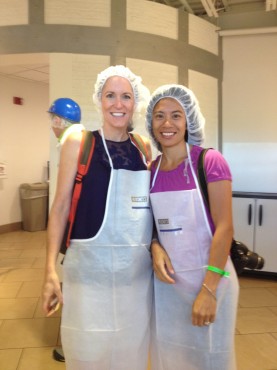 Love this girl.
Factory Museum in 4D

– My son was begging me to see an interactive movie that brings the Hershey characters to life. I am thinking – really? Talking candy bars on an adventure – please save me. But we did and they loved. My son said it was his favorite part (of the entire weekend!!). It was in 4D and involved water spurting from the ceiling and creepy thing tickling your legs and talking candy – all the things kids love.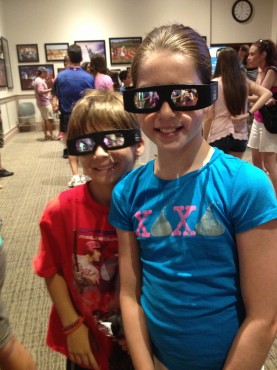 The Hershey Gardens

are beautiful and a nice change in pace. There is a children's garden that my crew loved exploring as well as a Butterfly house. We could have spent more time here as well as it was full of hidden fun treasures like mazes and sculptures.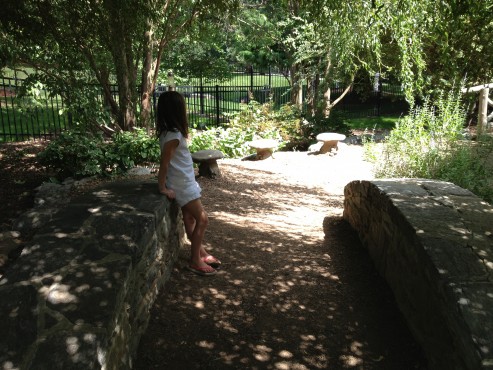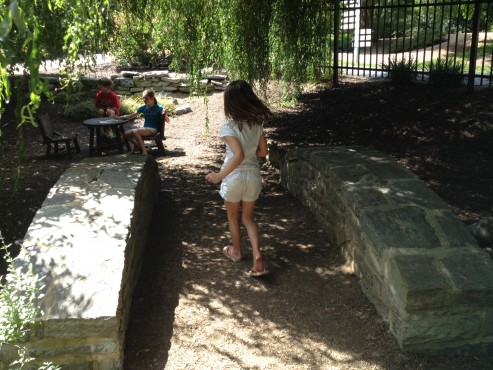 I was thinking with all our amusement parking this spring and summer that the rules we have for these excursions also apply to life:
Hold hands
Stick together
Wear sunscreen
Stop for ice cream
Have fun
And just enjoy the ride!
For More Information, check out Hershey Park. There are activities and celebrations year round!
Share this post
You might like...
Category: Activities, Brilliant, Disney, Family Trippin', For Kids, For Moms, Girl Time, Momzone, Outdoor, Outdoor Space, Random and Fun, Travel
3 Comments »
on July 2, 2014 7:24 am

Perfect timing! We will be there in 30 days!!

---

Ann

on July 27, 2014 5:38 pm

While I enjoyed the park on the 26th, the parking experience left me bewildered.
You're correct about it's being fun. But please inform people that there are no smaller shuttles from the farthest ends of the parking areas to get you to the main shuttle pick up areas. I have a mobility problem and trekking from the arena lot to that bridge and down the steps was daunting. Then to reverse it to eat lunch with family. They have no picnic facilities across the bridge, so people set up on the small grassy area or tailgated; then you begin the trek back. They should have small shuttle to accommodate seniors; handicapped and people with small children. I could not even be dropped off closer to the park because the parking lot attendants actually stood in the left lane and would not allow cars to pass, thereby having to park at the arena. So, as much fun as this park is, I'm done.

---

Marykate

on July 29, 2014 7:18 am

Ann I am so sorry to hear this was your experience. When we went we didn't find parking or getting around the park an issue however it could have been the time of year that we went. Thank you for sharing your feedback!!! I appreciate you taking the time to post this.

---
Leave Us Some Comment-Love