July 26, 2013
Team Farmer headed to VERY beautiful Mackinac Island (pronounced "Mackinaw" for all you non-Michiganders).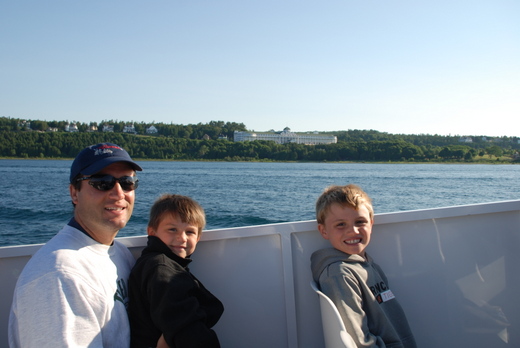 We rode the ferry from St. Ignace, just over the bridge into the U.P. (that's the Upper Peninsula).  If you go, stay at the Best Western Harbour Pointe in St. Ignace.  2 pools, free breakfast, 8 acres on the Lake, wonderful rooms.  I love this place!
Oh, and eat at Jose's Cantina.  Okay, I'll be quiet now.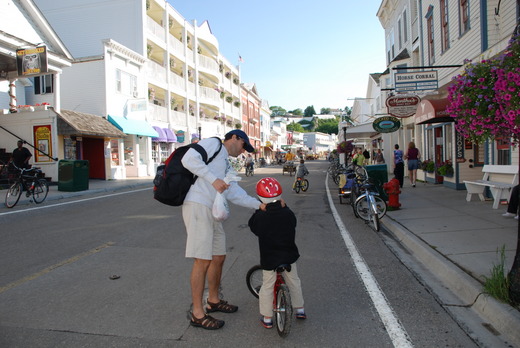 This is downtown Mackinac – all autos are outlawed, so it's just bikes and horses.  For real – even FedEx/UPS is a horse-drawn wagon.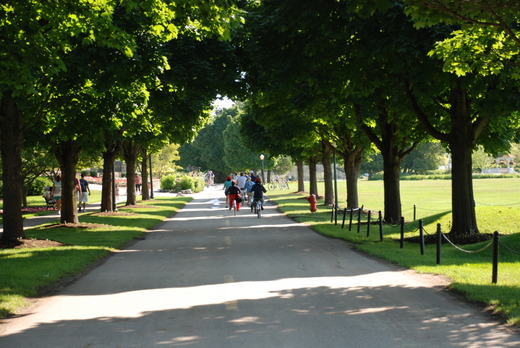 This "highway" stretches for 8 miles all around the island.  It's beautiful.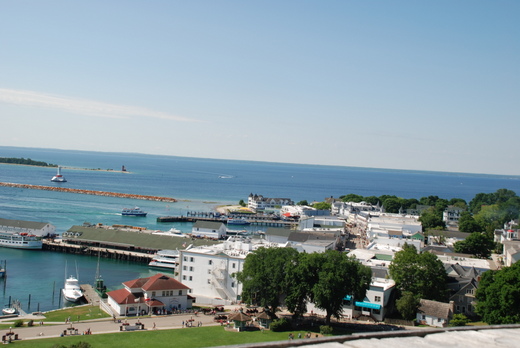 We are now up at Fort Mackinac at the top of the island.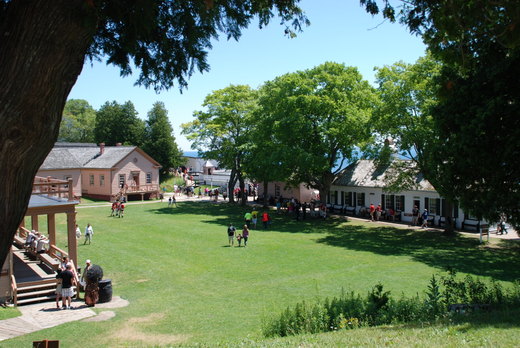 The fort was moved to the island in 1780, and saw action when the British attacked during the War of 1812.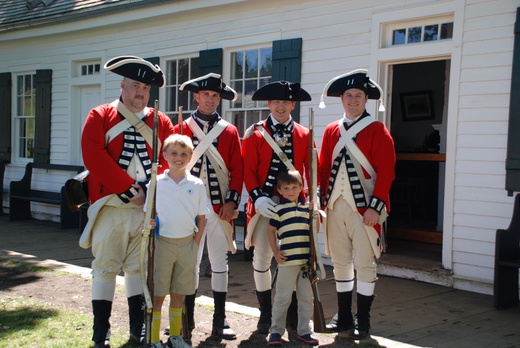 These are British soldiers posing with my boys.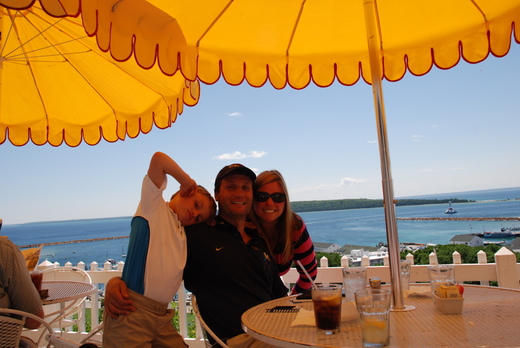 Ha!  The only photo I'm in – proof I was there…  The Tea Room at the fort.  The view was magnificent and so was the weather.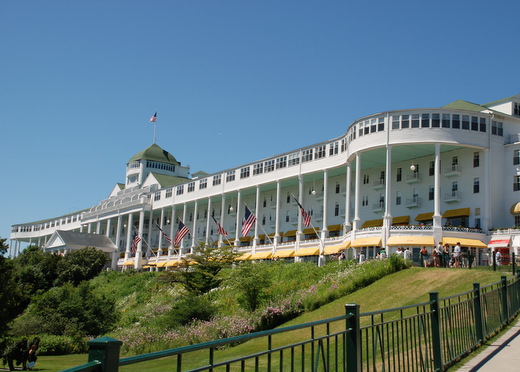 Then we walked to our hotel, The Grand Hotel, where we stayed one (1) night.  This was a splurge and it was worth it.  But it will probably be 10 years or so until we do it again.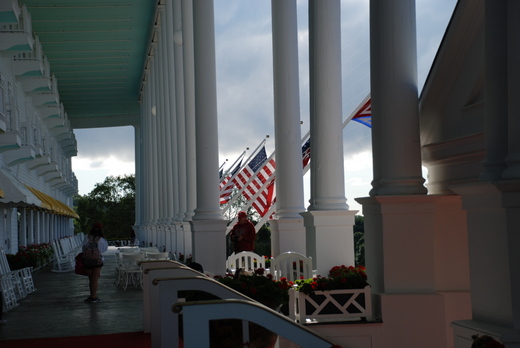 The hotel boasts the longest porch of any hotel.  Someday the Running Man and I will return and sit and relax on those rocking chairs.  The boys were not, nor are they ever, interested in sitting.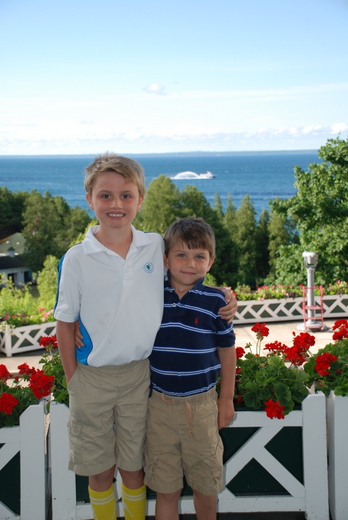 My boys.
They were a little peeved to find that I had only packed them "handsome shirts" as we call them.  Please don't mind the yellow lacrosse socks on Sloan – a girl can try…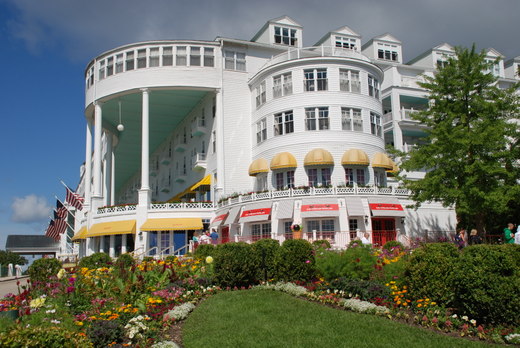 See the red awnings?  That's the *NEW* Sadie's Ice Cream shop.  I may or may not have indulged there…  Totally worth the trek up the hill for ice cream!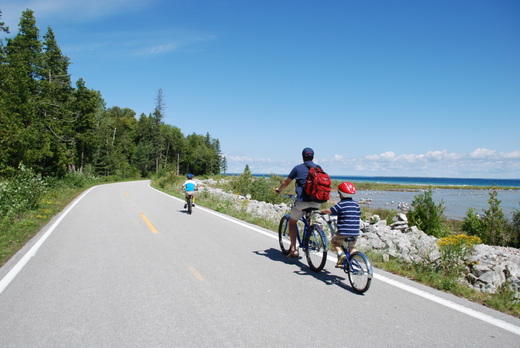 Then we hit the 8-mile highway around the island on our bikes.  We rented a tag-along for Boden (and we were glad we did!).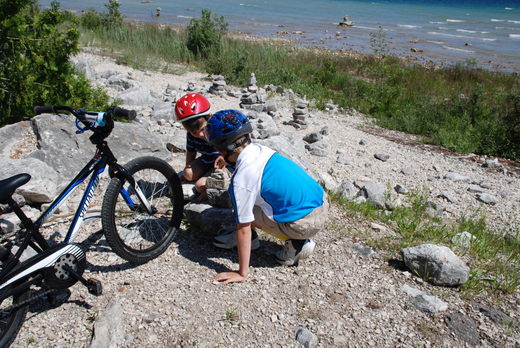 Stopping to build a cairn.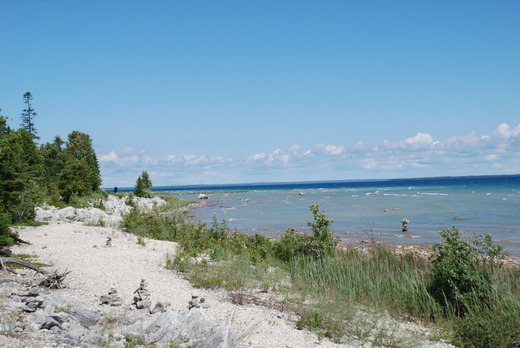 The views!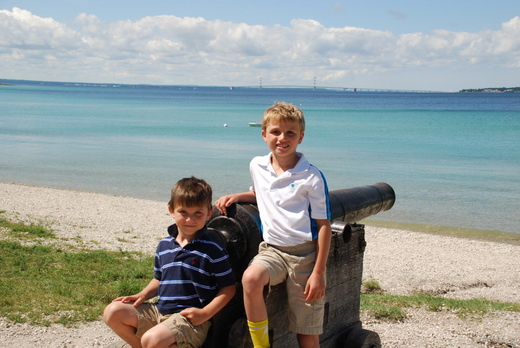 My boys in front of the canon that did NOT defend us against the British in the War of 1812.  Boden is so confused that we are best friends with them now.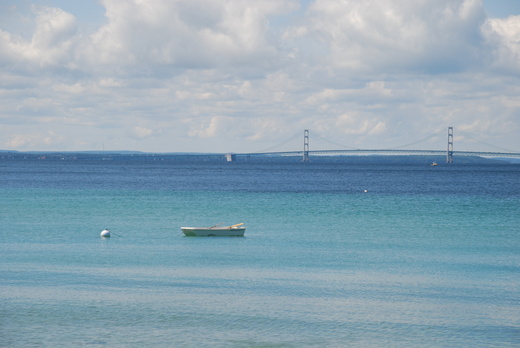 The beauty of "Big Mac", or the Mackinac Bridge in the background.
After all these photos, there are none of the fudge that was also consumed here.  Here's the key – you need to "test" every kind through the 20 or so fudge stores on the island before you commit to your purchase.  So for every pound you buy, you've "tested" about 5….
So worth it!
Friends, I highly recommend a visit here.  Plan your stay at www.mackinacisland.org.  We can't wait to go back!

Share this post
You might like...
Category: Family Trippin', Random and Fun
5 Comments »
on July 26, 2013 6:18 pm

Mackinack Island fudge (minus any nuts) is so creamy, it is a perfectly braces-friendly treat. I lived in MI for six wonderful years but never got the chance for a UP trip – it's definitely on my to-do list. The opportunity to ride a bike in a cool climate sounds so heavenly now that I live in a desert! Thanks for sharing the fabulous photos (and the yellow socks were a great try).

---

Rachel C

on July 28, 2013 10:56 am

We've been wanting to visit the island too, but I hate getting a hotel without a personal recommendation so Thank You! Anyone else have a great hotel recommendation?

---

Heidi farmer

on July 28, 2013 11:41 am

We've also stayed at the Iroquois, which is lovely and right downtown. There are also tons of B & Bs but some don't allow children ( and we always have ours). We found a bed-and -breakfast special rate for the Grand, which made it an option for us and I was thrilled to be here. We usually only stay one night on the island, staying the previous night in St Ignace (at the Best Western!) and then take an early morning ferry the next morning, then take a late ferry back the following day. I can't wait to do it all again!

---

Marykate

on July 29, 2013 6:57 am

I have always wanted to go here and visit the Grand Hotel – looks grand! Love the pics of the boys! XO

---

on July 29, 2013 8:46 am

We almost took the girls there this summer! Looks like you had a great time!! Still hope to make it up there in the next few years! I haven't been since I was a child!

---
Leave Us Some Comment-Love