July 13, 2015
Written by Marykate O'Malley, mother of three wonderful children, Gladwyne PA 
You could say I am old fashioned. You could say that I am slowing becoming my Nana, skipping middle age and the retirement years altogether and moving directly towards the golden age. An 80 year old trapped in a spry young 40 year old body. I like to make tea sandwiches and serve them with fancy toothpicks and lemonade. I watch little TV except for an occasional program. I don't like to drive at night, and have on occasion skipped an errand because, well, it was dark.
I call children dear, and sweetie. And feel like children visiting our home should have a sweet. I talk to babies in the Supermarket check out lines and look at mothers with young children wistfully, with longing for my own at that age. I like little girls in smocked dresses and braids. And little boys with fussy shirts and shortalls. I believe in the importance of good manners, and Sunday night dinners. I love stationary and hand written notes. And tell my children, "when I was your age."
My grandmother, Nana, went to daily mass at St. Colman's Church, the church where her parents were married, and she was baptized. She sang every hymn, recited every verse and line, and truly and deeply lived her faith. Some of my favorite memories were of going to mass with her. And I would walk her from the car up the sidewalk, and long ramp to enter the handicap entrance, and into the vestibule at the front of the church. We would walk slowly, deliberately, every step calculated. These walks would force me to slow my natural quick stride to a hum. And what I found was that when life was taken slowly, and in bite size pieces, everything shifts. You see the light dancing on the leaves of the elm trees, you see how the wind moves the branches, and notice the robin landing on a branch.
I would take her hand in mine, and trace the translucent skin and veins like tributaries up her arm, the same arms that held me, held my mother. She would clutch my hand, and I would feel the weight of her leaning into me. I miss the weight of her. For she carried me.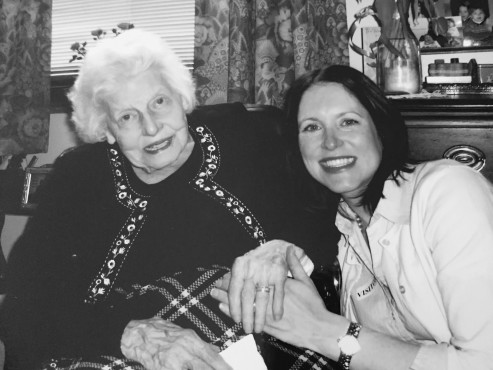 Me and Nana, Easter 2007, pregnant with her 3rd great grandbaby, my Amanda Rose! 
Share this post
You might like...
Category: Random and Fun
Tags: children, grandmother, mommy blog, mommy life, nana, parenting |
2 Comments »
Marykate

on July 23, 2015 8:24 pm

yep great post!! ily mom

-maggie

---

Marykate

on July 30, 2015 10:06 pm

ILY Maggie Moo!! God bless you, her namesake! You are a treasure my darling girl.

---
Leave Us Some Comment-Love