July 21, 2014
Written by Marykate O'Malley, mother of three wonderful children, Gladwyne, PA
I have decided that life as a grown up is entirely overrated. As a child it was so alluring  – stay up as late as you want? eat whatever you want? watch whatever you want? But as an adult all I want to do is eat a well balanced dinner, watch a little of the evening news and go to bed by 10 p.m. At the latest.
What I want to be is a kid. I want someone asking me if I prefer crust or no crust, cut lengthwise or diagonal, straw or no straw. I want someone else to think about the details – sunscreen, reapplying sunscreen, returning the library books and sending in forms, remembering the water bottles and the snacks, and the and the and the and the. I want someone else to be the bad guy – no you cannot play a video game that is rated T or M and involves communicating with strangers even though you are 8 turning 9 and "can handle it "(your words not mine). No you have to get to bed, you have to eat a vegetable, wear a helmet, tie your shoes, you have to, you have to, you have to.
I want to be bored. And then – I want to then tell my Mom that I am bored. And feel sorry for myself that I am so bored even though I just had a sleepover with my BFF, went to the pool, and then out for ice cream followed by riding bikes with friends.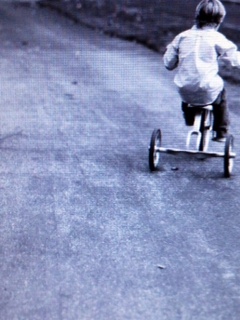 I want to be as well rounded as my children and play two instruments, learn espanol, take tennis and archery lessons at summer camp. I want to do some of their art projects and have someone make a fuss over it and hang in our family "gallery". I want to be tucked in at night and sung lullabies and told how special I am and there has never ever been anyone born just like me and what a gift that is to the world. I want to say when I grow up I am going to be …. and believe it.
Yesterday I saw a brother and sister being pulled by their mother in a red Radio Flyer wagon. They were facing each other eating lollipops. It was a glorious day in July – the temperature hovering in the high 70's, no humidity, a gentle breeze. She was looking forward, smiling, knowing the gift she was giving them by a simple wagon ride. Life lived forward, and backwards and sometimes remembering to face where you are in all it's simple, eloquent, and ordinary beauty knowing you will never pass this way again.
Share this post
You might like...
Category: Brilliant, For Kids, For Moms, For The Home, Mission Control, Momzone, Outdoor, Random and Fun, Wondermom Resources
3 Comments »
Anne Schenendorf

on July 22, 2014 6:35 am

I love this perspective MaryKate!!!! As an adult, living life in reverse, we finally see what's important. How lucky they are to have such a spectacular Mom!!!!! Love you!!!!

---

on July 24, 2014 5:46 am

Love this!! And p.s. You are special. And no one has ever been born just like you. And you are a gift to the world, and to me!! It's been a joy to finally meet you in real life!!

---

Marykate

on July 24, 2014 11:00 pm

So true Annie!! Thank you kind, kind Cathy. It was so so so so so wonderful to meet you and your beautiful family!!

---
Leave Us Some Comment-Love