October 14, 2010
I've found some great eco-friendly things that help me pack lunches.
My thinking is a little investment now will (hopefully!) pay off later.
Luckily my little guys have been religious about bringing them home.
(hallelujah!)
1) Food Storage containers from yubo.
Back when we did the Back-to-School Week of Giveaways I was sent a yubo lunchbox.  I had already purchased lunchboxes for my adorables, but I was quick to harvest the containers out of them.
Then I went to my computer and ordered more.
I have 3 sandwich containers, 2 medium containers and 2 little rounds.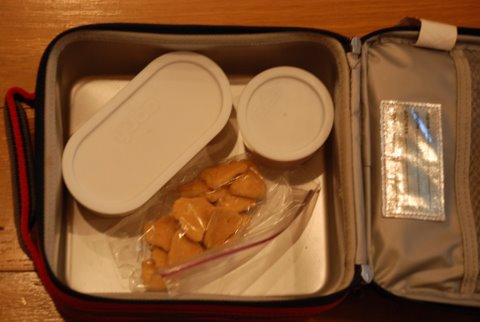 This is a leftover mac-n-cheese lunch with cherry tomatoes on the side.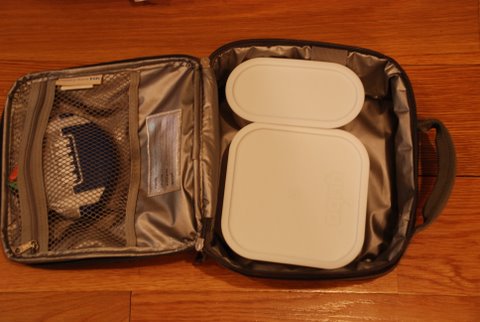 This is a PB&J sandwich and carrots lunch.  Oops – forgot to add the milks for the photo.
2. Jaq Jaq Bird Eco-friendly Perfect Pouch Storage Bag, Airplane, Small, 2 Pack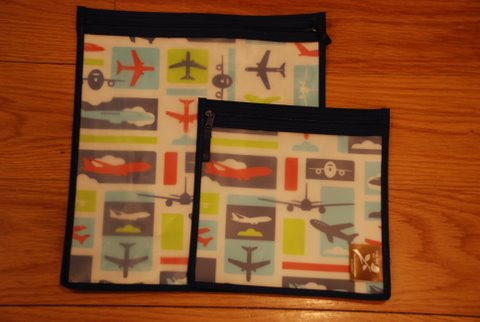 These reusable vinyl storage bags are perfect for snacks, feeding time, etc, etc, etc.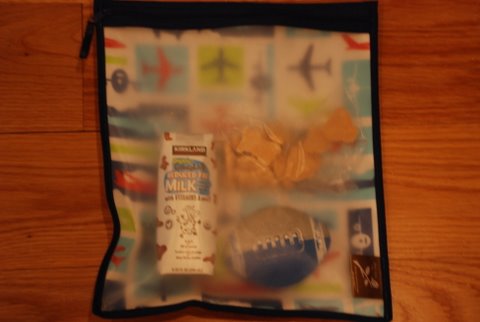 I use the large pouch for the daily snack I need to pack for my eldest.  It fits a milk, snack and ice pack.  The small pouch will be great for toys and other little snacks.
For $12, you get 2 larges or 2 smalls.
Remember – my adorables are boys, so there are other girlie designs available too!
3. Munchkin Reusable Ice Packs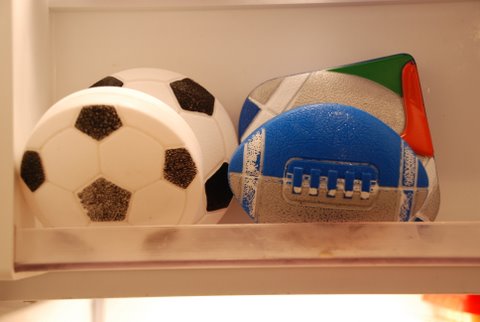 I bought these 3 years ago, and they DO NOT LEAK, tear, wear out!  Regrettably, I can't find them so you can enjoy them too.
I did find Basketballs: Super-Sized
and Go Diego Go (it shows only 1 left): Go Diego Go Reusable Ice Pack – Nickelodeon Diego Reusable Ice Pack
Did Munchkin stop making these??  I've scoured their website to no avail!  But they are GREAT, if you can find them.
______________________________________________
So what have you found?  What do you use?
Thanks!!

Share this post
You might like...
Category: Gear
Tags: lunchbox gear, tips for packing lunches |
8 Comments »
on October 14, 2010 9:10 am

We are big fans of Laptop Lunches! My kids eat lunch pretty early in the day, so I don't need to keep their lunches super-chilled (plus, they don't have access to a microwave), so I just use the colds packs from the Target dollar spot. They are thin enough to easily fit inside the insulated bag, and I can fit two inside if I need to. I have seen the Munchkin Ice Packs at W@l-M@rt. I like your idea for packing a snack! I have to send a snack for my oldest, and the teacher prefers if it's packed separately from lunch.

---

Heidi Farmer

on October 14, 2010 9:41 am

The Laptop Lunches is pretty innovative – I haven't seen them before! Thanks for sharing!

---

on October 14, 2010 11:19 am

I use those Munchkins, too, and I think I got them at Target only 1-2 years ago. But I also still have those flat blue Medela icepacks from my breast pump YEARS ago. They're so flat that they don't take up much room in our EasyLunchboxes.

---

Shelley

on October 14, 2010 11:37 am

Pottery Barn Kids offers these cute butterfly/flower and soccerball/baseball options:
http://www.potterybarnkids.com/products/cold-packs/?pkey=dshop-all-gear-accessories

---

on October 14, 2010 1:16 pm

Those look great! We are big fans of re-usable lunch bags and snack bags and found some that work really well, too. Plus, I love the patterns & designs: http://www.creativetoyshop.com/lunchskins.html

---

Heidi Farmer

on October 14, 2010 1:25 pm

These look great! Love the designs…

---

elisssabeth

on November 17, 2010 7:27 am

http://www.munchkin.com/products/detail.html?section=pr…ries&ID=10012&pID=236

---

Heidi Farmer

on November 17, 2010 7:29 am

THANK You!!

---
Leave Us Some Comment-Love