May 19, 2010
I have 2 goals for my elder adorable this summer:
1) Lose the floaties and really swim
2) Lose the training wheels and really bike.
To bone up on ideas for the latter, I've been deluged with REALLY good tried-and-true advice from parents.
So here we go….
Skip the Tricycle
The first bit of advice I heard repeatedly was to skip the tricycle and instead opt for a pedal-less scoot bike around age 2.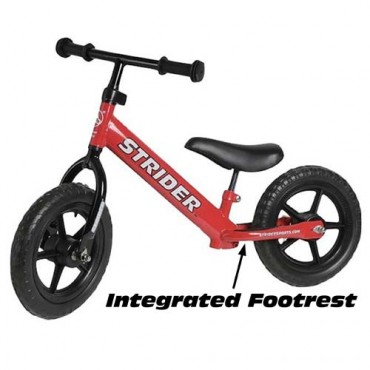 This is the Strider PreBike
($99 from Amazon) that indoctrinates the concept of balance early. The adorables just scoot around balancing with their feet.  Then when they are older, you move them to a 2-wheel bike and they already have the balance thing mastered.  Brilliant, eh?
Save Your Back:
Dear Reader Sarah emailed me with this a couple weeks ago as it proved VERY useful with her son.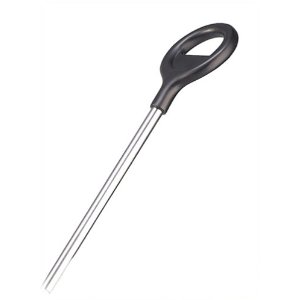 This is the Kettler Pushbar 4 Position Pushbar
($25) you attach to the back of your adorable's bike so you can balance them as they get the hang of things.
For a little more, you might want to try this E-ZBar
($37) that provides a little more control for you and a squeeze brake to really slow things down fast.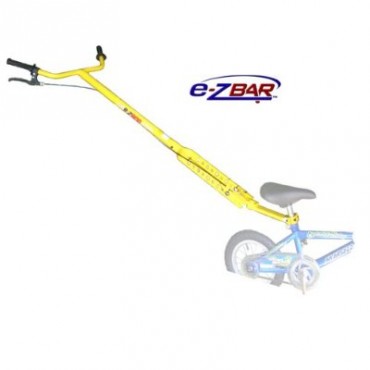 Embrace the LifeSaver:
Meet the Gyrobike: a wheel ($99) that you attach to your adorable's existing bike. There's actually a gyroscope inside this Gyrowheel.  The internally powered gyroscope creates a force – the physics principle is called "gyroscopic precession." It essentially helps simulate the stability of high speed riding at extremely low speeds.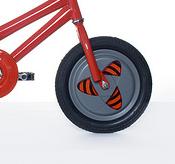 Friends, I held one of these at Toy Fair and was in AWE – it would not tip.  It is VERY cool and will certainly teach your adorables the concept of balance.
I know its a little hefty on price, but perhaps if you have a very large family or neighborhood who could all pitch in for the cost and pass it around.  When you hold it and see all the science going on inside, you'll understand the price tag.  Maybe a neighborhood rental program??
Many thanks to the following people who weighed in: Sarah Donahue, Dr. Jim Taylor, Allison Mercer, Brian Badura, Jennifer Faulkner, Kara Thom, Lisa Warren, Jun-Nicole Matsushita, Vik Khanna, Julianne Applegate, Joe Wells, Richard Masoner, Chelsea Gladden and Kat Eden.

Share this post
You might like...
Category: Activities, Gear
Tags: Gyrowheel, Riding a 2 Wheeler, Srider PreBike |
9 Comments »
Lisa

on May 19, 2010 12:38 pm

I am a true believer in these 'pedal-less' bikes as it is a great way to teach a child balance without any danger! My parents bought one for my then 3 year old boy who loved it! Couldn't get him off the bike and over time, we noticed he started riding it down tiny hills with his feet out to the side squealing "cowabunga"!! We bought him his first 'big-boy' bike for his 4th birthday with training wheels but we took them off after 2 months and he has been riding a 2 wheeler ever since!!!

---

on May 19, 2010 2:05 pm

A less expensive alternative is the plastic motorcycle by step 2 (i think) toys? Our son rides it all over the backyard and it promotes the same balance. Also, there is a mommy discount site that just had similiar bikes at half off. I think they were around $60.

---

on May 19, 2010 3:59 pm

Another option is to purchase a 2 wheeler and remove the pedals completely. Then you have a bike that serves as a balance bike and a pedal bike later when you re-attach them. A bike shop can remove pedals completely from a child's bike for you if you don't have the tools to do it at home. This plan is my preference because I have to buy 2 at once, I can't hand anything down!

---

Heidi Farmer

on May 19, 2010 4:05 pm

Oh, good idea!

---

on May 19, 2010 11:27 pm

Sounds like some good ideas for my little ones.

---

Sarah

on May 20, 2010 11:36 am

well worth the $ for the joy it brings!!

---

Melissa

on May 20, 2010 12:11 pm

Wow, I really like this Heidi, was in the market for a new bike, looks like I found the perfect one- thank you!

---

on May 23, 2010 9:28 am

This is very helpful as I am just started to think about a tricycle for my 2 year old!

---

on June 3, 2010 5:43 pm

We love the running bike. My son rode for miles. Once he was ready for the pedal bike he transitioned in one day- no training wheels. His balance is so strong he does stunts and as a preschooler is teaching the elementary kids how to ride.

---
Leave Us Some Comment-Love