April 22, 2014
Written by Marykate O'Malley, mother of three wonderful children, Gladwyne PA
The thing with the environment is that it can seem like such a big problem you don't know where to start. The Great Pacific Garbage patch- what do you do with that? The pollutants in streams and oceans? I find it hard to know what fish is okay to eat anymore. There is a shortage of bees? Really? Here is my take on the environment – it is big but if we all do something small, all the small things become something big. Together we can make a difference. I tell my children "many hands make light work". If all of make a commitment to do something small starting this Earth Day – what a huge impact we can make!
You see this beautiful mother earth is a gift freely given to us. And this gift I want to lovingly pass along to my children. We talk about doing things that are "kind to the earth" and it is easy. You see litter – pick it up and dispose of it. Take the extra trip to the recycling trash can. It amazes me that my recycling is twice the size of my regular trash, maybe three times some weeks. I find that like most things that are the right thing to do – it is better for us anyway. Recycling and living an energy efficient life is usually a cost savings. You don't need to install solar panels on your house (although that is awesome if you do), buy a few energy efficient lights and use reusable water bottles instead of purchasing bottled water from the supermarket.
Here are some other "small ways" that become big ways to go green:
Reusable lunch bags. This is my goal starting this earth day. It is criminal how many plastic sandwich bags I go through. And again – a cost savings! Save money and do something earth friendly – you can't go wrong with that!
Wash laundry in cold water when possible – again cost savings!
Turning off lights when not in a room and enjoying gorgeous natural day light! I love sunlight and so drawing blinds and curtains in the morning and welcoming that beautiful light is one of my favorite rituals.
Turn off your computers at night and don't leave chargers in the sockets if not charging.
Use both sides of paper. We have a very busy art area and my guys are now really good about using both sides of the paper.
Buy eco friendly detergents, most stores have a store brand version and so it doesn't have to cost more.
Turn off tvs when not in use – I have a noise thing and so this one is easy for me! I love to shut it all down!
Use cloth napkins when possible and more cloth to clean counters vs paper towels.
Use inexpensive spoons and forks in kid's lunches vs plastic. I say inexpensive in case they don't make it home This is another one of my to dos!
Bring your own bags to the market! Most stores give you money back for this so again a cost savings!
Try to reserve paper plates for the essentials – kids birthday parties and when feeding a crowd.
Fix leaky faucets.
Use compostable bags. I found these at my local Mom's Organic Market.
Buy a Groovy Global tote that gives back! See below! I love mine!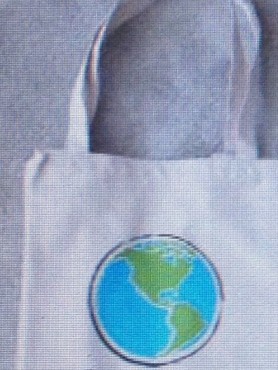 It's like everything in life – you can always get better and always raise the bar to do more. My youngest said "when you leave trash on the ground it is like getting a boo boo, When you pick it up, it is like taking off a band aid". So very true. I have my Earth Day goals set for this year – what are yours?!
Share this post
You might like...
Category: Random and Fun
1 Comment »
Joanne Schenendorf

on April 23, 2014 7:48 am

Great ideas MaryKate! Another idea- when recycling paper and cardboard(check with your town to see what they accept) I flatten clean cardboard from cereals and other foods,tissue boxes and tubes from toilet paper and paper towels. I use to flatten egg cartons but my town doesn't accept them anymore.:( I even recycle the top of a pizza box – it's the clean part!
Many supermarkets and drug stores have a receptacle to deposit plastic bags to recycle. You can add the plastic that wraps your toilet paper and paper towels,toys,etc!
Yes-every little bit helps!!

---
Leave Us Some Comment-Love