May 18, 2010
Recently I discovered MAKit Products. This company takes our adorable's drawings and photos and creates melamine plates, bowls, trays, and other dinnerware items.
I immediately went home and got started:
1) I had this great rectangular photo of my eldest and his 3 buds who have been playing together since they were 6 months old (we were totally that Tostitos commercial where the boys would sit in their car seat carriers and we would ooh and aah about how much fun they were having).  So I ordered 9 X 14 snack trays for each of them.
2) Then I had my eldest draw up a storm and selected the best one to be made into a plate.
Then I sent it off to MAKit for production and thought, "well this will be cute".
About 10 days later, my package arrived.
When I opened it, I could barely breathe for 5 minutes.  I knew it was going to be great, but nothing prepared me for this: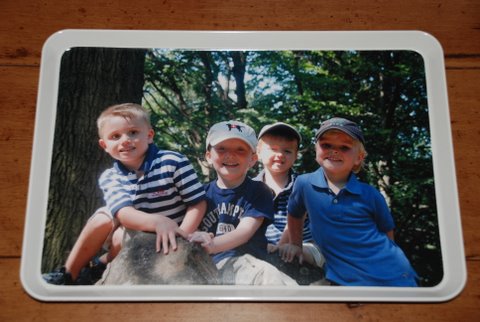 This photo doesn't even come CLOSE to doing this tray justice.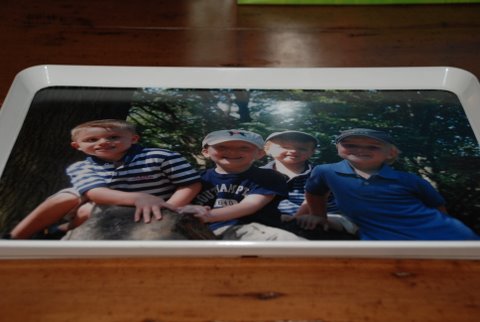 In this angle, you can see the rim.
But what you can't see from these photos is that this tray is really nice, thick, durable melamine.
After my five minutes of gasping I packed up the adorables in the minivan and went to deliver the trays to their friends.  Like STAT.  I was too excited to wait.
Their mommies felt exactly the same.
And here is Sloan's plate he drew.  He is so proud of this.  Everything is dishwasher safe, but not safe in the microwave and we've been using at, oh every meal.
The Photo trays were $21.95 each to make and the Drawing plate was $16.99.
Note: you can also get a Classroom Kit of 50 templates for $6.95.  Each plate you purchase is $5.95, so I would go this route every time and let's keep our fingers crossed they won't change this pricing after reading this.
These would be excellent for class gifts, grandparent gifts, Father's Day (sorry I missed the boat on Mother's Day), etc.
I'm off to make some bowls now…

Share this post
You might like...
Category: Activities, Brilliant, Fundraising
Tags: MAKit Products, melamine dinnerware |
5 Comments »
on May 18, 2010 11:37 pm

I'm in love with these!

---

Julie

on May 19, 2010 7:55 am

I have one of these type of plates that I made for my Grandmother when I was in 2nd grade. When she passed away she passed it back to me; it is one of my favorite items. My guy is finishing up 3rd grade, time to have him do his.
The tray is great. Would be a great teacher and/or coach gift with the class/team picture on it.

---

on May 19, 2010 11:11 am

this is awesome!

---

on May 19, 2010 10:07 pm

This is fantastic! What a great idea for Father's Day!

---

on May 27, 2010 8:09 pm

Wow!
This is wonderful. Great discovery!! These are wonderful personalized gifts for anyone! And a nice way to create ever lasting items from our kids' artworks 😀

---
Leave Us Some Comment-Love