January 4, 2010
Oh my goodness, I know it's Monday and I hope you are ready for a laugh.
You need to meet Fred.  Fred has the funniest products (perhaps ever) to brighten your day.
Isn't this so fun?  These ceramic plates come with blank faces for your adorables to decorate with their meals.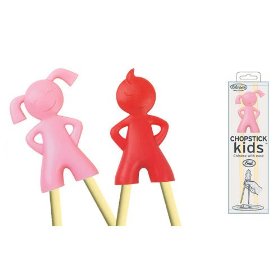 Chopstick Kids
Strap on these little chopstick holders and set the adorables loose with their Asian food (or whatever you can get them to eat).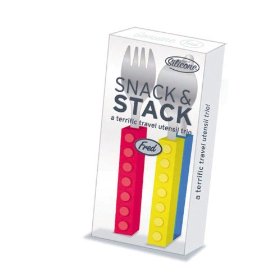 Fred and Friends Snack and Stack
Aren't these the cutest utensils you've ever seen?  I know I'm gushing, but I can't help it.  Forget the adorables, these might be for me!
Giveaway
You can win all of the above just by leaving a comment by Friday, January 8th.  I'll use Random.org to determine the winner and alert them the 9th.  Good LUCK!  As always, you can win an EXTRA entry by emailing 5 friends and telling them about The Good Stuff Guide.  It's on the honor system – I trust you implicitly – so go tell your friends and up your odds! (If you email 10 friends, I'll send hugs and yes, you can have an extra extra entry.)
You can also see more Fred and Friends Products
at Amazon.  They will crack you up!  The Evidence Knife
is a particular favorite of mine.
Have a great Monday!

Share this post
You might like...
Category: For Kids, Toys and Gift Ideas
Tags: Fred Products, Monday giveaway |
49 Comments »
on January 4, 2010 9:46 am

These are all great. Love the Chopstick Kids. The Snack and Stack are so adorable, too.

---

Sharon

on January 4, 2010 11:08 am

I would love to win!

---

on January 4, 2010 1:10 pm

You get the coolest stuff to give away. I just re-tweeted you…will post on my fan page now, also. Thanks for the great stuff!!

---

Laura M

on January 4, 2010 1:34 pm

That looks like a great idea! My big kid is 8 and would love this. Hope I win!

---

Michelle F

on January 4, 2010 1:50 pm

I would love anything that would help my daughter eat well. Thanks!

---

Monica

on January 4, 2010 2:03 pm

This stuff looks super cool and fun for my boys!!

---

on January 4, 2010 2:24 pm

These made me laugh! I Especially love the Chopstick Kids!

---

Kowanda McBride

on January 4, 2010 3:46 pm

What a fun way to try and get kids to eat! I love the chopsticks. We are a military family currently serving in South Korea. The chopsticks look like they would be much eaiser to us for little hands!!!

---

on January 4, 2010 3:47 pm

These are cute!

---

on January 4, 2010 9:34 pm

Wow these are too cute!!! Would definitely love getting a few!

http://chanisbaby.blogspot.com

---

on January 4, 2010 10:33 pm

I love Fred! Bookmarking so I can share with my list and on my website. Another great way to get kids to eat their veggies!! Go Fred Go!!

---

on January 4, 2010 11:12 pm

Oh my gosh this stuff is fabulous!! The Fred stuff is AWESOME!! thanks to Mommy Perks, I found this great site!! Bookmarked for life!

---

on January 5, 2010 1:44 pm

They all look like fun. Hope I win.

---

Laura

on January 5, 2010 2:21 pm

I love that plate idea . . . very cute products!

---

Sonya

on January 5, 2010 3:45 pm

Fun and functional!!! – Love it!!!

---

on January 5, 2010 5:55 pm

These are awesome AND hilarious Heidi – you find the BEST stuff! Happy New Year!

---

Tricia Runningen

on January 5, 2010 11:02 pm

I have to say, the face plate is actually a pretty cleaver idea. I love ingenuity, especially with function!

---

on January 6, 2010 1:25 am

Love them. Wish I had them when my kids were little, but I bet that even my 11 years old would have fun with the plate! And the 8 years old with the ustensils.

---

Joy G

on January 6, 2010 10:51 am

These are way too cute.

---

Nikki

on January 6, 2010 1:56 pm

Fred and Friends rocks. Made my Christams gift exchange very interesting.

---

Kyle

on January 6, 2010 1:58 pm

oman i hope i win – i love fred stuff!

---

shannon

on January 6, 2010 2:40 pm

the chopstick kids are so adorable.

---

Joanne

on January 6, 2010 2:44 pm

<3 Love Fred & Friends products and the company is based here in Rhode Island!

---

Fitch

on January 6, 2010 2:49 pm

I <3 Fred and Friends!

---

JM

on January 6, 2010 3:05 pm

I love Fred and Friends! They make everyday a little happier

---

Jennie

on January 6, 2010 3:18 pm

We LOVE Fred

---

Claudia

on January 6, 2010 3:51 pm

I just LOVE the GSG!! =D

---

abby

on January 6, 2010 3:52 pm

I love FRED items, I wish i could own every piece!!!!!! please pick me!

---

rob

on January 6, 2010 4:18 pm

Love F&F…..their stuff is great!!!!!!!

fingers crossed!

---

on January 6, 2010 4:46 pm

ah… Fred can sure lightens my day…
What wouldn't I give to become a Fred designer….:-)

---

on January 6, 2010 5:05 pm

Making goo-goo eyes @ the Random.org judges starting… now.

---

Ivonne

on January 6, 2010 5:13 pm

woah! Love this!!

---

Richard

on January 6, 2010 5:14 pm

haha how cute! Like for my little bro!

---

Jessy

on January 6, 2010 5:19 pm

ADORABLEEEE!!!! >_<

---

Jonathan

on January 6, 2010 5:23 pm

I love F&F! always cool and fun stuff!

---

Karen

on January 6, 2010 6:15 pm

My daughter and Brother-in-law would love this stuff!!!!! Hope I win!

---

on January 6, 2010 6:31 pm

I love Fred products! Especially the ice cube trays!

---

on January 6, 2010 6:47 pm

I love Fred and friends!!!
Mix Stixs is the best!!!

---

on January 6, 2010 7:08 pm

these items are ADORABLE!!

---

on January 7, 2010 10:27 am

How fun!

---

on January 7, 2010 12:53 pm

I love Fred!!!

---

Sarah G

on January 7, 2010 2:09 pm

Ooh! I would love to win these – maybe it will encourage my toddler that dinner isn't all bad!

---

on January 7, 2010 4:44 pm

These are all so adorable!!

---

Jules Greenaway

on January 7, 2010 9:31 pm

OMG, how cute! I want these for me!!!! And maybe I'll pass them on to my adorable…LOL!!!!

---

sherry

on January 8, 2010 1:47 am

adorable!!

---

Sandi

on January 8, 2010 4:51 pm

So cute!

---

on January 8, 2010 9:52 pm

What great finds. My kids would love these. So glad I found your blog, it looks like you have some fun ideas for families.

---

on February 3, 2010 2:35 am

Finally, not normal stuff for us not quite normal people who have friends who are even more less than normal–Thank-you SO MUCH!!!!

---

Carol

on March 1, 2010 9:32 am

I bought a Food Face as a gift for a kid, but I can't part with it!

I am ordering 6 for the whole family!

---
Leave Us Some Comment-Love