March 21, 2011
I saw this at Toy Fair and my jaw just dropped at the genius behind it.  Then when I was traveling on Thursday, I saw a family use it at the airport and I was able to confirm its brilliance.
Meet the new Melissa & Doug Trunki
:
And it can do this: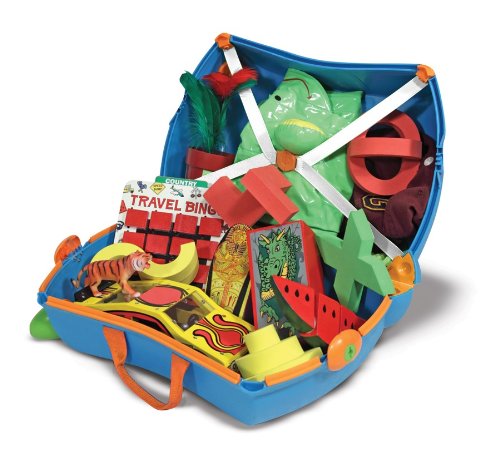 And this: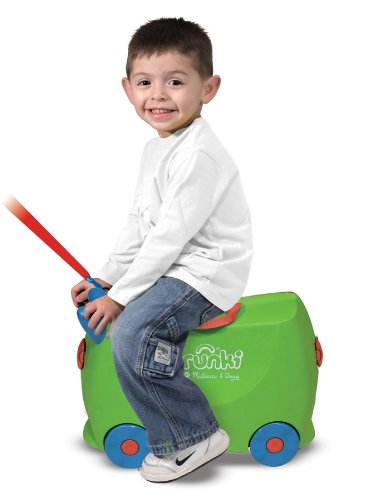 And this: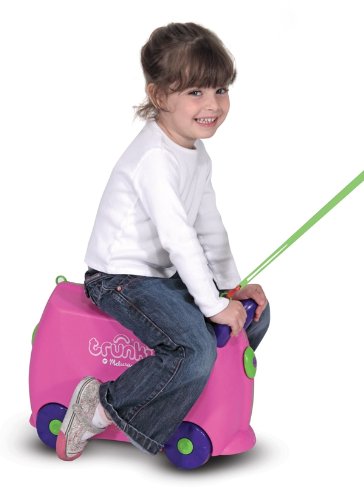 Need I say more?
No more strollers for your walking toddler.
A super cute carry-on they can scoot themselves.
Fun, fun, fun!
And VERY reasonably priced: $29.30 from amazon
.
It's products like these that warrant the Nobel Peace Prize in my opinion. Peace between parents and toddlers is a valuable thing.
This is just adorable too:
Giveaway
One lucky, lucky winner can win a Trunki in your choice of blue, green, orange, pink or purple simply by leaving a comment by Friday, March 26th. I'll choose the winner using Random.org and announce it on Saturday.
Because I just LOVE comments, here's how to gain extra entries (please leave them as separate entries):
1. Do you subscribe by email or RSS to The Good Stuff Guide? I love my subscribers, so you get an extra entry. Wahoo!
2. Email 5 of your friends about The Good Stuff Guide and tell them what a rockin' website this is. We'd love to have them join us!
3. "Like" The Good Stuff Guide on Facebook and receive the latest news and your chance at additional giveaways. (I LIKE you too!)
Good luck!

Share this post
You might like...
Category: Family Trippin', Gear
Tags: Melissa and Doug Trunki, traveling with toddlers, Trunki |
86 Comments »
Sara

on March 22, 2011 12:09 am

subscribe rss

---

Sara

on March 22, 2011 12:09 am

like you on fb sara peterson davis

---

ed

on March 22, 2011 3:40 am

this would be lots of fun

---

bridget r

on March 22, 2011 5:28 am

Fun! Do they make them in adult size too?

---

bridget r

on March 22, 2011 5:29 am

FB

---

bridget r

on March 22, 2011 5:32 am

And e-mail

---

Jackie J.

on March 22, 2011 9:15 am

What fun for my 2-year-old granddaughter and grandson!

---

Jackie J.

on March 22, 2011 9:15 am

e-mail subscriber

---

on March 22, 2011 10:06 am

I LOVE getting your emails! Especially the giveaways and home tours

---

on March 22, 2011 10:07 am

I like your facebook page
name: Love Katydid

---

on March 22, 2011 10:07 am

I love that you can ride the trunki!!

---

Mimi

on March 22, 2011 12:59 pm

A cute way to keep good things nearby !

---

Mimi

on March 22, 2011 1:00 pm

Airports will be a perfect venue for this clever item!

---

Jamie N.

on March 22, 2011 2:20 pm

I really like this! Hopefully I can win one to make my upcoming airport adventure less scary!!

---

Jamie N.

on March 22, 2011 2:20 pm

I like you on facebook!

---

Jamie N.

on March 22, 2011 2:20 pm

Im an email subscriber!

---

jeff

on March 22, 2011 2:28 pm

This is great and now if they would just make one for adults

---

on March 22, 2011 5:49 pm

Love it!

---

Leanne M

on March 22, 2011 6:56 pm

What a great idea!!

---

Leanne M

on March 22, 2011 6:56 pm

email subscriber

---

Leanne M

on March 22, 2011 6:57 pm

I like you on facebook

---

Jessica Crump

on March 23, 2011 5:16 pm

I am an email subscriber. I am about to take a trip with two boys and would love this

---

Jessica Crump

on March 23, 2011 5:17 pm

I like you on FB

---

Jessica Crump

on March 23, 2011 5:17 pm

I emailed 5 friends about this giveaway!

---

Andrew Crump

on March 23, 2011 5:20 pm

I like you on Facebook.

---

Andrew Crump

on March 23, 2011 5:20 pm

I emailed 5 friends.

---

Jan Schaub

on March 23, 2011 5:21 pm

I like you on facebook. My grandsons would love this.

---

Jan Schaub

on March 23, 2011 5:21 pm

I emailed 5 friends.

---

Lindsay

on March 24, 2011 8:40 am

This is genius!!!

---

Jenny Hout

on March 24, 2011 11:40 am

Oh my goodness! I really want to take a trip sometime soon but have put it off because of not wanting to lug a stroller plus all the other things a toddler needs. Love it! My little girl would love the pink color too!

---

nan

on March 24, 2011 8:18 pm

love it
nannypanpan at sbcglobal.net

---

nan

on March 24, 2011 8:19 pm

e-mail subscriber
nannypanpan at sbcglobal.net

---

Lisa K

on March 25, 2011 2:05 am

Love it!

---

Lisa K

on March 25, 2011 2:07 am

FB fan!

---

Lisa K

on March 25, 2011 2:10 am

And email subscriber

---

tina

on March 25, 2011 10:50 am

love

---
Leave Us Some Comment-Love