November 8, 2010
Happy Giveaway Monday to you!  I hope you had a great weekend.
Today is something for the little adorables ages 1 and up.
Meet the Mega Bloks Pull Along Musical Pirate Ship
: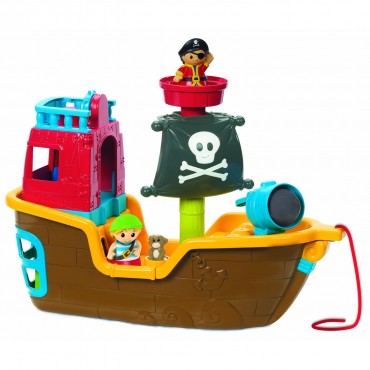 This cute little pirate ship can be "built" by your adorable, which makes it a toy that keeps on giving. The Mega Bloks pieces encourage your little one's imagination to create something of their own.
Perhaps with a hideaway: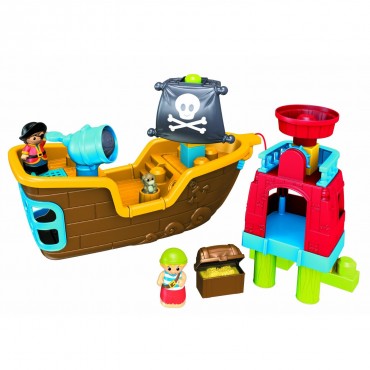 Grab hold of the pull string and let your adorable sing their little heart out in true swashbuckler fashion.
I'm thinking this type of fun play will buy you at least 45 minutes to cook dinner or relax with a magazine.
A GREAT one, friends!
Giveaway
You can win a Pull Along Musical Pirate Ship from Mega simply by leaving a comment by Friday, November 12th.  I'll choose the winners using Random.org on Saturday.
Because I just LOVE comments, here's how to gain extra entries (please leave them as separate entries):
Do you subscribe by email or RSS to The Good Stuff Guide? I love my subscribers, so you get an extra entry. Wahoo!
Email 5 of your friends about The Good Stuff Guide and tell them what a rockin' website this is.  We'd love to have them join us!
"Like" The Good Stuff Guide on Facebook and receive the latest news and your chance at additional giveaways. (I LIKE you too!)
Good luck!
You can always find the Mega Bloks Pull Along Musical Pirate Ship
on Amazon ($24)

Share this post
You might like...
Category: Toys and Gift Ideas
Tags: Mega Bloks, Monday giveaway, Pull Along Musical Pirate Ship |
42 Comments »
Megan W.

on November 8, 2010 10:04 am

How cute! My DS would love this

---

Megan W.

on November 8, 2010 10:04 am

I also subscribe via Reader

---

on November 8, 2010 10:50 am

What a perfect Christmas gift for someone on my gift list!!!

---

on November 8, 2010 12:18 pm

This is adorable!

---

Kim B.

on November 8, 2010 12:30 pm

Perfect for the pirate lovers in my house.

---

Kim B.

on November 8, 2010 12:31 pm

I like you on fb.

---

gillian s

on November 8, 2010 2:38 pm

Adorable! A prefect holiday gift!

---

gillian s

on November 8, 2010 2:38 pm

I "like" you on fb too!

---

gillian s

on November 8, 2010 2:39 pm

and we subscribe!

---

Melissa Mori

on November 8, 2010 3:01 pm

I would love this for my 2 1/2 yr old as he is really getting into "bulding" with Megablocks!

---

Melissa Mori

on November 8, 2010 3:01 pm

I am an email subscriber!

---

Melissa Mori

on November 8, 2010 3:01 pm

I like you on FB!

---

Ronda

on November 8, 2010 3:11 pm

My grandsons who had a pirate birthday party would love this!

---

Ronda

on November 8, 2010 3:12 pm

Facebook fan also

---

Tracey

on November 8, 2010 3:13 pm

My boy's saw the pirate ship and said "Arrrggg you matey". What a cute toy!! + we like you on facebook (really we love you) LOL.!!!

---

Kareem Fenner

on November 8, 2010 3:32 pm

My boys would adore this toy!!!

---

hillary

on November 8, 2010 4:13 pm

My nephew would love this!

---

hillary

on November 8, 2010 4:14 pm

Facebook fan!

---

Jamie

on November 8, 2010 5:24 pm

This is on Ryan's Christmas list!

---

Jamie

on November 8, 2010 5:25 pm

I am a facebook fan

---

Jamie

on November 8, 2010 5:25 pm

I also subscribe via email

---

Aba

on November 8, 2010 7:27 pm

I love it ! It's like a puzzle , but even better. I'm sure my grandchildren will love it too.

---

Danielle

on November 9, 2010 7:31 am

This is on my 21 month old sons Christmas list so I'd love to win!

---

Danielle

on November 9, 2010 7:32 am

I subscribe to your RSS.

---

Danielle

on November 9, 2010 7:32 am

I'm a facebook fan.

---

Beth W

on November 9, 2010 8:59 am

This is so cute-my grandson would love it-and I'm pretty sure I'd have a good time playing with him with it.

---

Beth W

on November 9, 2010 9:00 am

Definitely a newsletter subscriber!

---

Beth W

on November 9, 2010 9:00 am

And I love you on Facebook!

---

Rachel C

on November 9, 2010 9:11 am

My son would have lots of fun with this! thanks for the chance

---

Rachel C

on November 9, 2010 9:11 am

email subscriber

---

on November 9, 2010 11:25 am

My son would go bonkers over this! He loves pirates and the little people characters! (I know these arent the actual little people brand characters, but he wont know the difference lol)

dragonflye2003(at)hotmail(dot)com

---

on November 9, 2010 11:26 am

I subscribe through emails! (Thats how I found out about this actually lol)

dragonflye2003(at)hotmail(dot)com

---

on November 9, 2010 11:26 am

I like you on facebook!

Petes Sake is my name on there!

dragonflye2003(at)hotmail(dot)com

---

Valerie

on November 9, 2010 11:47 am

Hi Lady this is the greatest toy for my little boy! Oliver would love this, as he and his dad are both pirates! Arrrr

---

Rachel

on November 9, 2010 3:14 pm

I want this because my 4-year old just said awesome when he saw the picture!

---

Rachel

on November 9, 2010 3:15 pm

A Facebook fan.

---

Rachel

on November 9, 2010 3:16 pm

I get email as well.

---

on November 11, 2010 7:42 am

My child has been lusting over anything pirate these days. She'll be thrilled!!

---

on November 11, 2010 7:43 am

I already like you on FB!

---

on November 11, 2010 7:43 am

I'm an RSS subscriber!

---

Lisa

on November 11, 2010 3:29 pm

This is too cute! My twins would LOVE this!

---

Jules Greenaway

on November 13, 2010 11:25 pm

Oh My Goodness… My son would just love this!!!! And what a great Christmas pressie!!!!

---
Leave Us Some Comment-Love