January 30, 2010
I have 2 super-quick projects for you that will reap infinite rewards.  Well, in my mind anyway.
Of course these are not my ideas.  I like to call this "not re-inventing the wheel".  I just collect and share.
My dear friend Wendy produced these ideas when she spent 2 days reorganizing my kitchen.  Don't you love her?
The first are these Recipe Binders: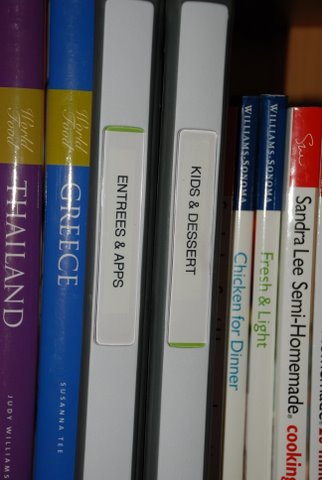 Grab some binders from Staples (or wherever) and fill them with sheet protectors.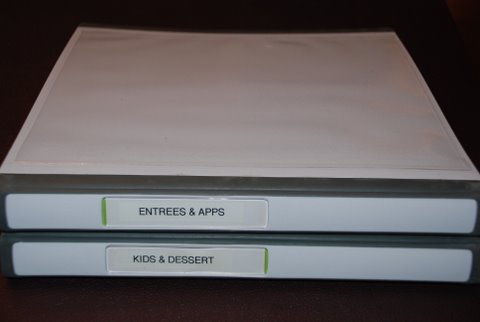 Then fill them with all those recipes that your friends have emailed to you, and that you've torn out of magazines and newspapers.
Doesn't that look yummy?  Then place them on the bookshelf with your other cookbooks and everything is there together.
*** UPDATE *** had to share that a dear reader, Noreen, blew me away with this: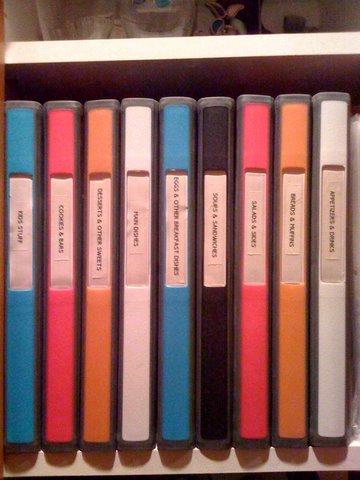 I mean seriously!  Noreen, you rock!
The second idea is a Battery Center.
I've been looking for a way to organize our multitudes of batteries so I can see them.
So I know when we are about to run out.
And I was so tired of finding random single batteries that had fallen out of the packs at the bottom of the cabinet.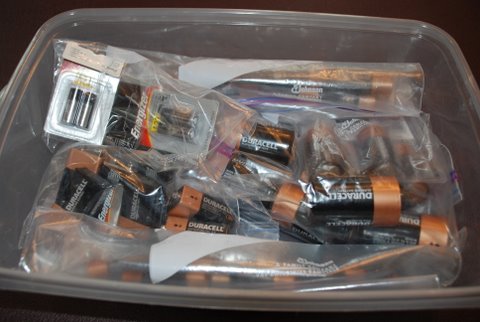 So Wendy put all the batteries into their own plastic bag and placed them into this larger plastic tub.  And I went "Wow", it really is that easy.
These things never occur to me.
So it looks like we're okay with AAA's for a while…
PS Can you tell that Costco only sells Duracell batteries?  I like to buy in bulk.
I know you have other little tricks like this!  Let's continue to not reinvent the wheel – share your goods please!
Happy Day!

Share this post
You might like...
Category: Organizing
Tags: Organzing tricks |
5 Comments »
on January 30, 2010 8:40 am

Wendy has great ideas!

---

LMM

on January 30, 2010 11:52 am

Keep a small screwdriver in the battery bin, too. It's much easier to change the batteries on all the kids' toys!

---

on January 30, 2010 12:39 pm

Can you send Wendy over to our house? We desperately need her. Also, love LMM's idea with the screwdriver!

---

gillette

on January 31, 2010 12:23 pm

I am on my way to office max or a office supply store this afternoon!

---

Melissa

on February 1, 2010 12:03 pm

Love these fantastic ideas, a must for me! A trip to Target : )

---
Leave Us Some Comment-Love