January 26, 2010
I thought this idea was so brilliant I had to share…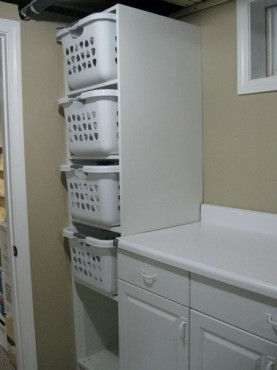 This is the IKEA Pax wardrobe which houses 4 laundry baskets for whites, darks, towels, and permanent press.
Here's how it works: when the basket is full, it goes into the washer.  Simple and brilliant.
Thanks Julie!
________________________________________________________________________
I also asked Professional Organizer, Rivka Caroline, of SoBeOrganized for additional laundry room tips.  She had stellar ideas:
1. Buy sock-locks and teach your children to lock their socks.  (I'd never seen these, have you?)

2. Banish time and money wasting sorting by placing a hamper in each bedroom.
3. Make a schedule where each room gets its hamper washed on certain days of the week.
4. If you have a constant pile of ironing / clothes to be fixed that is clulttering up the space either fix a set time each week to iron or outsource it.
5. Don't allow your laundry room to have other items stored there.
6. Avoid laundry room clutter by containerizing – get an assortment of containers and organize into different categories and put a label on the front.
7. Keep a garbage can within reach for used dryer sheets and lint.
8. Keep a spray cleaner handy to clean the washer and dryer.
9. Clean the inside of your washing machine 3x a year with vinegar and cold water to prevent mildew.
What are your tips for the laundry?  Do you have a system?  Do you wash on particular days?  Do your adorables help?

Share this post
You might like...
Category: Organizing
Tags: Laundry Room Organization |
4 Comments »
Leave Us Some Comment-Love