January 29, 2014
A dear reader sent me these 2 great kitchen organizing tools she discovered and now uses at home.  I was wowed!
The first are these cool acrylic drawer dividers: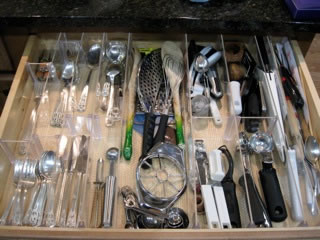 The one thing that strikes me right away is how much silverware and utensils she's able to keep neat and organized in a single drawer.  Most of the time when you "organize", it really just means cleaning out half of whatever you have.  It's not hard to keep very few utensils organized, but here she was able to keep it all and keep it neat. Profound, I say!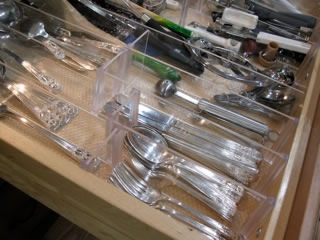 These clear acrylic dividers come in different lengths to fit your drawer.  Then you can score and break them into the specific lengths that you need.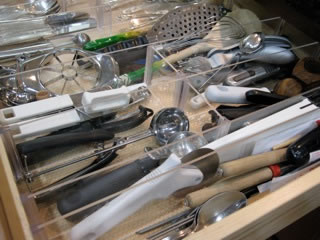 These organizers create so much more room in the drawer.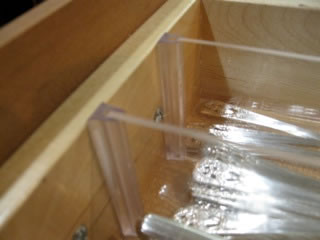 These stickey holders attach to the walls of the drawer to keep the inserts standing up.  Aren't these dividers brilliant?
Oh, and Martha Stewart uses them too.  Just in case you wanted to know.
You can find them at Lifestyle Systems (scroll down for the Clear Acrylic Dividers).
The second item are these wicked cool spice holders for inside your cabinet doors.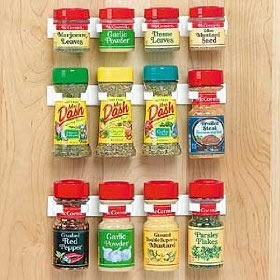 Here they are in the Amazon photo above,
and here they are in Julie's cabinet below: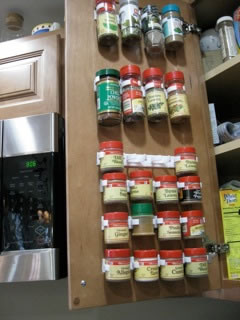 You just snap the spices in the little holders and they are at the ready when you need them, saving valuable space in your cabinet.  I'm a convert – I think these are awesome!  You can find them at Amazon: Spice Rack Storage/Organizer
Julie, thanks for sharing your kitchen ideas with us!  If you have some equally brilliant ideas, please send them along tout de suite.

Share this post
You might like...
Category: Kitchen, Organizing
Tags: kitchen organization |
7 Comments »
on January 14, 2010 10:35 am

Both of those are pretty amazing. I never know what to do with my spices and that is a great way to keep them visible vs. buried at the back of the shelf!

---

on January 14, 2010 10:48 am

I LOVE them both!! Isn't it sad that seeing pictures of organization tools makes me drool?!

---

on January 14, 2010 2:43 pm

Oh, my, I've been needing a solution to my spice problem and you just found it. Thanks! I've been keeping them in a long narrow cabinet but I have to take everything out just to find what I need. This is much better!

---

on January 14, 2010 2:50 pm

Love the spice rack holder.

---

Kathy

on January 15, 2010 9:56 am

I immediately ordered those fun drawer organizers. Maybe they will encourage me to finally designate what goes where in the new kitchen. Thanks!

---

anita

on September 27, 2011 9:06 am

your post is still helping out web searchers – thx for the link to the acrylic drawer dividers!

---

Rita

on February 13, 2014 10:58 pm

LOVE your blog!! Just found it and there are so many great ideas on here!

---
Leave Us Some Comment-Love