January 6, 2010
Why is it that January is the time to clean out, clean up, and organize?
Is it that the weather is cold and there's nothing to do outside?
Is it that, apart from MLK Day, there aren't big holidays in January, nothing to celebrate, so the magazines came up with this to fill their pages?
Whatever it is, I'm in.
Free myself from clutter.
Live simpler.
Be able to walk in a straight line without side-stepping toys.
(I wish you could see the state of my home as I type this.)
So during this beautiful and cold month of January, we'll feature some great organizational ideas to get you going.   As always, please share yours too (either by email or in the comments section).
Today, we're visiting the home of Grace Brooke, professional organizer extraordinaire from Santa Rosa, California.  Here are some of her ideas: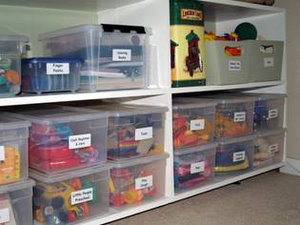 All toys are labeled, placed in clear plastic bins, and placed on these shelf units.  Everything is visible and has a home.  I love that these are large enough to hold bigger items.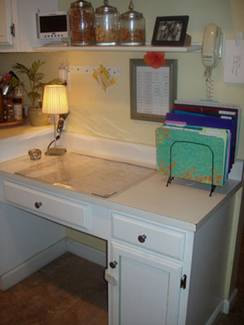 This is Grace's "Life Management Center".  This area holds the family calendar, the mail station, all the bills and the stuff required to pay and mail them, pre-printed shopping lists, emergency information, phone lists, school schedules, coupons, take out menus, etc.  It is the one-stop-shop for all information and family communication.  Grace says, "This has helped simplify my family a great deal!"
The drawers and cabinet hold additional supplies.  It's so clean!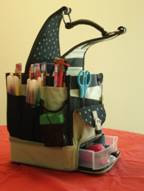 This is a "portable office" Grace created for her 5-year-old adorable.  It holds all of her supplies to do homework. The "portable office" lives in her room, but can be transported to the kitchen table, grandma's house next door, or to her desk located in her room.  Grace adds, "It is the perfect setup for giving a child flexibility, convenience, and having everything a child needs in one location.  It helps keep the child on track. If a pencil is broken, there is another one right in the 'portable office'. No need to get up and get distracted!"
Many thanks to Grace Brooke of www.gracebrooke.com!
What are your own tips?  Please share!

Share this post
You might like...
Category: Organizing
Tags: Grace Brooke, Organization |
5 Comments »
Jenny Hout

on January 6, 2010 8:16 am

I WISH my daughters toys could be that organized! That made me drool!

---

on January 6, 2010 9:57 am

This makes me want to start organizing everything! What great ideas. I can't imagine what it would feel like to have my life organized!! Love the home management center.

---

on January 6, 2010 10:28 am

Grace thank you for sharing your home with us! The portable office is such a great idea~I will be passing this on to friends with little ones! Thank you again you VERY organized Bombshell!! XOXO Gigi Belmonico

---

on January 6, 2010 7:25 pm

what will it take for Grace to visit my house? I need a life management center!

---

kowanda

on January 7, 2010 6:34 am

I've tried to be organized with the kid toys. I have bins for most of them but, not all. I'm pretty organized with my 'home management center'. It's all in one place but it isn't neat.

---
Leave Us Some Comment-Love