May 16, 2012
Written by Marykate Wurster, mom of 3, from Riverside, Connecticut
Every mother can appreciate a Mom's Night Out at a swanky new restaurant or old favorite but some friends and I decided to try something new – a mom's night in.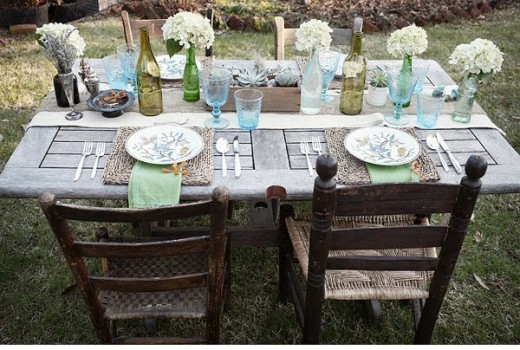 Here is the concept – once a month, on a rotation, we host dinner at our house. The atmosphere is always relaxed and easy. We usually arrive in whatever clothes we wore that day with a bottle of wine in hand. We gather after the children are tucked in bed and start with appetizers, then move on to dinner and finally dessert with laughter and great conversation carried throughout.
I use it as an opportunity to try new recipes, one's my children will wrinkle their little noses at. I usually select an Ina Garten type dish that even I can replicate. And although it will not look as pretty as hers, will taste delicious just the same. Another friend likes to display her culinary expertise with tried and true recipes from past dinner parties. While another, who doesn't like to cook, surprises us with something she orders in and it's always wonderful. The point is that it is fun and casual and we all get the chance to catch up in the most comfortable of environments – our homes. There are usually fresh flowers on the table, cut that day from one's garden. And typically a husband will dart in to fix himself a plate, trying very hard to not be noticed. These poor dears usually descend upon us just as the conversation turns to childbirth or something equally uncomfortable. They scurry in and just as quickly retreat to a quiet corner of the house, away from our girl chatter. For dessert, I love to bake and eagerly prepare something. Most friends buy a scrumptious treat from a local bakery or specialty store.
Although we prefer casual you could get creative and chose a theme to incorporate into everything. For example," Under the Tuscan Stars" and assign each guest something to bring – except the main course which you provide – appetizers, sides, dessert and flower arrangements. Pinterest or this website are great places to find recipes and ideas.
We meet the first Monday of every month since Monday's tend to be a quiet night. We find it best to pick a day and stay with it. Our group includes four, however you could have more. I think any more than six and it may lose the intimate feel. I always relish these evenings because a home is forever warm and inviting. The evening tends to naturally wind down at just the right time rather than feeling rushed out of a restaurant with the presentation of a check. The only caution is that on some nights, it can go rather late. However someone will usually interrupt the magic with a Cinderella type "oh my gosh, look at the time, I have to go" sending us all scurrying for our purses, coats and the door, eagerly anticipating the next dinner.
Does anyone else do a rotating dinner? Any ideas and suggestions to add?

Share this post
You might like...
5 Comments »
Anne Schenendorf

on May 17, 2012 7:30 am

I love this idea. I always am thinking to myself th

---

Anne Schenendorf

on May 17, 2012 7:37 am

Oops. Seany help send that early. I'm always thinking I would love to catch with mommy friends but its hard to find time. I love that you don't need to get a sitter or wait for a weekend night that works for everyone. I was cracking up about the husbands. I'm going to try this. Our guys go down by eight. Do daddies do bedtime or do you do that before leaving?

---

Marykate Wurster

on May 17, 2012 3:53 pm

We do both on bedtimes. I highly recommend this – my favorite moms nights!

---

Joanne Schenendorf

on May 18, 2012 1:22 pm

I am the Grandma and have no kids at home anymore ( wow time flies!) but I do have a group of friends , many vegetarians, who occasionally get together for pot luck dinners where everyone brings a dish, usually vegetarian but it doesn't have to be. (Although lots of diet gurus are recommending one meat-free night a week) The foods are always creative and delicious. Some people are amateur musicians so we sometimes have a hokey sing-a-long but it's always fun. I agree with MK that being in someones' home is soo much more relaxing and fun!! so even when you are OLD you have something to look forward to! ha ha.. friends are always fun to relax with!!
BUT as MK said in her last post, being in the moment is the best thing so if you're thinking about doing this, try it soon!!

---

Marykate Wurster

on May 18, 2012 7:41 pm

Joanne – thank you for sharing this – love that you sing – soooo great!!! One of the mom's in our group is a vegetarian and she eats seafood – something I have always been afraid to prepare. So it has taken me out of my comfort zone in a really good way. And its always fun to try new dishes and recipes. And I couldnt agree more – there is something so special and relaxed about being with friends in their homes. And, ahem, you my dear are so not old!! A grandmother, yes, but old, never! XO

---
Leave Us Some Comment-Love