January 30, 2014
written by Cathy Baker, who is needing a little motivation to get through this winter slump! 
Well the end of January is upon us! If you need some smiles and motivation to keep those dreams alive and those resolutions moving forward – I hope these encourage you – or at least make you smile! My pinterest-inspired inspiration…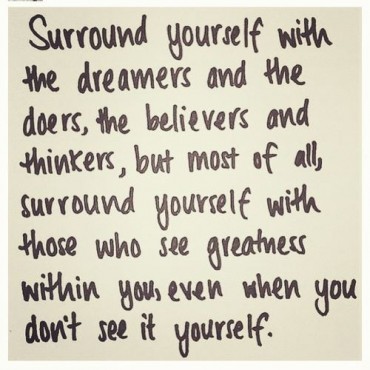 I love this. We all need 'cheerleaders' in our lives!
 This just made me smile when I saw it! It's (sadly) so true in my house! Please tell me I'm not the only one!
Just a liitle 'umph' today! You can do it!
Finally, a goal I can accomplish! Ba,ha,ha!
Hey you! Yes, beautiful, brave, amazing you! Don't stand in your own way!
See – your failure doesn't look so bad! Just keep going…so someone can write about your famous 'failure' one day!
Well, duh!
Oh, perspective. Love it!
Just don't!

Just take one small itty-bitty step forward today! (And yes I'm looking in the mirror as I say this!)
Share this post
You might like...
Category: Random and Fun
Tags: motivation, quotes |
1 Comment »
Marykate Wurster

on January 30, 2014 9:16 am

Love! I love love love quotes and some new ones here I never heard! Love the umph and perspective ones. I tell myself that with my children's stories – they will get published – just have to keep at it!

---
Leave Us Some Comment-Love