March 10, 2010
Happy Mini-Vacation Wednesday! Today, we're touring one of the South's crown jewels: sunny, hospitable, and historic Charleston, South Carolina.
Charleston has maintained its old-world charm: antebellum homes, historic churches, and lush parks filled with Live Oaks. It's a bustling city with a laid-back attitude, where locals are friendly and more than willing to stop and chat.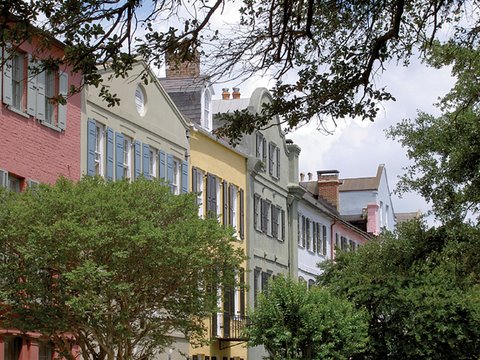 There is so much to do, from sightseeing to shopping, that it's impossible to experience everything the "All American City" has to offer. So, whether you're visiting for business or pleasure, for a weekend or a few days, here's a quick must-see-and-do list that will make your stay unforgettable.
1. Fort Sumter
No trip to Charleston is complete without a visit to Fort Sumter, where the first shots of the Civil War were fired. Fort Sumter is something the entire family will enjoy, as it promises fun, sightseeing, and history all in one. Kids will love exploring the fort ruins and watching reenactors show what life was like defending the fort. The Fort Sumter National Monument isn't simply a place to cool down; the museum houses original photos, artifacts, and interactive displays.
Only accessible by boat, ferry tours leave from the Fort's museum on the Fountain Walk along the Charleston Harbor and from Patriots Point in Mount Pleasant. The ferry ride to and from the Fort provides a unique panoramic view of the Battery, Rainbow Row, the Ravenel Bridge, and the USS Yorktown.
Fort Sumter is open year-round except for New Years, Thanksgiving, and Christmas Days. For seasonal operating hours, visit: http://www.nps.gov/fosu/index.htm.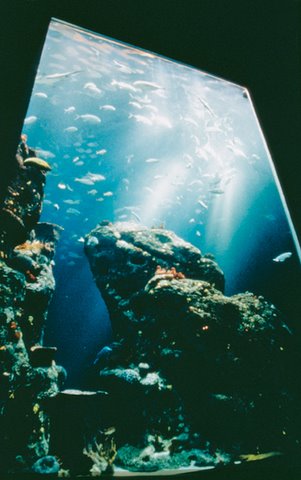 2. The South Carolina Aquarium
Step out of the humidity and heat, and spend an afternoon learning about South Carolina's many ecosystems at the South Carolina Aquarium. Housing over 60 exhibits, you're guaranteed to see everything from river otters to sharks, seahorses to moray eels.
Entering the aquarium lobby, your family will make a beeline for The Living Wall, a 15,000-gallon fish tank. But that's nothing compared to the 385,000-gallon tank that spans the second and third floors—and houses hammerhead and sand tiger sharks, sea turtles, and a variety of fish. Kids also enjoy the numerous interactive exhibits, which allow visitors to ask questions and learn about unique species of marine life.
Oh, yeah, and did I mention the aquarium now has a penguin exhibit? Who doesn't love the penguins!
For more information on hours and exhibits, visit http://scaquarium.org.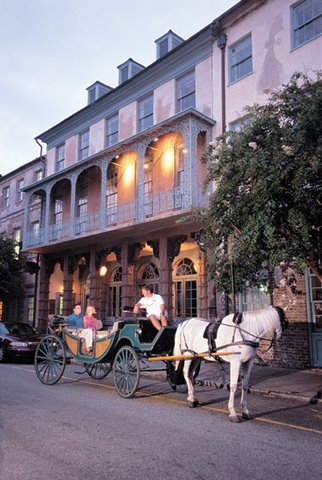 3. Historic Downtown
Pretty much all of downtown Charleston has a 200-plus-year history, which is why you'll need to lace up your tennis shoes, grab your camera, and explore the city up close and personal.
Walk the Battery, also known as White Point Gardens. Take in the pink, orange, green, and yellow homes along the famous Rainbow Row. Stroll through the bustling downtown open-air Market, where artists and craftspeople display their work. Walk along King Street's shopping district, and window shop the boutiques, antique shops, and art galleries.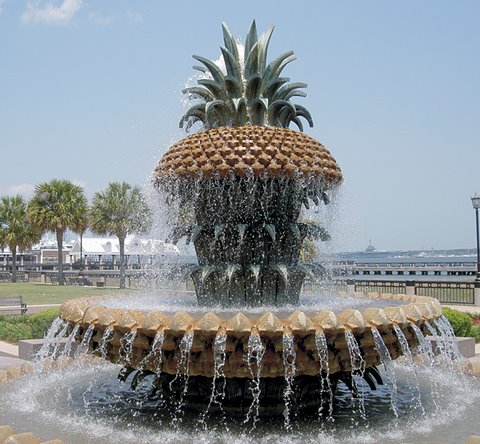 4. Waterfront Park
Waterfront Park, located in downtown Charleston, is the place to be for good old-fashioned family fun—and a serene, peaceful place to relax your weary feet after a stroll downtown.
Built on the remnants of old wharves, the eight-acre park runs along Charleston Harbor. In addition to fountains, garden rooms, and large lawns, Waterfront Park has a 400-foot-long pier that jets out into the water for a unique view of harbor activity. Tables under the pier's pavilion provide the perfect spot for a family picnic or to enjoy the sea breeze on one of the many wooden swings.
Perhaps the most famous aspect of Waterfront Park is the giant pineapple-shaped fountain and the spray fountain. During the summer months, you'll find kids and adults alike splashing around the fountains, trying to stay cool.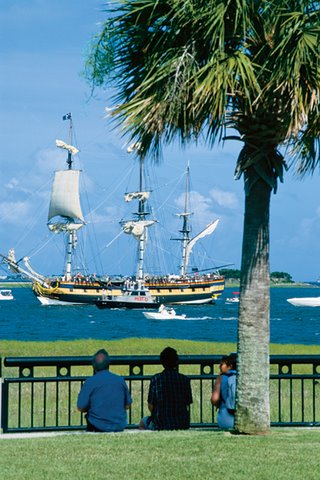 5. Magnolia Cemetery
Leave the kids with a babysitter, or bring them along for a self-guided tour of Magnolia Cemetery, located on the banks of the Cooper River. Established in 1850, Magnolia is the hidden jewel of Charleston (at least in this author's humble opinion).
The oldest public graveyard in the city, it is the resting place of many prominent citizens—from politicians to planters, military leaders to madams. Just as eclectic as its residents are the gravestones and mausoleums scattered throughout the towering Live Oaks. Over 2,000 Civil War veterans are buried here, most notably the seven graves of the lost Confederate crew aboard the Hunley.
Magnolia Cemetery is open from Monday through Friday, 9 am to 4 pm. Admission is free.
6. Charles Towne Landing
Charles Towne Landing is the site where the English first settled in 1670. Now a museum and visitor center, visitors learn from reenactors what life was like for the first settlers, including how they farmed, protected themselves, and ruled. There are numerous educational programs for children and a 22-acre natural habitat zoo the whole family will enjoy.
For more information, visit http://www.charlestowne.org/.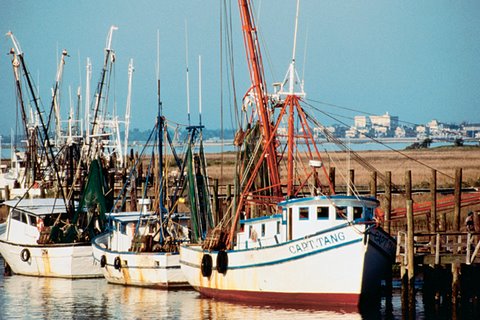 7. Shem Creek
A bridge ride from downtown, Shem Creek is a nice reprieve from the hustle and bustle of historic downtown. Located in the heart of Mount Pleasant, this deep-water creek is home to Charleston's shrimp boat fleet. It also happens to have the best sunset view in town.
During the day, families can rent colorful kayaks and paddle among the dolphins. The creek also houses a variety of restaurants with outdoor and rooftop seating, all of which serve local seafood. Some restaurants are more kid friendly than others, but during the summer months, nightlife on the creek can get a bit wild for a family vacation.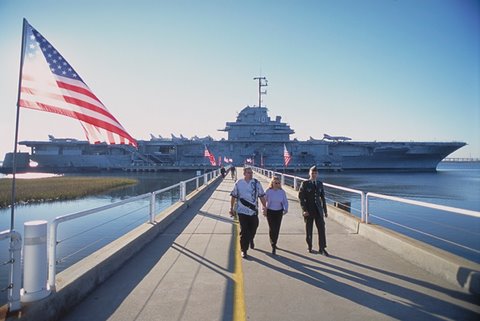 8. USS Yorktown
The tenth aircraft carrier to serve in the U.S. Navy, the famous ship was launched in 1943 by First Lady Eleanor Roosevelt. After dodging Japan's Kamikaze missions and earning eleven battle stars for its service in World War II and five battle stars for service off Vietnam, the Yorktown was decommissioned in 1970.
Today, the 900-foot ship rests at Patriots Point Naval and Maritime Museum in Charleston Harbor. A family favorite, children and adults alike will enjoy learning about the helicopters and planes displayed on the flight deck and in the hangar.
For more information, visit http://www.patriotspoint.org/.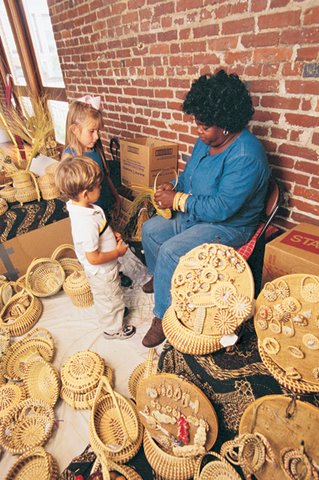 9. The Charleston Museum
Founded in 1773, The Charleston Museum is America's oldest museum. Anything you want to know about the natural and social history of the Lowcountry, you'll find your answer here. A full-size replica of the CSS H.L. Hunley, the first submarine in history to sink an enemy ship, is on display outside the building.
The current location is not the original; a fire in the late 20th century destroyed the old building, save the column ruins. The columns still stand at the old site in Cannot Park.
For more information, visit http://www.charlestonmuseum.org.
10. Brunch
I know what you're thinking: brunch is not a sightseeing activity. But once you've run all around Charleston for a few days, I can promise you, you'll have worked up quite an appetite.
Buttered stone-ground grits, salty country ham, scrambled eggs, and a fluffy biscuit topped with thick gravy—there's nothing better than a hearty Southern breakfast. Top that off with a heap of Southern hospitality, a warm, sunny day, and a glass of sweet tea, and life doesn't get any better.
Charleston does not lack in brunching spots. Whether brunching in the heart of the historic district, along the beach, or anywhere in between, stop a local and ask what his or her favorite breakfast establishment is.
For more information on visiting Charleston, please go to http://www.charlestoncvb.com/. A special thanks to them for the use of their photos.
And a very special thanks to Michelle Salater for her tour ideas: Michelle is an award-winning writer and president of Sūmèr, a company that specializes in web copy writing, SEO copywriting, and the promotion and marketing of websites after they launch. She is a former freelance travel writer and is the author of Charleston: A Photographic Portrait.
Michelle resides in Charleston, South Carolina, with Mama Mia, a gorgeous dog she rescued from St. John, US Virgin Islands. For more information, visit: www.writtenbysumer.com/blog

Share this post
You might like...
Category: Family Trippin'
Tags: Charleston, Mini-vacation Wednesday |
10 Comments »
on March 10, 2010 4:36 am

Thanks for including us in your "must-see" list! Hope you had fun and come to visit us on your next trip to the Lowcountry.

---

on March 10, 2010 10:12 am

If you have kids, Charlestowne Landing is a little off the beaten path from downtown but well worth it. The history is amazing and the trails are nice as well. My daughter's school plants crops and tends to them there. A great asset to our city.

---

on March 10, 2010 12:10 pm

Great article! My personal favorite thing to do in Charleston is go to the aquarium to see the sharks (my favorite animal) and the seahorses. It's the perfect thing to do on a rainy or windy day in Charleston. Get a group of friends together or go with your family.

---

on March 10, 2010 12:11 pm

Great Charleston highlights! For pet lovers traveling with their pooch, I suggest strolling around Waterfront Park, shopping at the many dog-friendly boutiques on King Street, and relaxing at Red's on Shem Creek, a waterfront fun bar and grill where dogs and people alike go to eat, drink, and be merry!

---

on March 10, 2010 12:34 pm

Great article to send to friends to convince them to come. But one thing that I think should be on the list are the lovely beaches that are not far from downtown

---

on March 10, 2010 12:39 pm

Spring is event season in Charleston and the absolute best time of year to visit. My personal favorites are the Festival of Homes & Gardens, Wine + Food, Family Circle Tennis, Charleston Fashion Week, and of course, the Spoleto Festival. Your first visit to Charleston? Start with the Visitors' Bureau link Heidi provided. You'll find all you need to plan your trip there.

---

Heidi Farmer

on March 10, 2010 1:38 pm

Wow! Thanks everyone for all these great ideas! That's Southern hospitality for you!

---

on March 10, 2010 1:42 pm

Need to go back! I think the last time was about 20 years ago— Thanks for the great post!!

---

on March 10, 2010 5:00 pm

I have never been and definitely need to go! Sounds great!

---

on March 11, 2010 8:22 am

MmmmmmMMM! Brunch! Good idea to include that! We are not lacking in good breakfast food.

---
Leave Us Some Comment-Love