December 27, 2010
***This week I'm running some of my favorite posts from 2010.  I'm in Florida this week and, in between trips to the pool, am busy planning for January.
I really love the idea that Karen Eschebach offered about thinking of your closet as a boutique.  I need to do a lot more cleaning out in the coming weeks!***
Here's the closet of my dreams: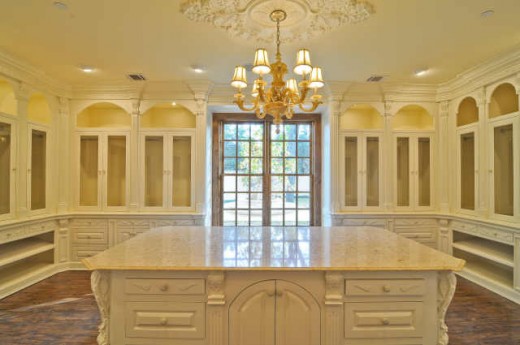 Now wouldn't this be fun to fill?
Oh to dream…
Several weeks ago, I ran a post about Spring Cleaning with tips by Karen Eschebach, and the idea that really resonated with me was to think of my closet as my own personal boutique.  I should love to wear the clothes inside and edit anything that doesn't fit inside my "boutique".
Um, mine is currently anything but this happy boutique-y place.
Maybe you can relate that for the last five years, I've been in one stage or another of early mommyhood.  And the words "boutique" and "spit-up" should not be mixed.
But with my youngest approaching 3, it's time to look somewhat presentable again.  Maybe, I daresay, even cute on occasion.
I'm crossing my fingers.
So I'm cleaning house.
And abiding by 2 cardinal rules:
1)      If I haven't worn it in 3 years, it's gone.
2)      If I don't love it, it's gone.
I have no idea why I held onto this shirt since I haven't touched it since long before Friends went off the air: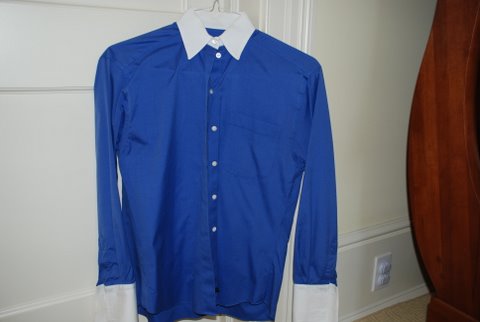 I know…
I also weeded out my shoes, but I'm too embarrassed to show you what I originally bought.  They were too terrible for words.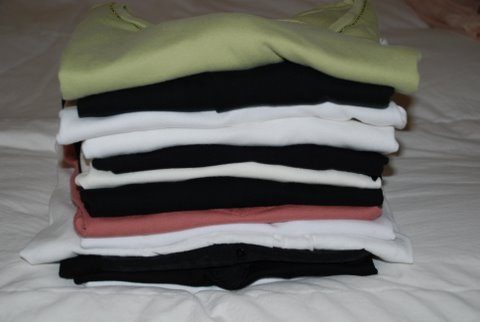 And there was this whole pile of my Old Navy shirts that have stains galore and really are quite unflattering.
Don't worry – I kept all the good Old Navy shirts.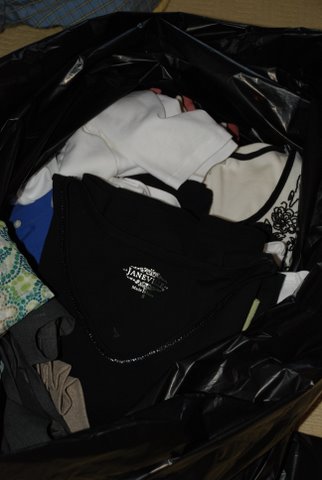 So the bag for Goodwill is full.  Hello tax write-off!
And a warning to the Running Man (dear, dear one): there may be some shopping involved.  I have a lot of empty hangers now.
But I need help!  Where are you finding your good stuff lately?  Any must-haves out there??

Share this post
You might like...
Category: Organizing, Storage
Tags: Closet organizing, walk-in closets |
12 Comments »
Emily

on April 20, 2010 9:25 am

I love Banana Republic pants, but their spring line lacks color this year.

---

on April 20, 2010 12:25 pm

I keep walking through Anthropologie, but their prices always scare me away. I have been LOVING Loehmanns lately. It's just hard to come up with the time to really go thru the entire store and find great things.

---

susie

on April 20, 2010 4:01 pm

i feel old saying this, but i am liking lands end! as a kid i only ever knew them for warm sweaters and turtlenecks! but now they have a new "canvas"line that has a younger feel. they still have plenty of stuff my mom wears, but really, i feel like the the whole line is doing a lot better at being trendy! well made stuff for a decent deal, they always have sales/free shipping too! oh, and when i have a little more money to spend (not often) i looooove http://www.bodenusa.com.

---

Heidi Farmer

on April 20, 2010 4:04 pm

I love Land's End too! I love that I can shop for all 4 of us at once. I'm just about to splurge on my own tote bag for me so I can lug my reading material in the car with me. They have cute striped ones right now. I'll have to check out this canvas line!
Thanks for the tip!!

---

Melissa

on April 20, 2010 4:37 pm

Good for you H, I have not even started spring cleaning! I am hoping to cash in with some of my things I no longer wear/need at a 2nd hand store in Greenwich- And then put that toward some basics. I love woodbury commons outlet, it has all your fashionista needs at great prices. I find that "Off the 5th saks" does pay off in the end. And of course there are stores for the whole family and home goods. They even opened up a Vineyard Vines outlet there as well- cute totes for half the price.
My investment would have to be a great pair of sandals, ones that allow you to dress up shorts and blouse, or feel pretty in a plain sundress.

---

on April 20, 2010 4:59 pm

Cleaning out the closet is also on my to-do list – I'm waaay behind on this task! I love the idea of making it a personal boutique!

---

on April 20, 2010 9:35 pm

I have a lot of trouble finding things that fit, but I had a good trip to Kohl's last weekend with a good friend who is honest enough to tell me when things look good (or not).

---

Heidi Farmer

on April 20, 2010 9:39 pm

Aren't those the best friends? Mine are my sister and my mom and I rely on them so much I rarely buy anything without them.

---

Julie

on April 21, 2010 7:19 am

Heidi – loving these shirts from Lands End. When I wear them people have commented "have you lost weight" (I haven't, but still good for people to think that)

http://www.landsend.com/pp/ShortSleeveShirredScoopneckTop~206243_59.html?bcc=y&action=order_more&sku_0=::HKN&CM_MERCH=search-_-shirred&origin=search

---

Sarah

on April 21, 2010 10:00 am

They are a splurge but I LOVE my Lulu Lemon "still" pants, I wear them EVERYWHERE and they are so comfortable and my husband even said they look nice!:) My sister gave me the regular pants at Christmas, and since I am addicted to them, I just bought the cropped ones for the summer. They are well worth it!

---

on April 21, 2010 12:06 pm

I, too, love Boden and just bought a couple of things (15% off + free shipping!). I can't stay out of TJ Maxx & Marshall's. And, I always check the deals on private (free) shopping sites like Hautelook.com, Gilt.com, ideeli.com. I have a large list of these on my site at http://www.SunnySaves.com – because I'm ALL about saving money!

And, I love the idea of creating my own "boutique"! I have stacks of clothes ready for consignment & Goodwill.

---

Celeste Won

on April 25, 2010 12:15 pm

I just discovered L.L.Bean Signature. It's a little more stylish than the regular llbean, not too expensive and still classic americana.

---
Leave Us Some Comment-Love