November 9, 2011
** Several of you have emailed asking advice on whether you should take the plunge with a minivan.  Hello!!  My answer is always unequivocally yes.  Some of you even stress that you will NEVER do this and ask what my next favorite car would be.  Hmmm.  Still the minivan!    And, I'm also at Disney World with the adorables this week and I needed to plan ahead.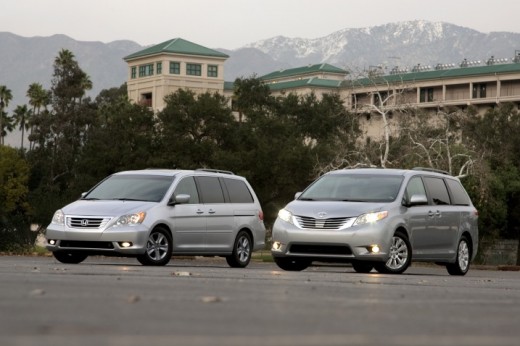 Warning: if you grew up in a 2 minivan family like I did and moan and feel sick to your stomach at the sound of these words, rest assured, this is not your mother's minivan. I'm talking about the Honda Odyssey here because that's the one I drive…
My surrounds are infested with Range Rovers and Mercedes GL's. But when I whip out my key fob, and open both sliding doors and the trunk in one single motion, their $85,000 jaws drop. The key, my friends, to being cool as a mom, is pure functionality. I'm not interested in impressing anyone – have you seen my wardrobe? It's all about the adorables right now, and I'm okay with that.
So buckle your seatbelts, here we go:
1. The first reason why minivans rock is exactly what makes them so: Sliding doors, people.
Here's why: our lives are parking lots, parking lot after endless parking lot. Since we're always on the hunt for rock star parking, we invariably have other cars parked next to us, right? Sliding doors solve the problem when you are trying to get a car seat carrier into the base when your neighboring car has left you 4 inches. This is really huge, especially with 2 or more adorables.
2. Flexibility
On one trip, we carried 4 adults and 3 adorables in car seats, 2 decent-sized strollers and luggage. On another, we carried 5 adults and 2 adorables in car seats. Regularly for our road trips we put the third row down and pack the Running Man's bike, our double-jogger (it's BIG), another umbrella stroller, luggage, coolers, golf clubs, etc. It's like Tetris in there.  I can't think of a single week when I didn't carry 5 little adorables at least once.   I love being able to cart kiddos on the fly!
3. Navigation System with Back-up Camera
I'm really talking about the back-up camera that comes with the Navigation system. I know they are not unique to the minivans, but oh so helpful in preschool parking lots!
4. Family Extras: DVD player with wireless headphones, a little rear mirror to check the adorables without have to wrangle the real rearview mirror, a laughable number of cupholders, a real power outlet in addition to 2 car adaptors, and finally in the Touring model: ability to remember seat positions for 2 drivers.
I do wish Honda offered All Wheel Drive, as Toyota does on their Sienna. That's my only issue.
So what type do you drive and would you recommend it?  Some mamma somewhere will thank you!

Share this post
You might like...
Category: Brilliant
3 Comments »
on November 9, 2011 9:10 am

I drive a 2004 Odyssey – and I love it! The only things I'd change? I wish we had chosen leather seats. Also, I would love to have the windows that roll down on the sliding doors and a power liftgate, but those features weren't offered until at least the next model year. Still, love the space, the functionality, and the ease of the sliding doors. We car camp, and can fit everything we need (family of four) in the back with room to spare. We can put our bikes (all four!) in the back with the rear seat folded down. We'll be looking for a replacement in the next few years – and it may just be another Odyssey!

---

Laurie

on November 9, 2011 2:22 pm

I've driven an Odyssey since 2003, and I love it. We have three kids & a big dog, and soon it's time for a new car. My issue is that I don't love the new Odyssey design. Not sure what to do….get over it maybe!? Plans B and C would be to switch to a Sienna or even go for the Honda Pilot.

---

on November 9, 2011 3:47 pm

Our minivan is a 2002 and I am so jealous of the windows that roll down on the side doors and the many other improved features of new vans!!

---
Leave Us Some Comment-Love