September 17, 2013

Written by Marykate OMalley, mother of three wonderful children, Gladwyne PA
With the temperatures cooling on the east coast and the calendar turned towards September I have Christmas on my mind because, it is always on my mind. Maybe even in May. And June. Maybe in July. And maybe I have started to think about Christmas lists. And I could have listened to a song or two, because they were next on the playlist.
But before we go there we need to get through Halloween and Thanksgiving. And every Halloween it is the same – I think about the bin of dress up clothes and costumes in the playroom. I think about how I could dress full ensembles and class plays with the wardrobe we have collected over the years. I think about how I should be one of those Moms who puts her foot down and chooses her kid's costumes or demands that they wear one from the year before or from the dress up bin. But then they get soooo excited. And because I am a softee and easily manipulated I find myself in Target or Party City buying another uninspiring number.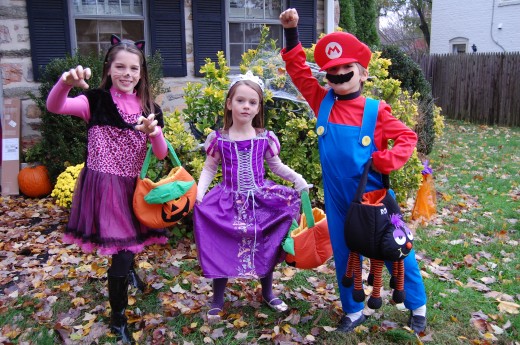 But this year ladies, I have a strategy. I am using the "what's in it for me" approach. In other words incentives. In other words bribery.
I told them that they have a choice:
Choice A they pick out a costume as they do every year.
Choice B they select one from the dress up bin, or we make one together AND they get $7.
And the creative juices are flowing – my son has ideas for an Eagles player. My oldest suddenly remembered the angel costume that is stowed away for the family Christmas pageant (it's all about Christmas girls). And when this conversation comes up my youngest grows eerily quiet. Her eyes narrow, her head levels and out of the corner of my nervous twitching eye – I see her sizing me up. And then Kenny Roger's The Gambler starts playing in the background. And if I was a gambling woman, I would bet on her. She will probably end up with a new costume and $7 because she is that good. And I am that easy manipulated.
Between us if I can get 2/3 of my crew to recycle a costume I am happy with the results. When I consider the economics of $20-$30 for a costume, $7 is a cost savings. My advantage – they have no source of income except for loosing teeth. $7 is 7 teeth and that could take years to amass. I think we have a solution here.
Share this post
You might like...
Category: Activities, Brilliant, For Kids, For Moms, Gear, Holidays, Mission Control, Momzone, Organizing, Playrooms, Random and Fun, Storage, Toys and Gift Ideas, Wondermom Resources
5 Comments »
on September 17, 2013 7:55 pm

Ha! You are so creative!! We have Halloween on the brain too. My 10 year daughter decided out of the blue she wants to be a cow! A cow! We don't live on a farm. We never even talk about cows. She's never mentioned having a love of cows before. And now, a cow?! And for like 3 weeks she hasn't changed her mind. And she wants to MAKE the cow costume. Did I mention that sometimes when I buy size Slim jeans they are sometimes too big on her? This may be her last Halloween dressing up,(my 12 year old has decided she doesn't want to dress up this year ) and I'm slowing coming to grips that she will be a cow for her last halloween and I'm racking my brain how to pull off a cute cow costume! I will enjoy making it with her.

---

Heidi Farmer

on September 17, 2013 8:06 pm

Cathy! This made me laugh out loud. A COW??? Ha!

---

Heidi Farmer

on September 17, 2013 8:09 pm

MK, you are on to something here! My boys dress up in sports paraphanelia every year because 1) I can never get them to decide on a costume and 2) we have it. BOORRRIIIINNNG (though inexpensive!)

---

Julie R

on September 19, 2013 3:39 pm

careful what you wish for when considering economics. My son usually does end up picking something creative. However very seldom is it less expensive than a store bought costume. & don't mention the time trying to source all of the unique items that comprise this creative costume. However, the costumes are more memorable and we can always find someone willing to take our costume hand-me-downs – they are usually costume parade winners in the creative category. =)

Past costumes include: A one-eyed-one-horned flying purple people eater, a potted plant and radioactive waste.

---

Marykate

on September 20, 2013 7:21 am

Ok Cathy and Julie – I guess I should be happy with princesses and Mario peoplle – cow and radio active waste – where do you start?! Ha! Julie I would love to see pictures of some of those – could be a post!! One eyed one horned – you are GOOD! Heidi – I am all over the sports theme! All it took was a little "motivation!"

---
Leave Us Some Comment-Love