August 1, 2013
written by Cathy Baker, mom of two sweet tweens, who are kinda sad our summer ends in 2 weeks!
This summer, I saw this idea on a friend's FB page — a reading contest between mother and daughter.  I've tried different things in the past to get my girls to read over the summer, all met with some success. But, since they are getting older, I thought this idea might work this summer. And work it did!! Our contest officially ended yesterday…in a dead tie! Hard to believe school begins here in less than 2 weeks.
Here was the contest: If they read more books than I did this summer, then they would get $50 to spend.  If I read more books then they did, then they would make us dinner for a week!  I tried to stay just 1-2 books ahead of them to keep them motivated.  They each read 10 books this summer — some pretty good sized chapter books.
Since it was a tie, I decided to give them each $25 for their efforts, and they are each making one meal this week.  Overall, I say they are the biggest winners, because they got lots of reading in this summer!!
pssst –  if you still have a month left in your summer…there's plenty of time to challenge your kids to a friendly reading competition!
Obviously, with this competition, I read several books, but one book in particular was truly inspirational to read this summer, and I wanted to introduce it to you. It's called Kisses from Katie.
Katie is the next Mother Theresa.  Seriously. Her heart to love, simply love, in any tangible way she can, the orphans, widows and poor among the people of Uganda is both beautiful and inspiring!!
Katie was homecoming queen and class president, all set to attend College, until her heart called her on a mission trip to Uganda her senior year.  There she fell in love with the people of Uganda, and her life would never be the same again.  Still in her early 20's she has become 'mom' to 13 orphans, and has started this amazing ministry called Amazima.
I read my girls some portions of Kisses from Katie, and opened their eyes up to how others live in our world.  And their hearts were touched. And when they heard about how Katie taught the women of Uganda to make jewelry, so they no longer have to dig through the local dump for supper for their kids, and how she sells their jewelry through her Amazima ministry — well, they wanted to use their money to purchase a necklace.  Here are the beautiful pieces they purchased.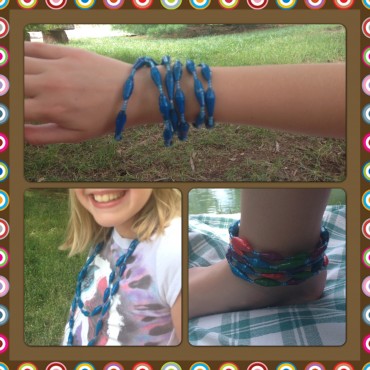 What a tangible, beautiful way to make a difference in our world.  If you'd like one, you can purchase a necklace at amazimastore.org (super fast shipping too!).
And if you want to be reminded that there is good in this world, that there are beautiful people making a difference (simply by loving one person at a time), pick up your own copy of Kisses From Katie before this summer slips away!

Share this post
You might like...
Category: Books, Random and Fun
Tags: inspiring books, Reading, Summer books, Summertime Kids |
1 Comment »
Marykate

on August 1, 2013 6:54 am

I saw this book – on my must read list. Something she said stays with me – she said Most people say God only gives you what you can handle. I believe He gives you more than you can handle so you have no choice but to give it to Him and lean on Him. So true. Think about that one a lot! And she is nothing short of amazing.

---
Leave Us Some Comment-Love