June 11, 2013

Written by Marykate O'Malley, mother of three wonderful children, Gladwyne, PA
We have just over a week left of school and so my thoughts are turned to summer. While there is a lot I will miss, the morning gathering at the bus stop before friends are pulled off to work, preschool drop offs and fitness classes. There is a lot I am looking forward to taking a break from and eager to put away until the fall.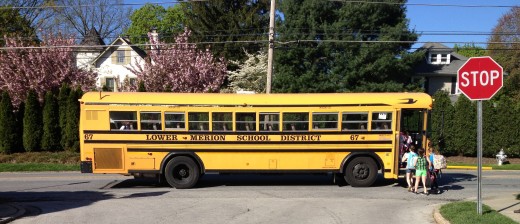 The bus stop
Here is my top 10 for Summer 2013
10. no more homework
9. a break from scheduled sports
8. watermelon
7. long days
6. kids running through sprinklers
5. going barefoot
4. peonies, roses, roses, peonies
3. outdoor concerts
2. the freckles that emerge on my children's nose and cheeks
And the one I am most excited about (drumroll….  can you hear the Halleluiah chorus in the background? I can!)
1. no more lunches to pack!!!!!
That is my summer vacation – lunches! What is yours?

Share this post
You might like...
Category: Activities, Art, Brilliant, Cookin', Family Trippin', For Kids, For Moms, For The Home, Garden, Gear, Girl Time, Home Tours, Kid Bedrooms, Kitchen, Kitchen Gadgets, Kitchen Pantry, Mission Control, Momzone, Organizing, Outdoor, Outdoor Space, Photography, Playrooms, Random and Fun, Storage, Toys and Gift Ideas, Travel, Wondermom Resources
6 Comments »
on June 11, 2013 7:26 am

Amen on the lunches!!! I will also add — seeing family (all live 600+ miles away) so summer is when we visit! Eating too much ice cream. Boating. No strict bedtimes. Our A to Z summer fun list.

---

Heidi Farmer

on June 11, 2013 9:34 am

I so agree on the lunches, that I gave up about 2 weeks ago and let my sons start buying their lunches at school Now agreed, when I ask what my kindergartner what he had, he will answer, "Chicken Caesar Salad", so I really don't feel that bad. We still have 2 more weeks to go… Ugh.

---

Sarah Trager

on June 12, 2013 7:04 pm

Summer = Maggie, Ronald, and Amanda visit CT! Right?!!? Fingers crossed…

---

Marykate

on June 12, 2013 8:16 pm

Heidi – I hear you. I am so over lunches. So, so over it. And I look at the menu and it has whole wheat breads and the kids have to get a fruit or veggie and I think – why do I do this myself? Creature of habit.
Sarah summer = yes yes yes!! So miss you guys and we are way overdue. Will reach out with dates!!

---

Marykate

on June 12, 2013 8:18 pm

Cathy – ice cream – yum. We are going through a frozen yogurt phase – probably because they are on every corner!! The new Starbucks but yummier

---

Heidi Farmer

on June 13, 2013 10:52 am

Sarah – I really like your line of thinking….

---
Leave Us Some Comment-Love