May 3, 2012
After multitudes of trips to the paint store, I finally settled on some colors to paint my entry, kitchen and family room.
We're talking multitudes of trips.
So many so that the guys who mixed countless colors were laughing at me.  "It's just PAINT, lady!" one of them said.
Yeah, yeah, yeah.  When you've had builder white everywhere for 7 years, it's kind of hard to decide.
So here goes:
Entry (which goes all the way upstairs too):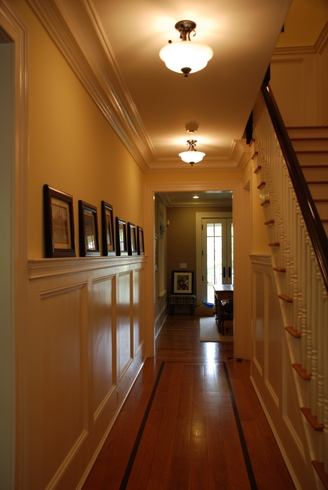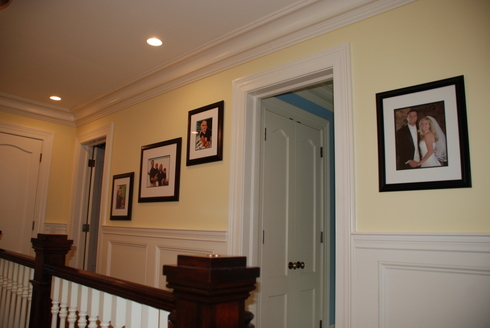 This is Benjamin Moore Weston Flax.  I was going for a bit more a wheat color, and it amazes me that during some parts of the day it is.  Others, it has more of a lemon hue.
Kitchen
(mind you, it only looks like this clean for 15 minutes on Wednesdays after the housekeepers leave.  Please never drop by on a Tuesday)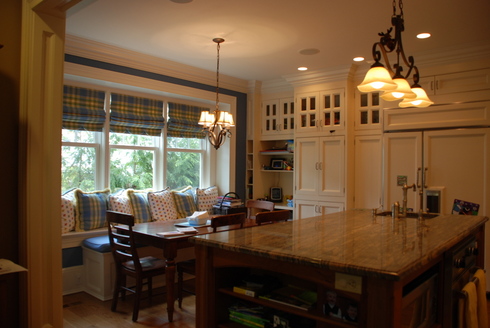 I have so little wall in here that my dear friend Wendy suggested this Benjamin and Moore Blue Nose to make the moldings pop.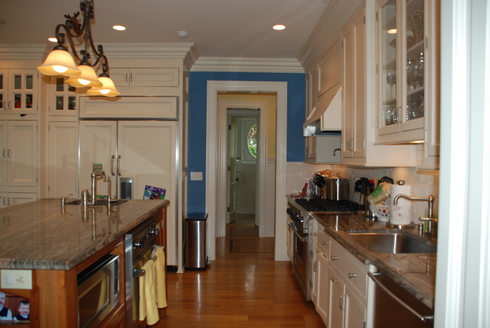 This is my favorite room.  This blue makes me very happy.
Family Room
A friend Jen, who is in my Pilates class, had recently painted her house and mentioned her colors to me.  Jen has great style, but I've never seen her house.
I looked up her recommended Benjamin Moore Coastal Path on my computer.  It looked like sand.
My house is called a Shore Colonial.
Sure, what the heck.
All those trips to the paint store rattling in my head, I called my painter and bit the bullet.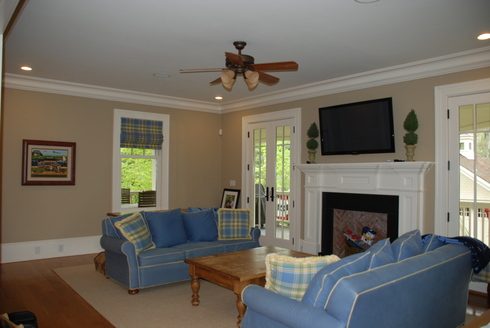 My friend Lisa pointed out that I have so much color in here already, that maybe a neutral paint would work.  Running Man isn't really a fan, but it's growing on him.
The adorables are really aggrieved with all the painting: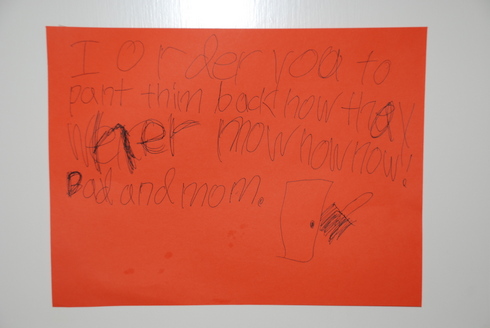 We found this note taped to our bedroom door.  I'll have to remember to warn my older's future wife someday that he really, really hates change.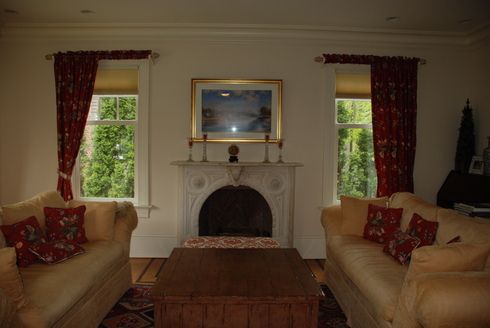 Now the living room (and dining room) looks like it needs something.  Hmmmmm….
Ideas?
Share this post
You might like...
Category: Home Tours
11 Comments »
on May 3, 2012 2:28 pm

Can't wait to see the changes. They look great to me!

---

Aunt Sharon

on May 3, 2012 5:44 pm

The curtains in the living room look very familier

---

Aunt Sharon

on May 3, 2012 5:45 pm

Love the colors!!

---

Marykate Wurster

on May 3, 2012 6:14 pm

Love the colors – and they blend so beautifully as well!! Since I have color galore – I now want creams and whites, all soft shades. Not what you are going for! I have to see it in person – will let you know my vision.

---

Lisa

on May 3, 2012 8:19 pm

LOVE it!!! Nice job…..all those trips to the paint store were worth it!!! The blue is gorgeous!!!

---

on May 3, 2012 10:52 pm

I love all the colors! You have a beautiful home. The kitchen blue is my favorite.

---

on May 3, 2012 11:46 pm

It looks great! I love that blue in the kitchen, too, and the sign from your Elder Adorable is hilarious. 😉

---

Chani M

on May 4, 2012 10:00 am

Oh I absolutely love the blue in the kitchen!! So unexpected and it really does make the molding pop!!

---

jeff

on May 4, 2012 1:53 pm

looks great! Much better despite what one adoable thought.

---

Mary C

on May 5, 2012 7:55 am

Your home is beautiful!

---

on June 1, 2012 12:02 pm

I LOVE that blue. Looks so fantastic. The house looks great!

---
Leave Us Some Comment-Love