December 31, 2009
Happy End of 2009 to you!
I offer you a few photos of my adorables throughout the year – can't believe how fast it has gone!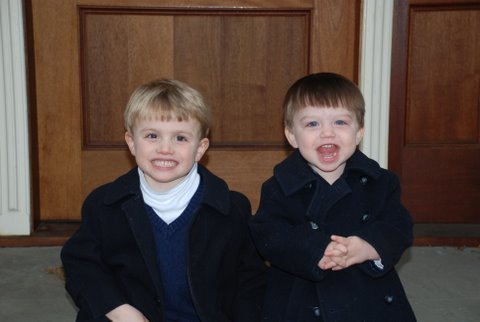 I love to torment them with photos right before church.  They gave me about 30 seconds this day.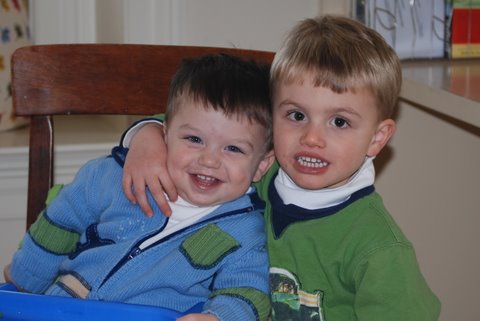 Happy guys.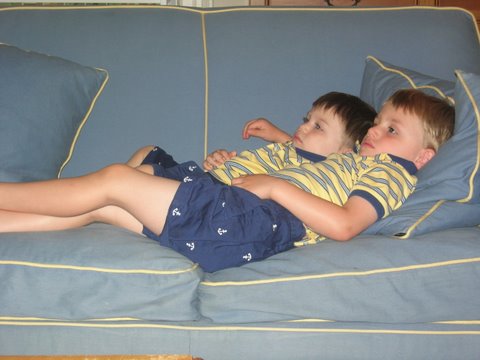 Buds.  I love to dress them alike; my apologies, but I just can't stop myself.
Halloween, or just a random Tuesday, it's hard to tell.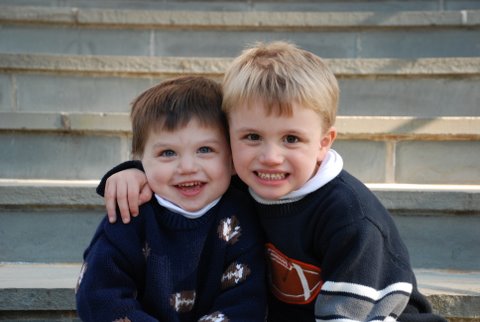 In December, during the hunt for the dreaded Christmas card photo.  Now that would be a funny post sometime…
Tonight to celebrate the end of this fabulous year, we're heading over to a friend's house with all the kiddos.  The hostess pitched it as a giant multi-family slumber party, but I'm not sure she knew about my younger adorable's 5:45 am internal alarm.
What are you up to tonight?  Staying in, going out, babysitter (you lucky dears)?
Whatever your plans, I wish you a great time and lots of laughter!  See you NEXT YEAR!

Share this post
You might like...
Category: Holidays, Random and Fun
Tags: New Year's Eve |
6 Comments »
on December 31, 2009 8:44 am

Love it!!! And Happy New Year to you!

---

on December 31, 2009 9:12 am

Staying in, thinking of make- (er, top-) your-own-pizza for dinner, and hopefully getting the laundry done before dark. Possibly catching up on Christmas blogging!
The Adorables are, well, adorable! Thanks for sharing.

---

Sarah

on January 1, 2010 12:05 pm

Great pictures!
We went bowling, then boucing in our neighbors new bouncy house:) Then attempted to sleep while one by one each child needed something all through the early hours of the morning, Happy New Year!

---

on January 2, 2010 12:43 pm

Happy New Year! We stayed in. It was nice and quiet!

---

on January 2, 2010 2:23 pm

We went to a neighbors house and had dinner, let the kids run wild, and watched as two very intelligent men tried their hand at fireworks. One dangerous moment and a few kids running for the bushes, we decided to end the fireworks show early… Those boys will never again be in charge of pyrotechnics..

---

on January 5, 2010 5:56 pm

Your boys are PRECIOUS!

---
Leave Us Some Comment-Love