March 11, 2011
Happy Home Tour Friday to you!  Today, let's head to snow country…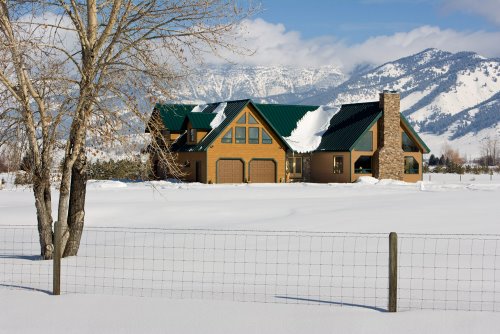 This home is located in Belgrade, Montana (which is just minutes from Bozeman, MT).  The home's stunning location is matched only by its breathtaking timber framing.  Timber framing is an art, honed by the Amish craftsmen at OakBridge Timber Framing, of Howard, OH, who designed, crafted and raised the frame.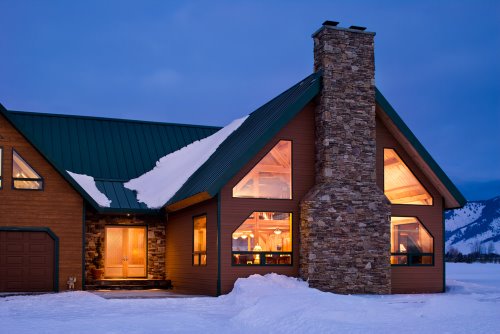 Every component of these timber frames are handcrafted by the three generations of this Amish family who work together, passing along the trade from the elder to younger generations.  The same craftsmen who handcraft the home are the ones who will raise and assemble the frame.
The 2,386 square foot main level includes a great room, dining area, kitchen and master suite, and the 1,450 square foot second floor features a spacious loft, guest bedroom with balcony, bathroom and a study that doubles as a third bedroom.
Now let's move inside…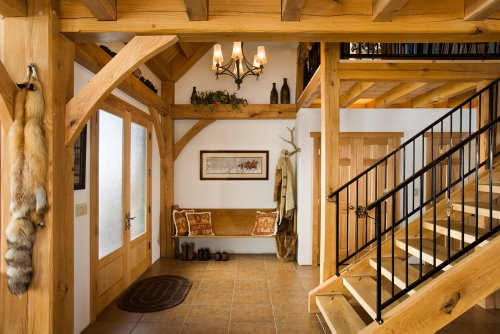 I love this foyer and the large staircase welcoming you.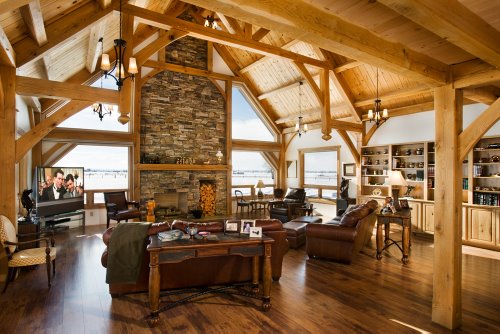 And, ahhh, the best room of the house.  Take a seat and relax!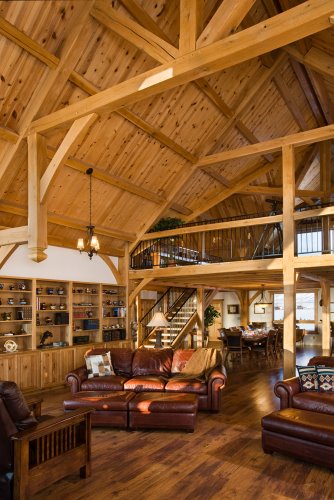 Here's another view looking in.  Love the bookcases and storage underneath all along the side wall.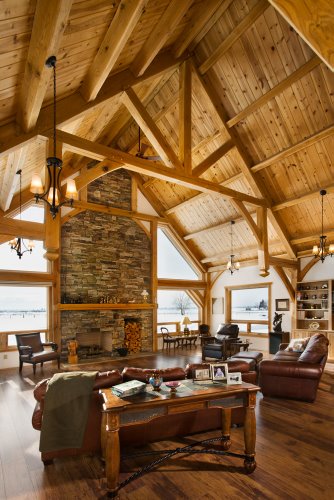 The cultured stone fireplace is framed with timbers that follow the line of the chimney and the large pentagonal windows that rise 25 feet to the roof peak.  Gorgeous!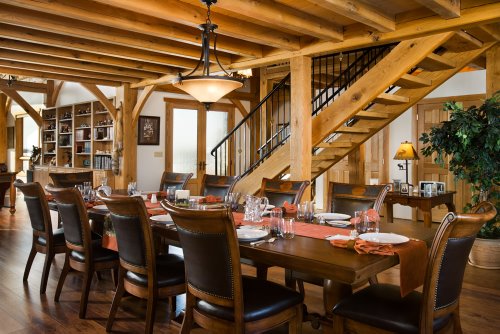 The dining room was designed to host large gatherings – the dining room table is actually two tables, bolted together!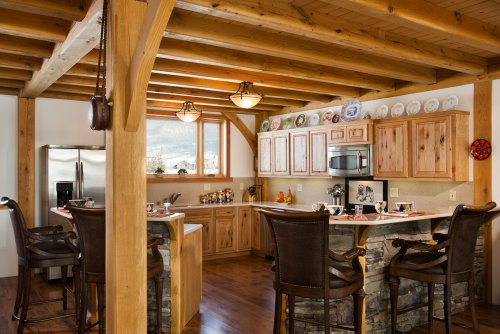 With all those friends to entertain, the kitchen will surely be used often.  Love all the bar seating.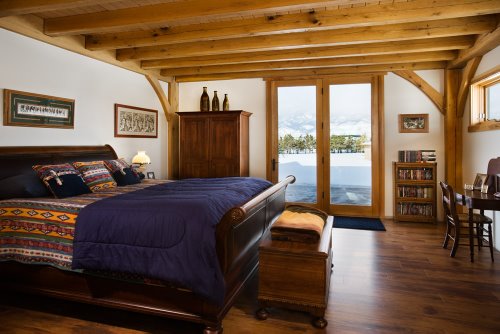 Now that's a view to wake up to!
Make sure you notice the model train above the door!  I would so love this in a home someday…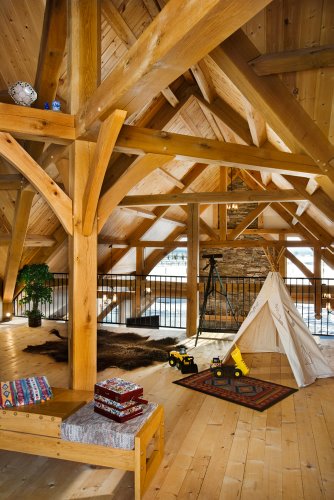 The loft overlooking the great room becomes a great playroom when the grandchildren come to visit.  And this is where I would play too!
Many, many thanks to OakBridge Timber Framing, Howard, OH for this spectacular timber home tour!
Have a great weekend!

Share this post
You might like...
Category: Home Tours
Tags: Home tour Friday, Montana homes, OakBridge Timber Framing, Timber Home |
3 Comments »
monkygm

on March 11, 2011 12:27 pm

GORGEOUS! Sure makes me miss home! Going back to visit family in July/August and can't wait!!!! I ♥ Montana!

---

on March 11, 2011 2:03 pm

This is just gorgeous!

---

on March 11, 2011 5:32 pm

Way to go Oakbridge! They are a great group to work with, and anyone else out there looking for timber framers, check out our list (includes Oakbridge Timber Framing) at http://www.timberframe.org! These are beautiful and SUSTAINABLE homes. Thank you for sharing!

---
Leave Us Some Comment-Love