October 13, 2011
This little baby is a wonder!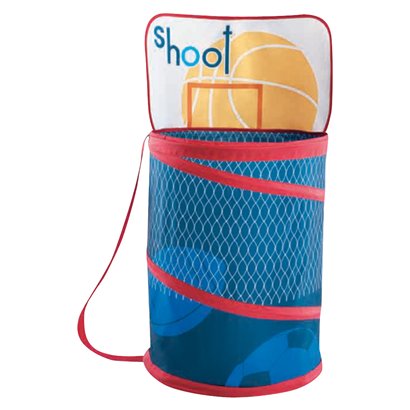 Some genius somewhere simply added a backboard to a pop-up hamper
and instantaneously, there are NO MORE dirty clothes on the floor anywhere.
I mean ANYWHERE.
My boy adorables shoot them in immediately.
Here's my confession: *Sometimes I even get a wee-bit annoyed when they pull their clothes out to re-shoot them.
Then I remember a time when the floor was strewn with clothes and I smack myself.
All this brilliance for $9.99 at Target: Circo Blue Spiral Pop Up Hamper
(They seem to be out of stock online, but if you plug in your zip code, you can find them in stores near you.  Here's hoping they restock immediately!)
Share this post
You might like...
7 Comments »
Ruth

on October 13, 2011 10:50 am

getting one right away, your posts are so great!!!

---

Danielle

on October 13, 2011 10:54 am

We purchased this hamper over the summer for my 3 year old son. Not only does it go perfectly with the sports theme of his room, but he loves making baskets with his dirty clothes (although it did take a few days to convince him that only dirty clothes, and not all clothes go in there). I love that I can just pick it up by the strap and take it to the laundry room. It's a great product!

---

Heidi Farmer

on October 13, 2011 10:59 am

Yes, we too, had to train they couldn't shoot all the clothes from their drawers. But luckily, my 6 and 4-year-olds have that down now. Maybe because they had to spend so much time refolding and reloading??? Oh, I'm so mean!

---

LisaK

on October 16, 2011 12:45 pm

I wonder if this would work for my husband too!?

---

Mary

on October 17, 2011 10:02 pm

Love this! Anything to get my boys to pick up their clothes without being reminded would e a wonder. Great price too!

---

michelle

on January 21, 2013 11:15 pm

does anyone know where I can purchase this hamper? I live in Orangeville, ONT Canada.

---

Heidi Farmer

on January 22, 2013 8:52 am

Does Target ship to Canada? Wait, just checked and they are out…
Try Amazon: http://www.amazon.com/s/ref=nb_sb_noss?url=search-alias%3Daps&field-keywords=basketball+pop-up+hamper

---
Leave Us Some Comment-Love