February 15, 2011
Written by Sarah Farthing, Contributing Writer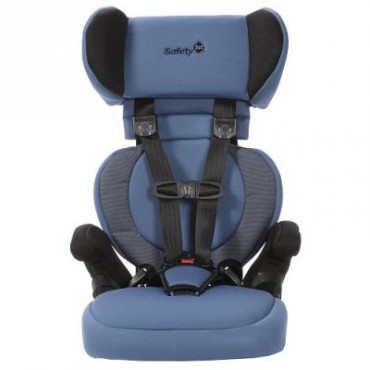 The Safety 1st Go Hybrid Convertible Booster, Baton Rouge
is the car seat I use with my 3 year olds.  It came highly recommended from a trusted friend that does such a thorough job researching the safety of children's products that I default to her when we're making this type of purchase.   Choosing a child restraint is a personal decision tailored to each parent's needs and their particular vehicle's specifications.   I wanted to highlight this particular seat because it has some uncommon features in addition to very high safety ratings.  I have been so happy with it and it is a product people inquire about when they see it in use; another example of something I recommend repeatedly that people purchase and are thrilled with.  The five point harness can be used on children as light as 22 lbs up through 65 lbs!  Keeping my kids in a five point harness longer was a big attraction for me.   It can also be used with a belt when weight requirements are met and parents are ready to make that transition.  As a booster, it supports a child up to 100 lbs.  The Safety 1st Go Hybrid Booster is a low profile seat, so it extends very little beyond the actual seats of a vehicle.  This has been a back saver for anyone climbing past the car seats in our van for any reason!  On the spot adjustment of the straps is incredibly easy to allow room for jackets or a different child.  Installation and removal are a cinch with alligator style clips.  This seat is unbelievably lightweight and folds easily for travel.  (It even comes with a soft sided case that sports a handle for easy maneuvering through airports!)

You can also visit Bobbysbest.com for a thorough review.
If you are in the market for a booster, this hybrid is definitely worth your consideration as you research and ultimately choose what is best for your family.
You can find it on Amazon for the best price ($172 including free shipping both ways): Safety 1st Go Hybrid Convertible Booster, Baton Rouge
Citation:
"Safety 1st Go Hybrid Booster Car Seat Review | Bobby's Best." Bobby's Best Consumer Product Reviews, Product Ratings & Coupons. Web. 31 Jan. 2011. <http://www.bobbysbest.com/Safeguard-Go-Hyrbid-Booster-Seat-Review.html>.
This post contains affiliate links – many thanks for supporting The Good Stuff Guide! When you make a purchase via many (not all) of these links, a teeny-weeny bit gets routed back here to help pay for hosting and postage. And that's a HUGE help! And the best part – it costs you nothing to do so!
Share this post
You might like...
Category: Gear
Tags: 5-point harness boosters, booster seats, Safety 1st Go Hybrid Booster |
4 Comments »
Yaya Kelley

on February 17, 2011 7:31 am

Ok – so certainly you all know by now I'm a grandma – My beautiful biological grandkids and anyone else who wants to…call me Yaya – it's greek for grandma. I thought it sounded alot like yes and children can say it right away – perfect… With that – when buying car seats don't just stop at one! If you receive more than one for a gift save it – Yaya's and Papa's need them too!

---

on February 17, 2011 6:21 pm

Good idea, Yaya!

---

Heidi Farmer

on February 18, 2011 9:51 am

I agree!

---

Mama Nolte

on February 21, 2011 4:58 pm

Great idea, YaYa! Ya got that right!

---
Leave Us Some Comment-Love