March 4, 2010
Okay, some dads are handy and some are not.  You need to meet one very talented daddy (and I love the Running Man to pieces, but its NOT him).
Somewhere in Utah, a daddy built this bed for his VERY lucky son: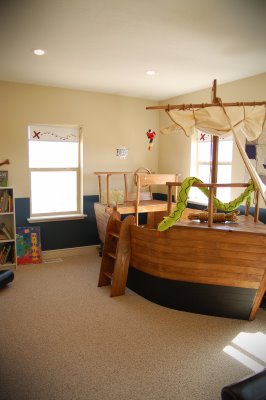 Check out this boat bed!  The carpentry here is remarkable – the finish on the wood is gorgeous. The bed is down inside the galley so shipmates feel especially comfy and dry should a sudden storm erupt.
The sails on the boat can be raised and lowered. There is a flag hoist, so artwork can be raised to warn fellow seafarers.
The boating theme is carried throughout the rest of the room…
Treasure map anyone?
I love this two-tone painting idea.  It makes a perfect chair rail without the extra wood and work. And it lightens the room up instead of painting the whole wall blue.  I might just get to work on that project!
Life savers and signs…
And model boats.  So fun.
And a new addition to the room for the youngest adorable who didn't want a boat bed: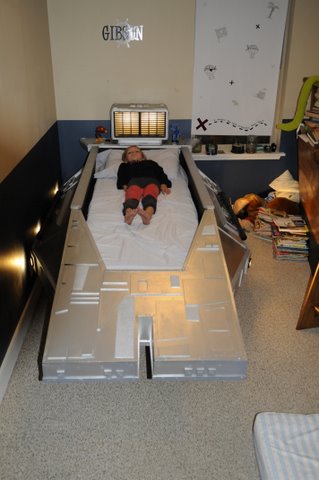 A Star Wars Speeder Ship!  This wonder-bed features working dimming lights and a windshield (which is not shown here).  Storage bins underneath hold their various swords, lightsabers, and play clothes.  This one, like the boat bed, is the length of a twin, but the width of a crib mattress.  Memory foam was again cut down to the correct size and twin sheets were re-sewn to fit.
Both the boat bed and this speeder ship have real floors in them, so when they outgrow them as a bed, they can be used as a fun play structure instead.
When I mentioned that her husband deserved some sort of an award, Emily replied, "An award?  Hmmm…  Praise from his boys…that's what he gets.  :)"  And that made me smile!
Many, many thanks to Emily at
Emmer's Ideas
for letting us take a peek in her adorables' room.  And for letting us swoon just a wee bit when we think of her handy husband.
And thanks to Dear Reader Julie for alerting me!
Share this post
You might like...
Category: Kid Bedrooms
Tags: Boys room, incredible boat bed |
3 Comments »
on March 4, 2010 9:56 am

Wow. I must confess that I sorta wish I had a boat bed! Awesome.

---

Ingmar Korstanje

on March 4, 2010 1:39 pm

So cool. Well done.

---

Emily

on March 5, 2010 11:53 am

When I clean the room up a bit – I'll get you a better picture of the star wars bed. Thanks for the spotlight!

---
Leave Us Some Comment-Love