January 18, 2011
My jaw literally dropped when I saw the following room that Tracy of HappyDaisyAZ.com sent me.  I even created a special new permanent category in my For the Home sidebar called "Momzone".  It is that awesome.
You'll see…
Tracy writes, "When we moved into our home, we had a coat closet right next to the front door. Not really needing a coat closet in Arizona, my husband asked if I would like him to turn it into a Scrapbooking Closet. Of course I said, YES!!!"
And here is what she received: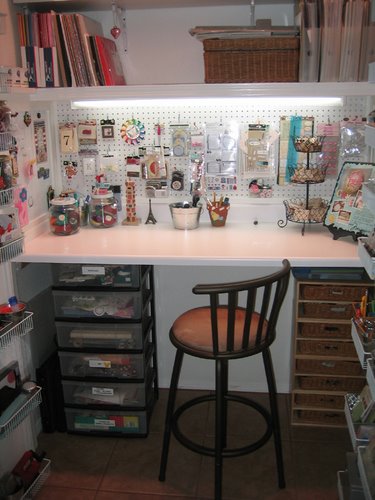 I'll just sit here quietly while you collect yourself.
I daresay Tracy has one gifted husband.
Tracy explains, "It had a single door, but was large inside, so he opened up the wall a bit and installed two doors.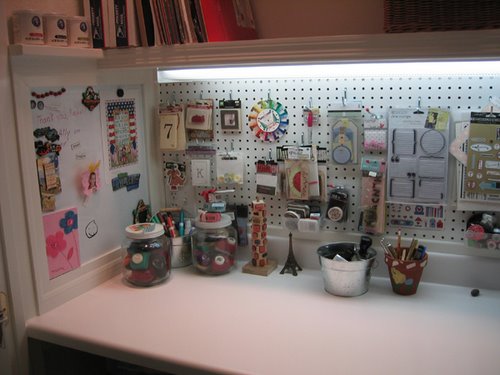 The space also includes a laminate countertop, a pegboard across the back wall, a magnetic whiteboard and corkboard which he painted white,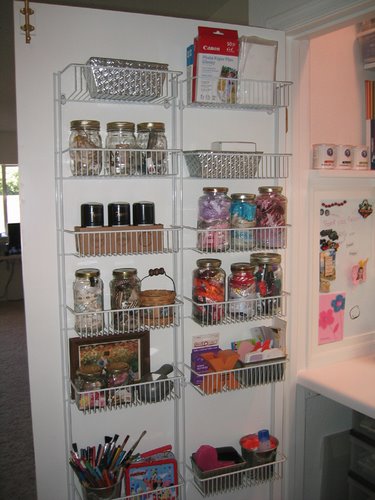 hanging shelves/baskets on each door,
(I can feel your pain here.  It's just too beautiful for words.  Notice the brass lock at the top of the door to keep "little hands" out – Tracy just had her 5th baby 3 weeks ago!)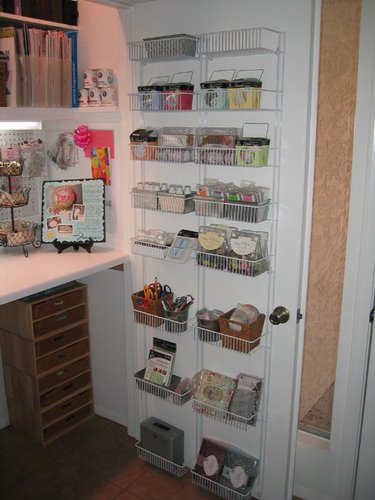 And it is so beautifully organized!  Tracy – you have a gift!!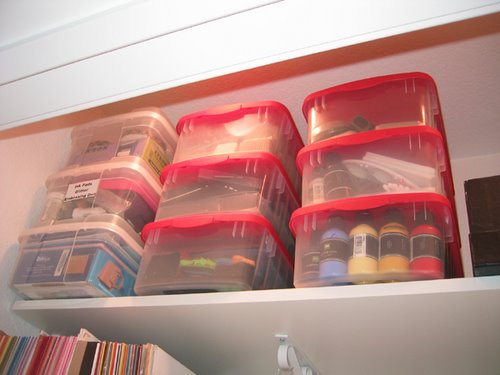 and overhead shelves for additional storage.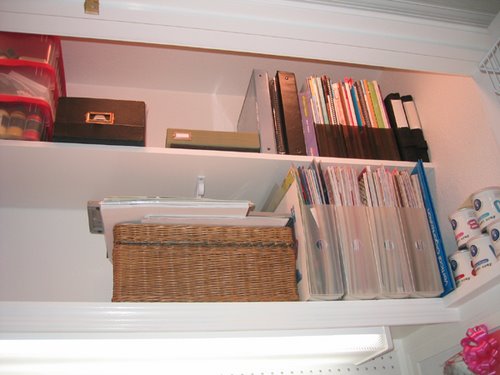 "This closet is one of my favorite spaces in our entire house. The best part with 5 kids around? It has locking doors which I can close (hides a mess quickly) and keep little fingers out of my stuff."
Tracy adds, "I love the counter-height workspace, which is good for sitting or standing;  I love that everything I need is within arms reach; I love that I can see all of my supplies so I don't forget what I have; I love the door-mounted shelves because they are a great use of otherwise wasted space; I love the clean look of all white and it helps to not give any color-cast to anything I'm working on."
Tracy, you are one lucky, lucky girl.  Thank you so much for sharing your special space.  I am uber-jealous!!
We need more "Momspace" rooms to oogle and ogle at – do you have one at your home?  If so, send me photos!  What does your dream room look like?

Share this post
You might like...
Category: Organizing
Tags: momspace, Organization, scrapbooking rooms |
11 Comments »
Marykate

on January 18, 2011 7:43 am

Wow! This inspires me to catch up on my baby books!

---

on January 18, 2011 10:09 am

What a creative way to make use of dead space!

---

on January 18, 2011 10:15 am

Momspace is a registered trademark with the USTPO. As it is our responsiblity to protect our name we must ask you to refrain from using it on your site/blog. Please feel free to email me with any questions.

---

Janessa

on January 18, 2011 12:53 pm

Change it to MommySpaces and tell the Joani chick to kick rocks. I love the closet!

---

on January 18, 2011 2:12 pm

Wow – what a fantastic craft area! I keep trying to find a spot in my house for my own mom(my)sp@ce – I have quite a few scrapbooks that I need to work on!
Oh, and good luck navigating the whole patent/trademark thing. Ugh.

---

on January 18, 2011 3:34 pm

You can see my space on my blog or on my facebook. I love having my own craftroom for the first time!

---

Kim

on January 18, 2011 8:16 pm

Awesome…so jealous!

---

on January 18, 2011 8:33 pm

I love the closet too but if I don't protect the trademark that costs me thousands of dollars to get I could lose it. It is what it is……

---

Heidi Farmer

on January 18, 2011 9:35 pm

Oh Joani, we understand! My apologies too. We changed it. Curious – when I look up momspace.com it redirects to Yourmembership.com? You have a cool name – what are you? Thanks!

---

Julie

on January 19, 2011 5:38 am

GORGEOUS!!!!! Congrats for making time/space for yourself.

---

on January 19, 2011 8:36 am

just moved off the yourmembership platform, too expensive and have a new site launching this week. It is a site with information and articles for moms. Thanks for changing the name, I really enjoy your site!

---
Leave Us Some Comment-Love