January 13, 2011
Happy Thursday to you!  Our series on organization continues today…
As the owner of Peace by Piece Organizing and also the mother of three small children (ages 5, 3 and 1), Renee Kutner definitely knows playrooms!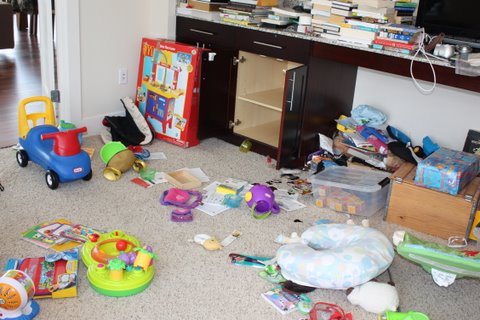 Stage 1: the beginning.  Ha!  This looks just like my house!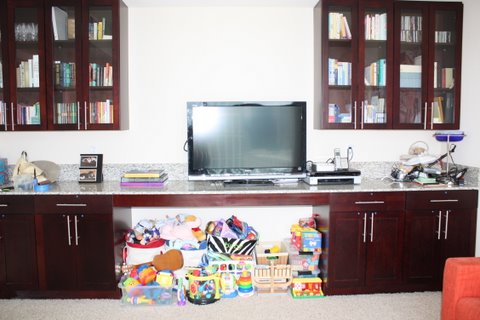 Stage 2: It's contained, but you know it's going to look like Stage 1 about 3.2 seconds.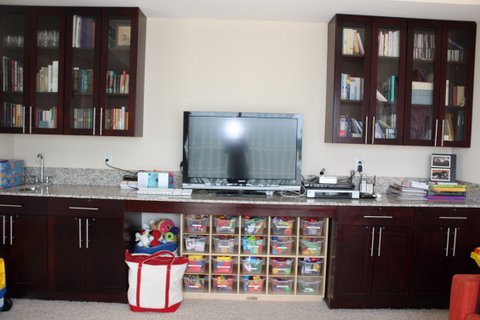 Stage 3: It now has a system!  Clean-up now has some direction and hopefully the room will look like this after a 5-7-minute group cleanup.
She has some great tips to offer us to organize the toy mayhem:
Lose the lids.
Storage systems with open bin containers enable kids to just dump the toys in and move on.  Lids are great for stacking, but they are difficult for kids both to open and close.  Of course, if they want to play with something they'll find a way to open it…but they're not quite as motivated to put it back!  Besides, stacking can be a disaster for little kids who inevitably want to reach something on the very bottom.
Label, label, label.
Use pictures for young kids and words for pre-readers and readers. When kids know where something belongs, they are much more likely to put it away because it's not such an overwhelming task.
Rotate toys.
Not having all your toys out at once obviously decreases clutter. Further, though, it keeps kids excited about the toys they have out so
they want to take good care of them and keep them in order.  When they lose interest in a toy, they really don't care how it is being treated.
Avoid the large toy chests.
If everything can go in, then everything will come out – every time they play.  Kids can stay more focused on only what they want to play with if their toys are sorted.  Further, this is what they are used to from school.  Think about your child's classroom where they spend most of their day – every activity has its own zone.
Store your toys bottom-up.
Think about the room from your child's vantage point – they are relatively short.  Therefore, keep those things they use most closer to the ground.  As you move up in your storage unit you can start to put the toys less frequently played with or, if you have multiple kids, put the older kids' toys higher up.
Many thanks to Renee Kutner, the Chaos Advisor, of Peace by Piece Organizing.  Renee can be reached at 404-309-4807 or online www.peacebypieceorganizing.com.

Share this post
You might like...
Category: Organizing, Playrooms
Tags: organizing toys, Playroom organization, Renee Kutner |
6 Comments »
on January 13, 2011 9:52 am

I love that set-up but getting organized can be so expensive. I think that's why I can't seem to get the motivation to do it

---

on January 13, 2011 9:57 am

What an incredible wall system! I love the idea of all those bins–Danielle, have you looked at your local dollar store or at IKEA? I get lots of great bins, baskets, and such there for cheap!

---

on January 13, 2011 10:12 am

I've never been to IKEA and our local dollar stores don't have anything good. I have some toy storage bins from Target but my 23 month old just dumps them all out so i'm in need of something a little more organized for him I think. I'm going to try to make a trip to IKEA this summer, the closest one is about 1 1/2 hours away.

---

Heidi Farmer

on January 13, 2011 10:14 am

Danielle, I think Gina has a perfect idea – just keep a lookout (especially at the Dollar stores) and start collecting when you see them on sale. In no time, you'll have a great start.

---

on January 13, 2011 5:13 pm

Super impressive!

---

on January 14, 2011 10:02 am

Love it! I'm more like #2 and that's only a temporary fix. This gives me a lot of inspiration.

---
Leave Us Some Comment-Love