July 6, 2010
I hope you had an excellent Fourth of July!  We traveled to Michigan to visit family for the holiday.  Saturday night was with The Running Man's family on one side of the state and Sunday was with my extended family on the other.
Lakes in Michigan are just this relaxing.
Oh how I love thee.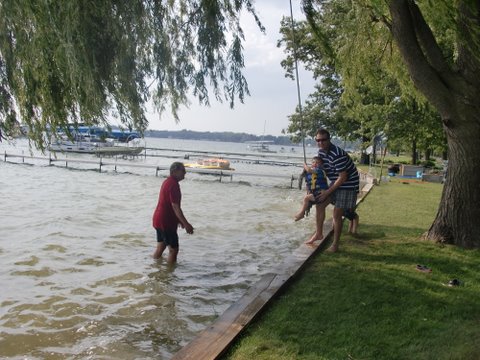 Here we are wiping the adorables out.  And they still have 5 hours to go until darkness here…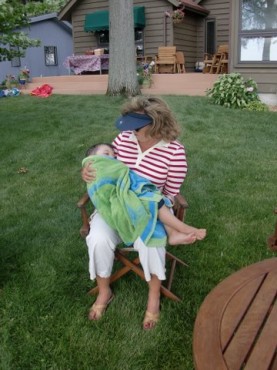 Here's my youngest all wrapped up and snuggling with his Grandma "Mama".
We did have a little business to attend to…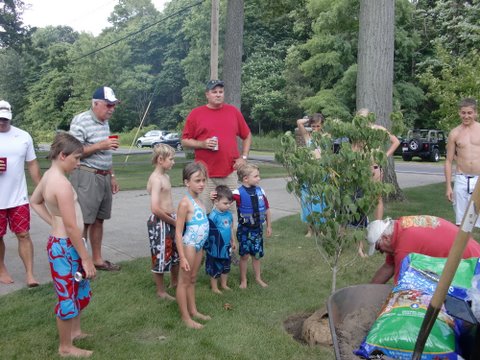 My grandmother (or Gigi to my adorables) passed away in February, so we planted a tree in her honor.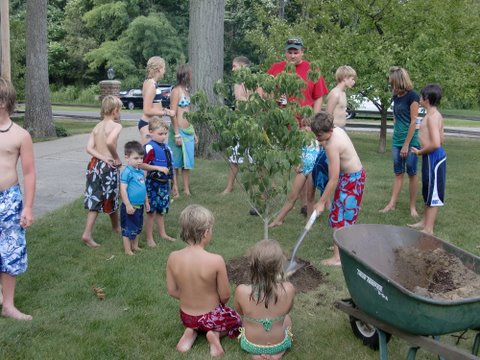 Here's a handful of her 14 great-grandchildren planting her tree.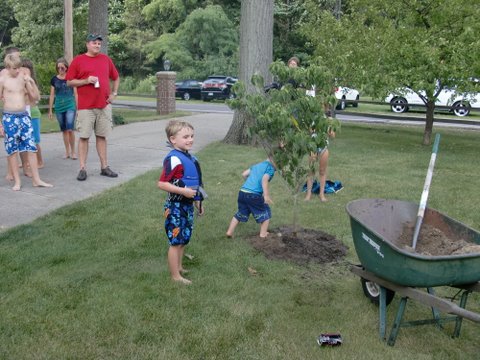 After planting was complete, it was back to the water…
And then it turned dark and the firework carnage ensued.
(I had no hope of firework photos with my little travel point-and-shoot, so just imagine firework photos here.  Lots of them.)
My cousins, who are both dentists by trade (who obviously really really need the use of their hands) put all caution to the wind and set off endless amounts of fireworks at the end of the dock.
At one point, my elder adorable (my younger was long since asleep) crawled out from under the bench where he was hiding and shouted, "I think that's enough fireworks for tonight!"
(I pretended not to know him.)
And we still had 20 minutes to go…
Oh I love the 4th!
What did you do?

Share this post
You might like...
Category: Family Trippin', Holidays
Tags: Fourth of July, lakes, Michigan |
2 Comments »
on July 6, 2010 12:27 pm

I love it! Wish I could have been there!

---

Julie

on July 7, 2010 7:54 am

Friends of ours live in a town that has a carnival over the 4th holiday. Rides, junk food and 2 nights of professional fireworks – what could be better? They invite us to "camp" in their backyard and we have a cookout and s'mores. LOVE it!!!!

---
Leave Us Some Comment-Love