October 18, 2011
Our elementary school runs a fabulous fundraiser called Pumpkin Patch.
This has evolved over the years into a major PTA effort and yields in the neighborhood of $35,000 profit for the school.
Yes, really.  In one 5-hour Saturday.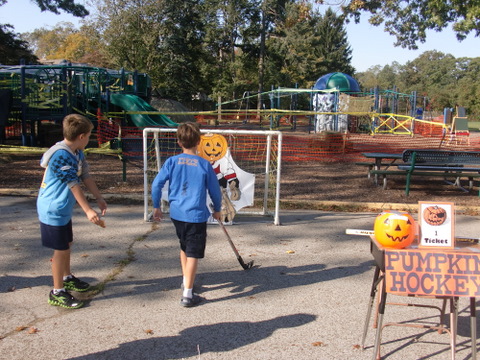 This year I was in charge of Big Kids Games out on the blacktop – a collection of 12 or so games intended to appeal to the older crowd.  Little Kids Games are in the gym.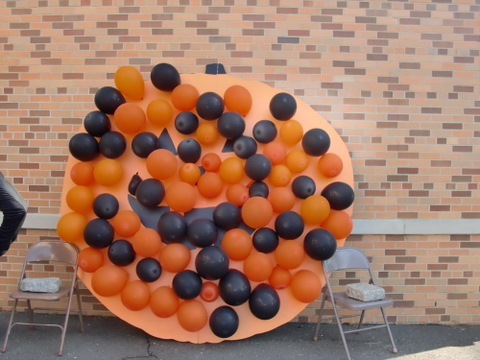 This is Pumpkin Pop, a board with balloons that are popped with a real dart.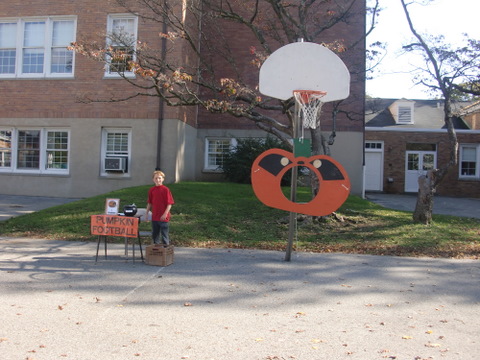 Pumpkin Football was a real hit.  As you guessed, you need to put the football through the hole.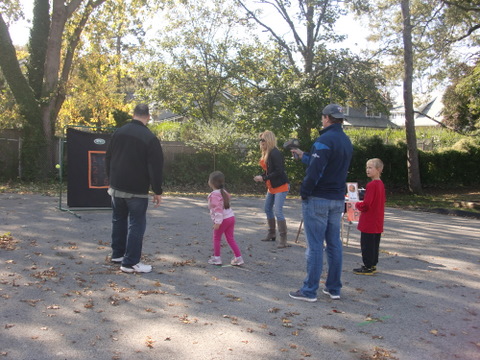 This was the biggest hit: Pumpkin Pitch.  A radar gun tracks the speed of baseballs thrown against this backstop.  One 15-year-old boy spent more than 20 minutes at this game alone.
In addition to the game areas, there are bouncy slides, a Running Scared Obstacle Course through the playground, a giant Hay Maze, a Haunted House, Little Tykes Village, and of course:
A bake sale, that sold out in 2 hours flat.
I just love the fall (especially when the weather cooperates)!  What types of activities do you do in your community?
Share this post
You might like...
Category: Activities, Fundraising, Holidays
Tags: Pumpkin Patch Fundraiser, school fundraising |
4 Comments »
on October 18, 2011 7:58 am

Wow! That is an incredible amount of money your school raises. Do you charge per event or just an entry fee? How does it work?

---

Heidi Farmer

on October 18, 2011 8:06 am

Each game requires a ticket or two, and tickets are $1 each; there is no entry fee. That 15-year-old boy probably had no idea he just spent $20-30 because to him, it was just tickets. There's also a huge community raffle, t-shirt sales, donations for key advertising spots, the bake sale, the food (both american and asian) – it's a well-oiled volunteer machine! I really shouldn't say it was just a 5-hour event because it requires countless volunteer hours to produce. But it is a great event for the community, and obviously, for our school.

---

Cheryl

on October 18, 2011 8:43 am

I bet you didn't know that in the last picture you took was of the new neighbors on your street

---

Heidi Farmer

on October 18, 2011 9:36 am

Oh my gosh! No I didn't! You'll have to fill me in…

---
Leave Us Some Comment-Love