November 10, 2009
I was in the store buying my favorite Oxo Pop Storage Containers as a hostess gift, and there these were on the shelves.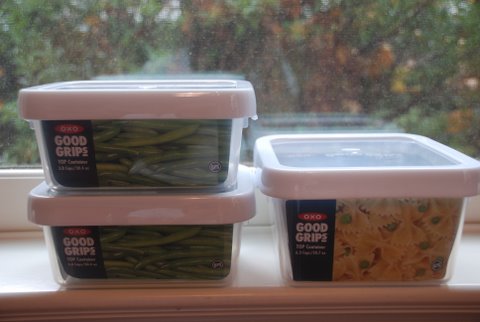 Meet the new OXO TOP container.  OXO TOP container, meet your new friends.
I stood there with a silent, "Oh no," knowing that I would slowly be replacing my dilapidated Tupperware and Rubbermaid with these little beauties.  (Don't tell the Running Man.)
And then I had a moment of sheer glee.
I limited myself to 3 this first trip. So we could get acquainted.  Make sure we're right for each other.
I'm telling you, we are.
The OXO people are masters at their craft.  Single-handedly replacing all of my mundane kitchen utensils and storage with little feats of engineering wizardy.
You can find them at Amazon and they are eligible for FREE Shipping!  (Those are favorite words of mine.)
OXO TOP Containers
And, yes, I really do give OXO as hostess gifts.
By the way, I'm planning a hostess gift idea post and I could really use some of your best hostess gift ideas.  Please leave them here in the comments.  Thanks for your help!

Share this post
You might like...
Category: Kitchen, Kitchen Pantry
Tags: Food Storage, OXO Top Container |
8 Comments »
marla

on November 10, 2009 9:41 am

I may succumb or surrender and purchase these!!!!

---

on November 10, 2009 10:11 am

WOW! Thanks for spreading the word (and so eloquently!). Why not try your hand at demo-ing the TOP Containers in our "Search for the World's Biggest OXOniac" contest? Check it out at http://www.oxocontest.com. Winners receive a suite of OXO products worth $1000, a trip to NYC and a starring role in our "How-To" videos.

---

on November 10, 2009 10:35 am

Wow, I would be psyched if someone gave me Oxo containers as a hostess gift! I'm always the person that brings a bottle of wine and flowers. Clearly, I need to be a little more creative!

---

on November 10, 2009 3:52 pm

I'm looking for some large storage containers for sugar, flour, etc. We buy sugar 10lbs at a time, and we go through 5 lbs. of flour lightning fast. Do these come in larger sizes?

---

Heidi Farmer

on November 10, 2009 6:19 pm

Oh my gosh! I'm so there!!

---

Heidi Farmer

on November 10, 2009 6:23 pm

Hi RLR! You need to check out the OXO Pop Storage Containers. You will love and adore them. Cross my heart. http://www.thegoodstuffguide.com/oxo-pop-storage-containers/

---

gillette

on November 11, 2009 8:11 am

Go for the oxo contest! You would be great on camera! If they are glass on the bottom, I will purchase them, as I am through with plastic for health reasons (toxins when reheating and storing).

---

on November 11, 2009 8:31 am

Ahhhh! I think I'm in love! Thanks, Heidi!

---
Leave Us Some Comment-Love