October 22, 2014
written by Cathy Baker, mom of two sweet middle school girls, livin' life in the Ozarks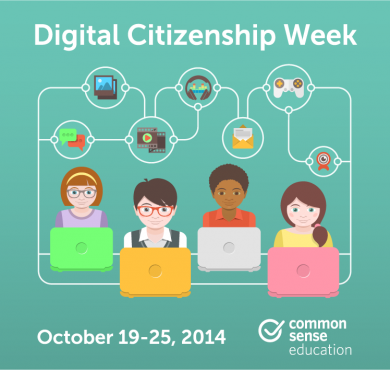 Last week our school had a Family Engagement Night. The purpose was to encourage, and empower, parents on their journey in parenting the digital citizens that our children are.
I really appreciated their efforts to help parents keep children safe online. To help us open the lines of communication about technology with our kids.
It's no secret that the social media, digital, online world is exploding and changing every day.  It is hard to keep up.  It seems overwhelming to monitor every 'new' app and website that kids are engaging in. Yet, as a parent, I want to let them be a part of this digital age (as if I could prevent it) — there are so many incredible ways for them to engage!  Yet, I also want to keep them safe, and I want them to make wise choices while they are engaging this world (yes, the entire world!) as digital citizens. Anybody with me? 
One thing that amazed me (and slightly scared me!) — if you type in your child's first and last name, along with the city and state they live in — you will more than likely have stuff pop up — it's kinda amazing how much stuff is out there.  I typed in my daughter's name and discovered an article she was quoted in that I had never seen!
The other thing I wanted to share with you a website called Common Sense Media – found @ www.commonsensemedia.org –and THIS WEEK is Digital Citizenship Week!  The website/organization is relevant, informative, and up to date on the digital world, and they have lots of great resources available!
Like these free, printable, FAMILY MEDIA AGREEMENTS — which are the perfect resource to open up the communication between you and your kids.  We did this with our girls at dinner the other night.  I actually discovered some things happening in social media that I wasn't aware of (yikes!).  Here are the links for the FAMILY MEDIA AGREEMENT:
Common Sense Media also has an app that gives you educational and safe media options for kids, based on their age.  Go ahead, check it out. Talk to your kids, you might just save them a lot of heartache down the road.

Share this post
You might like...
Category: Random and Fun
Tags: apps, digital citizen, kids computer learning |
No Comments »
No comments yet.
Leave Us Some Comment-Love