April 12, 2010
You all love to organize and you are going to be all over this!
Organizing Guru Peter Walsh offers the following tips for organizing your home office:
Binders
Ever turn your desk upside down looking for receipts or your flight itinerary?  For travel, business and leisure create a different binder devoted to your important documents.  For your travel binder, include pocketed folders to store airline tickets and receipts, a contact section storing important phone numbers, and a location portion highlighting hot spots and destination details.
Filling and File Folders
Chances are, you have a drawer devoted to your "I might need it" files.  Did you know 80% of those files aren't going to see the light of day?  Create a binder devoted to all of those important documents; and purge those "I might need it" files at least once every six months, and stock new file folders at the front of your drawer, so you can easily organize current projects.
Pens
Who said a to-do list can't be fun?  Get out your pens, and color-code your tasks.  For example, write out action items with a red pen, and use a black pen to cross out completed tasks.  Then write follow-up notes or comments with a blue pen.  At the end of the day, rewrite the list for the next day with your current action items.
In addition, Walsh has created the [IN]PLACE SYSTEM, a new line of organizing products for Office Max.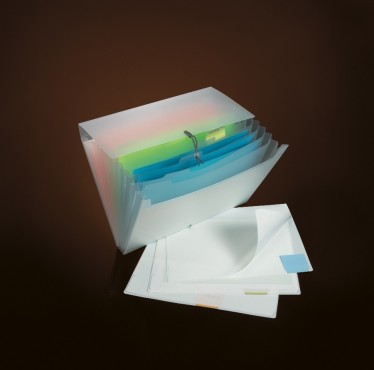 Isn't this fun?  Here's what's included: a 13-pocket expanding file, 10-pack Patterned File Folders, 2 Document Envelopes, 10 Erasable Clip Tabs, 1 Erasable Marker, and 250 sheets of Super Sticky Notes. Price: $39.99 / view here.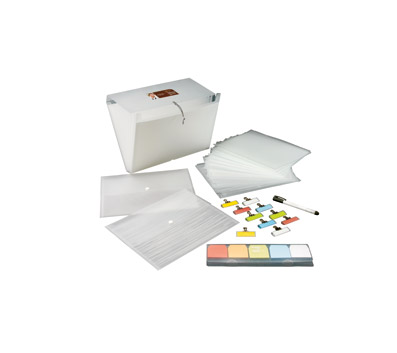 And just because I love ya and I know how much you've been wanting a Label Maker, I asked Office Max if they could throw one in.  Happily, they obliged!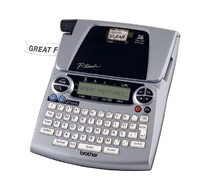 And did they ever come through – this one is major!  The Brother P-Touch PT-1880 Label Maker is a sleek, desktop labeler that creates professional labels for virtually any office application on durable laminated TZ-tape that resists water and fading. Label maker features a large keyboard with a 15-character display, built-in memory of five labels, two fonts and six type sizes, and two line printing. Cost: $49.99 /  view here.
Giveaway
To win the Deluxe Edition [IN]PLACE SYSTEM Organization Kit AND the Brother P-Touch PT-1880 Label Maker, simple leave a comment by Friday, April 16th and I'll choose the winner Saturday the 17th using Random.org and alert you by email.
You can add yourself for a second entry by emailing 5 of your friends about The Good Stuff Guide (or tweeting or leaving something about TGSG as your status update on Facebook).  As always, I trust ya!
Thank heavens for Office Max for getting us all in gear – how did we used to survive??
Good Luck!
***UPDATE**** #25 Ken won the giveaway.  Congrats!

Share this post
You might like...
Category: Organizing, Random and Fun
Tags: [IN]PLACE SYSTEM, Office Max, Peter Walsh |
30 Comments »
on April 12, 2010 9:53 am

I need this!!

---

nancy

on April 12, 2010 10:04 am

oh, love organizing!!!

---

on April 12, 2010 1:24 pm

This would be great. Thanks for the chance!

---

erin

on April 12, 2010 2:05 pm

I work from home, have two kids and one on the way – this would definitely help me get organized! Woo

---

on April 12, 2010 8:04 pm

This is so needed in our house!

---

Melissa

on April 12, 2010 9:16 pm

Oh, how I need to get organized- is starting at 41 almost 42 to late : ) ?

This looks like a great way to start!

---

on April 12, 2010 10:11 pm

Organized? I think I need some of that!

---

Amy Nowak

on April 12, 2010 11:34 pm

Organizing tools make me want to do a happy dance! I love organizing, and this looks great.

---

on April 12, 2010 11:58 pm

I love this idea! And it's my birthday on the 17th!!!! What a great gift.

---

on April 13, 2010 12:19 am

Wow! That label maker is quite an upgrade from mine!! I dont know how I survived before I had one! The file folder kit looks wonderful.

---

Jules Greenaway

on April 13, 2010 10:55 am

I LOVE to organize!!!! It actually calms me down, funny I know!! It all looks so fantastic & fun…AND a label maker too…WHOOO HOOOO!!!!

---

gillette

on April 13, 2010 11:25 am

I need these and the organized to go with this…. anyone know someone who wants to organize my office and put my accounts on Quicken or Quickbooks? Seriously!

---

Christie

on April 13, 2010 12:03 pm

This is fabulous! I would jump up and down if I won this!

---

Sandi

on April 13, 2010 2:10 pm

We are in the middle of a BIG move and I would love to get organized with this~!

---

Noreen

on April 13, 2010 2:44 pm

This is right up there with the recipe binders! Love it!!

---

Kabao

on April 13, 2010 3:35 pm

I really could use this!

---

Christine Wilton

on April 13, 2010 10:18 pm

OMG, this is awesome, in between my hubby, shredding assignments for my boys:( because he has no idea where to pput them) and my Discovery TOy party stuff, (receipts) and being label mom at the school, for boxtops, campbells and the drink pouches (terracycle.com) Recycle Maven Mom that is what I'm called by some, some just try to figure out who is going dumpster diving for the caps of the waterbottles for the church. As long as my boys aren't embarassed

---

on April 14, 2010 2:52 am

Whoa, that label maker is totally awesomesauce! And I love Peter Walsh so much!

I'm totally inspired to new organizational heights by Mr. Walsh.

---

on April 14, 2010 3:17 am

This is such an awesome giveaway! Lots of stuff I can use! Thanks for the chance to win
bleatham(at)gmail.com

---

on April 14, 2010 3:19 am

posted giveaway on facebook
http://www.facebook.com/#!/sleatham1?v=wall&story_fbid=114866385205619&ref=nf
bleatham(at)gmail.com

---

Laura

on April 14, 2010 11:55 am

I really, really want this one!!!

---

Julie

on April 14, 2010 12:47 pm

sign me up. always need more organization in mu life.

---

on April 15, 2010 8:32 am

I love office supplies and could definitely use some organizational tools.

---

Lauren

on April 15, 2010 9:08 am

Love the label maker!! Thanks!

---

on April 15, 2010 3:37 pm

I could totally use this whole system to help organize my new business. Please pick me!!!

---

Mimi

on April 16, 2010 8:57 am

These are fabulous "toys" for grownups; just wish they came with a guru to get you started !

---

Jennifer

on April 16, 2010 10:21 pm

This would soooooooooooo help me get organized….

---

on April 17, 2010 8:19 pm

I WON!!!! Whoo Hoooo!!! Thank you Heidi!!

---

Heidi Farmer

on April 17, 2010 8:21 pm

You are so welcome!

---

on April 27, 2010 12:48 am

My cousin recommended this blog and she was totally right keep up the fantastic work!

---
Leave Us Some Comment-Love