May 9, 2011
We opened a big box of new toys from Learning Resources last week, and THIS was what my adorables dove for first.  So I decided to run this giveaway first and – no worries – the rest are coming later.
Meet the Learning Resources Pretend And Play Ice Cream Shop
: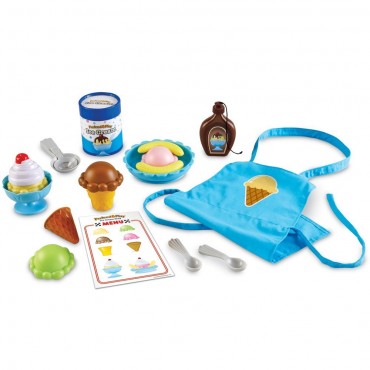 They immediately set to work creating an ice cream shop and played quietly (!) for about 25 minutes.  Love this type of quiet, creative play!  My elder adorable grabbed some play money and they practiced paying and counting and all that good stuff.  And they loved it!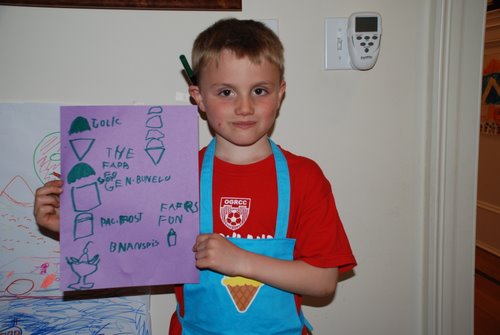 Here's my elder adorable with his homemade menu he created (yes, that's his phonetic spelling), wearing the apron that comes with the set.  Don't mind that bit of chocolate left over from his chocolate chip pancakes.
You will love this set: the chocolate sauce has a string that shoots out, the pieces fit together nicely and the ice cream pieces attach easily to the scooper which all makes it super easy (and life-like) to scoop!
Giveaway
One lucky, lucky winner can win the Learning Resources Pretend And Play Ice Cream Shop
simply by leaving a comment by Friday, May 13th (is it really Friday the 13th this Friday?? It's always a lucky day for me, oddly.). I'll choose the winner using Random.org and announce it on Saturday.
Because I just LOVE comments, here's how to gain extra entries (please leave them as separate entries):
1. Do you subscribe by email or RSS to The Good Stuff Guide? I love my subscribers, so you get an extra entry. Wahoo!
2. Email 5 of your friends about The Good Stuff Guide and tell them what a rockin' website this is. We'd love to have them join us!
3. "Like" The Good Stuff Guide on Facebook and receive the latest news and your chance at additional giveaways. (I LIKE you too!)
4. "Share" any recent post from The Good Stuff Guide on your Facebook wall by clicking 'Share' under our Facebook posts with links to The Good Stuff Guide site.  This makes a visit to our site just a click away for all your Facebook friends – the more the merrier…
(Feel free to do them all – that's a total of 5 entries!)
Good luck!

Share this post
You might like...
Category: Toys and Gift Ideas
Tags: Learning Resources Pretend And Play Ice Cream Shop, Monday giveaway, Pretend play, quiet time |
85 Comments »
Kim derrick

on May 10, 2011 8:40 am

I'm a fb friend

---

Kim derrick

on May 10, 2011 8:40 am

I get emails

---

gillette

on May 10, 2011 8:59 am

looks like fun!

---

gillette

on May 10, 2011 8:59 am

I am an email subscriber

---

Debbieohio

on May 10, 2011 9:59 am

This is just the gift for my Grandma friend with two new grandbaby girls.The older one just turned one year old and her parents own and operate an ice cream shop on the way to Lake Tahoe ! Won't this make a super special gift ?!

---

Jules Greenaway

on May 10, 2011 10:11 am

I'm also a FB fan…

---

Jules Greenaway

on May 10, 2011 10:11 am

And a subscriber…

---

Rachel C

on May 10, 2011 10:19 am

My kids would love this – thanks!

---

Rachel C

on May 10, 2011 10:20 am

email subscriber

---

Mimi

on May 10, 2011 11:59 am

Yea ! for anything ice cream; Yea ! for the adorable Adorable.

---

Mimi

on May 10, 2011 12:00 pm

Looks like a winning toy !

---

Kaijsa

on May 10, 2011 6:49 pm

Here's hoping! What a fabulous toy!!

---

Kaijsa

on May 10, 2011 6:49 pm

I'm a very faithful email subscriber!

---

Kaijsa

on May 10, 2011 6:54 pm

Just emailed 5 friends – Hope they all come and post!

---

Kaijsa

on May 10, 2011 6:54 pm

I like like like you on facebook!!!

---

Kaijsa

on May 10, 2011 7:00 pm

Just shared about this giveaway on Facebook!

---

nan

on May 10, 2011 10:16 pm

thanks for the chance
nannypanpan at gmail.com

---

nan

on May 10, 2011 10:17 pm

e-mail
nannypanpan at gmail.com

---

Laura

on May 11, 2011 9:09 am

Perfect toy for summer!

---

Laura

on May 11, 2011 9:09 am

I am a subscriber!

---

Laura

on May 11, 2011 9:09 am

I like you on FB!

---

Sandra

on May 11, 2011 9:44 am

This is so adorable! My 4 yr old would LOVE it!

---

Sandra

on May 11, 2011 9:44 am

I already like you on FB .. 😀

---

Sandra

on May 11, 2011 9:47 am

New email subscriber, too! 😀

---

on May 11, 2011 10:16 am

That looks like so much fun! I think my guys would love it!

---

Leah L.

on May 11, 2011 11:57 am

My son got a set of building gears from Learning Resources for Christmas and LOVES them! I've been wanting to get him more LR toys ever since! This is also perfect since my son's favorite thing to make with Play-Doh is "ice cream" – This set would be much tidier 😉

---

Leah L.

on May 11, 2011 11:57 am

I "liked" you on FB

---

Leah L.

on May 11, 2011 11:58 am

I shared the post about this giveaway on FB

---

Hyang A.

on May 11, 2011 5:16 pm

Too cute!

---

Hyang A.

on May 11, 2011 5:17 pm

Email subscriber!

---

Hyang A.

on May 11, 2011 5:22 pm

Facebook liker!

---

Valerie S

on May 11, 2011 7:05 pm

I would love this for my kiddos!

---

Valerie S

on May 11, 2011 7:05 pm

RSS subscriber

---

Valerie S

on May 11, 2011 7:06 pm

facebook liker

---

Charity

on May 13, 2011 12:26 pm

Super cute!

---
Leave Us Some Comment-Love