September 6, 2010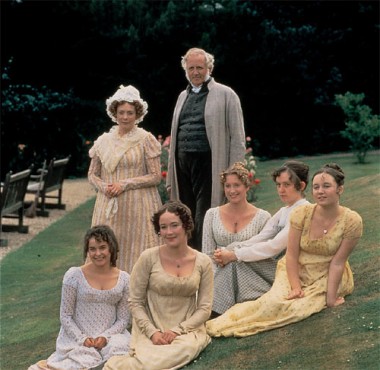 Does this family mean anything to you?
If not, it SHOULD!
Pride and Prejudice is not just my favorite book and movie of all time, it is THE BEST movie and book of all time.
So when I was wandering through Costco (as leisurely as you can with 2 adorables in tow), I had to pick up a few copies for you to win.
The BBC has graciously digitally restored this edition.
Giveaway
2 of you will each win 1 Restored Pride and Prejudice DVD simply by leaving a comment by Friday, September 10th.  I"ll choose the winners using Random.org on Saturday.
Because I just LOVE comments, here's how to gain extra entries (please leave them as separate entries):
Do you subscribe by email or RSS to The Good Stuff Guide? I love my subscribers, so you get an extra entry. Wahoo!
Email 5 of your friends about The Good Stuff Guide and tell them what a rockin' website this is.  We'd love to have them join us!
"Like" The Good Stuff Guide on Facebook and receive the latest news and your chance at additional giveaways. (I LIKE you too!)
Good luck!
If you are not the lucky winner, you can find the DVD at Amazon: Pride and Prejudice (Restored Edition)
Share this post
You might like...
Category: Brilliant, Random and Fun
Tags: BBC Masterpiece, Pride and Prejudice |
22 Comments »
Emily

on September 6, 2010 12:39 pm

Oh, goody! Perhaps my hubby won't roll his eyes so much if our copy of this great movie was in digital!

---

on September 6, 2010 5:46 pm

Ha! This is seriously one of my all time faves. Why do the husbands hate it so? It is my go-to movie when he travels.

---

on September 6, 2010 8:17 pm

The best movie of Pride and Predudice is the 1940′s version with Lawrence Olivier and Greer Garson! Someday you have to watch it! and…forget that it is in black and white!!!!

---

on September 7, 2010 12:25 am

Seems I've heard a lot about this book and movie lately. Never have read the book or seen the movie.

---

Judy Riley

on September 7, 2010 7:19 am

This sounds great and the Ann Arbor ladies will love it when they visit. Thanks for the great idea.

---

on September 7, 2010 7:48 am

I'd love to add this DVD to my collection! It is a wonderful story!
bleatham*at*gmail.com

---

on September 7, 2010 7:48 am

email subscriber
bleatham*at*gmail.com

---

on September 7, 2010 7:49 am

I like you on FB (shelly leatham)
bleatham*at*gmail.com

---

Rachel C

on September 7, 2010 8:59 am

I'd love to win this!! Thanks for the generous giveaway

---

Rachel C

on September 7, 2010 9:00 am

email subscriber

---

Jenny

on September 7, 2010 9:37 am

I haven't seen it! And have always wanted to. If I own it, I'll have no excuse.

---

Jenny

on September 7, 2010 9:37 am

I'm a fan on Facebook.

---

Jenny

on September 7, 2010 9:37 am

I'm an email subscriber.

---

Kim Derrick

on September 7, 2010 9:39 am

I subscribe via email

---

Kim Derrick

on September 7, 2010 9:40 am

I am your friend on Facebook

---

Kim Derrick

on September 7, 2010 9:40 am

I hate to admit I've never seen this movie =/ Maybe it's time!!

---

nan lara

on September 7, 2010 1:51 pm

would love to win
nannypanpan at sbcglobal.net

---

nan lara

on September 7, 2010 1:52 pm

e-mail subscriber

---

gillette

on September 7, 2010 6:56 pm

I would love to win!

---

gillette

on September 7, 2010 6:56 pm

I subscribe by email….

---

on September 9, 2010 10:53 am

Great series, love Colin Firth.

---

Stephanie J

on April 2, 2013 8:16 am

I remember watching this before we were married–my husband-to-be couldn't complain the way he can now!

---
Leave Us Some Comment-Love