November 13, 2013
I need to preface this entire post with a HUGE reminder of what a GIANT dork I am. Remember??
No, really, you remember don't you?
Because this is what's rocking my world currently:
Pyrex.
My grocery store put all their red-lidded Pyrex on clearance and I went hog-wild. I walked out of that store like I had just won the lottery.
I probably even skipped.
Then I went home and gathered ALL of my plastic Rubbermaid, Tupperware, Glad, no-name, you-know, etc. with mix-matched or often lost lids, while my new Pyrex was making a run through the dishwasher.
When it was time to load my basket that slides underneath my island (*My dear friend Wendy came up with this solution when I just plum ran out of storage in my kitchen), I was so HAPPY.
In Heidi-world, this is exactly equal to World Peace, The Easter Bunny, and Leprechauns, all together.
From fridge to microwave to freezer – in the same container!! – I am ready for every single food storage possibility.
(I already warned you I was a dork.)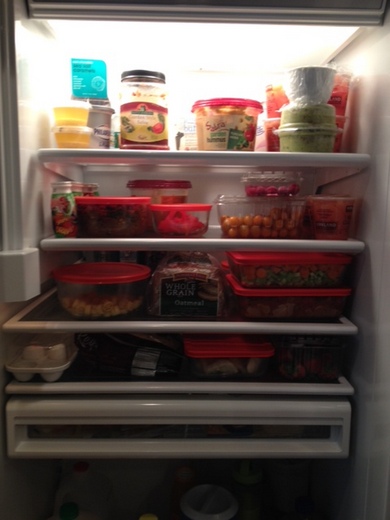 And here they are in my fridge.  Those 2 rectangular, stacked Pyrex in the middle right are a Salsa Chicken recipe all made up and ready to go in the oven sometime this week, and the top one is the celery and carrots for soup that I had time to chop, but didn't want to finish the soup.
So check your grocery store – perhaps Pyrex is coming out with a new style and these are being discontinued??
It is love, friends!

Share this post
You might like...
Category: Brilliant, Organizing
2 Comments »
on November 13, 2013 5:52 pm

I am laughing so hard right now! But I do really appreciate your enthusiasm. They definitely make you look super-organized and I am jealous.

---

Marykate

on November 14, 2013 7:24 am

I get it! The same feeling I have when I clean out a closet!

---
Leave Us Some Comment-Love