October 26, 2009
My name is Heidi Farmer and I have a confession to make: sometimes the adorables drive me a little crazy.
Now I'm sure the only one that this happens to.
I'm sure your adorables are cute and perfect and incapable of doing anything that makes you unhappy.
And while mine are cute, they are also raucous, energetic boys and sometimes I would like a wee little break.
I'm sure you cannot to relate to this.
(I apologize for wasting your time.)
Some days Playdough, coloring, and legos will do the trick.
But other days we're waaaaayyyyyy past those and I need to bring out the big guns – something NEW.
I have 3 items here for different ages that just might do the trick.
Giveaway
Three of you lucky readers will each win one item below (I've typed this sentence a million times trying to make it clear: I have 3 things and want 3 people to win.  Caipeche?).  So leave a comment by Friday, October 30th, and tell me how old your adorables are.  As always, I'll use Random.org to generate the winners and ship these little beauties out to you ASAP.
_______________________________________
For the younger set:
This is a great, longtime activity!  Inside are 2 large double-sided scenes to color.  Then you "build" parts of the scene and play with the included toys.  Result = 60 + minutes of hands-off mommy time.
You can find more Crayon Town sets at Amazon; I would certainly take a look at the Zoo Set
, the Construction Set
, and/or the Horse Ranch
.
P.S. You can print Crayon Town Refills with your printer.
_______________________________________
For all (best for 6+):
2) Pocketdoodles for Kids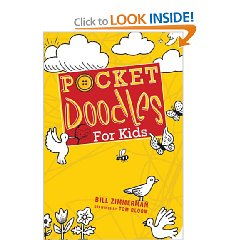 This is a little book (4X6), perfect for airplanes and other travel, is packed with 272 pages of creative exercises.  Provides a scene for the adorables to finish, like "What's inside this cave?" or "An alien has landed. What does it look like?"  The younger adorables will need help with reading, but the elders will have lots of little activities to complete.
_______________________________________
Also best for the 6+ crowd:
3) This is Me Journal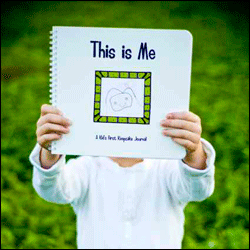 This journal was created by a mom who had fond memories of her own "prompt journal" she completed with her mom as a kid.  When her own daughter was old enough, she couldn't find anything out there, so she developed This Is Me. The journal is comprised of pages to complete such as, "When I grow up", "my favorite things", "my friends", pages for recording holiday celebrations, and then lots of frames to draw little pictures.  It's killer cute folks.  I would have seriously dug this as a girl, but I'm sure boys would love it too.  It's not a boy thing or a girl thing: the elder adorables can make it whatever they want.
Check out www.thisismejournal.com for ordering info.
Remember to leave a comment for the giveaway and Happy Monday to ya!

Share this post
You might like...
Category: Activities
Tags: quiet time activities |
23 Comments »
on October 26, 2009 11:31 am

Those all look great! I'm especially interested in the Crayon Town. I love that they have more templates for you to print vs. buying them!

---

on October 26, 2009 12:51 pm

My adorables are 3, 8, and almost 11! Thanks for the chance!

---

on October 26, 2009 1:20 pm

I would be interested in any of these, as I have five kids ranging in age from 2-13. I love Crayola products.

---

Katie F.

on October 26, 2009 1:39 pm

oh anything would be great for us.

---

on October 26, 2009 2:04 pm

Love the this is me journal – how fun!!!! 8,2,3 for the Corstange Team!

---

on October 26, 2009 4:01 pm

Wow – these are great ideas! My cuties are 3 and 5 (nearly 6). I'm jotting them down as birthday and Christmas gift ideas!

---

on October 26, 2009 7:38 pm

Great giveaway, these products would be a hit with my boys!

---

Sarah

on October 26, 2009 7:50 pm

All look fun! I think the Crayola would give me the most independent play time which is always so valuable:)

---

Sandi

on October 26, 2009 8:36 pm

4, 2 and 10 month. Love the Crayon Time.

---

Noreen

on October 27, 2009 9:23 am

3 1/2 and 7 1/2 – I'm so with you – sometimes you have to bring out the big guns! Thanks for the ideas!

---

Lynsi G

on October 27, 2009 9:28 am

I have two "younger" adorables who are 3.5 and 1. I've never seen the Crayon Town before. I think my son would totally love that.

---

Laura Wolfe

on October 27, 2009 3:25 pm

Brian would love the Crayon Town and I would love to have a break from him! He is 2 and Kate is 3 months:) Keep up the good work!

---

susie

on October 27, 2009 4:27 pm

this is new to me and looks great! its creative yet still includes toys with 4 wheels for my vehicle crazed sons : ) thanks!

---

on October 27, 2009 4:58 pm

Good stuff, Heidi! But, of course, I'm shocked to hear your kids drive you crazy. How is that possible when they're are so cute!? LOL.

Mine are 7 and 4.

You rock!

Melissa

---

on October 27, 2009 6:16 pm

I love your honesty and humor! My boys are 4 and 1 going on 16 and well 1 and 1/2!

---

Julie

on October 27, 2009 8:50 pm

Just one adorable who is 8, about to turn 13 I think. He use to be my mama's boy – but we are going through a rough patch him of wanting LOTS of independence.

---

on October 27, 2009 11:30 pm

Enjoying your site very much! My kiddos are 10 and twins that are 6.

---

on October 28, 2009 12:47 pm

Hi…I'm Kathy and I have THREE stinkin' boys. Ages 15, 7, and 2…and not that anyone cares…but, they all pee on the toilet seats! When will it ever stop??

Nice to meet you!

---

on October 29, 2009 10:15 am

I just found your site and it is great! My kids are 2 & 5.

---

Michelle

on October 29, 2009 2:50 pm

Hi, this is adorable and would make AWESOME christmas gifts!

---

on October 29, 2009 9:37 pm

Pick me!

---

on October 30, 2009 3:40 pm

I have a preschooler and toddler and can always use some quiet time.

---

on October 30, 2009 7:20 pm

Great giveaway. My "adorable" is 1.

---
Leave Us Some Comment-Love