July 17, 2014
written by Cathy Baker, mom of two middle-school girls, living life in the Missouri Ozarks
The last few years I've discovered that spreading Random Acts of Kindness (RAK) is a fun way to spend long travel days. And with all our family over 500 miles away, we are very familiar with long travel days.
This summer road trip will consist of 3600 miles, so I've been doing a little research for some new RAK.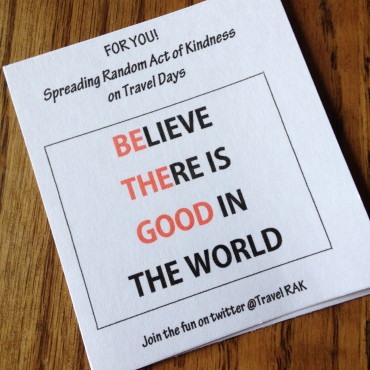 So here is a collection of some of the ideas we've used in the past…
I print up tags (see above photo) and keep a stack in the car, so we can use them when ever we want to do a RAK.
We leave travel-size lotions in rest area bathrooms, and include a few mints with them. (I make sure I buy mints that are totally sealed up!) I put them in clear party-bags and tie up with a bow.
Tape ziplocs with quarters (and note) in them to vending machines.
Put quarters in bubble gum machines for next kiddo.
Leave thank you note/candy/$/lotion for housekeeping when you check out of a hotel
Find gold $1 coins and leave them in random places where people may need an extra $1.
Here are a few of the new ideas I'm adding to my collection of ideas…
Leave a pile of pennies by a fountain with a note about 'wishes'
Write a stack of little 'thank you notes' to give to military personnel you find along the way
Leave a gas card taped to a gas pump
Put bubbles at a rest area picnic table for kids to 'blow' off some energy — I might look for frisbees or small balls too!
Pay toll of the person behind you.
When I asked for ideas from my FB friends, I love the heart behind the beautiful ideas my friend Anne shared. I love how these ideas touch the human soul. These experiences would definitely make your vacation unforgettable! (Thanks for sharing, Anne!)
 Visit a cancer ward and bring flowers, prayers, smiles and hugs.
Or visit a nursing home with children – sure to make people smile.
Give out brand new stuffed animals and toys in inner city schools (summer schools should be in session). I've loved paying it forward when teaching in the city. I promise you those children, whatever you do, will never forget.
How about you? What is your favorite random act of kindness? Try one today!

Share this post
You might like...
Category: Family Trippin', Random and Fun, Travel
Tags: kindness, travel days |
1 Comment »
Anne Schenendorf

on July 17, 2014 2:12 pm

I misty reading this Cathy!!!!! I believe by you doing this we do make the world a better place, people see that good exists and pay it forward! So happy to live in a world where you exist!!!! Xxxooo

---
Leave Us Some Comment-Love