April 22, 2013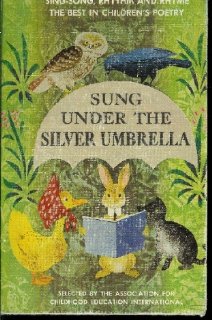 Written by Marykate O'Malley, mother of three wonderfuls, Gladwyne PA
One of my favorite times of the day is when my children are in bed reading, just before sleep. And although my mind will wander to the wash or the dishes that are sometimes still waiting for me in the sink – I work on stay, be here. The reality of my life is that although I love to read, I simply don't have time for it. My time dictates a choice between writing and reading, which is almost like choosing between sunrise and sunset, or Ben & Jerry's and Haagen Dazs, or roses and peonies. It's hard. But in the end, writing wins. And someday, reading my own books will be reintroduced into my life. For now, I am remembering why I loved Laura Ingalls Wilder and when we read poetry together, there is something in it for everyone.
I loved poetry as a child. I found my favorite book for my own children on amazon, an out of print copy of Sung Under the Silver Umbrella. It takes me back to the library at St Margaret's School. I can still remember the exact shelf where it waited for me like a old friend, just behind the librarians desk. My son loves Shel Silverstein and his quirky humorous rhyme. My oldest daughter is reading, Love That Dog, a free verse novel about poems. I love hearing her read it to me, the cadence in her voice and hearing in that voice how she is connecting with the story and character.
And then there are the collections. Julie Andrew's collection is so beautifully illustrated and every poem so well selected. One of my favorites is Poetry Speaks to Children. I love when I can sneak in a Billy Collins or Stopping by Woods on Snowy Evening – "but I have promises to keep, and miles to go before I sleep, and miles to go before I sleep". Being able to read such beauty, and spend quality time with my children at the same time is truly a gift. Another favorite is "The Land of Counterpane" . I read it to my son and think how something written over one hundred years ago is still relevant to a 7 year old boy in today's tech heavy world. That is art and genius. Thank you Mr. Stevenson. Another favorite is Jacqueline Kennedy Onassis collection of her favorite poems and the ones she read with her children. Some are scripture, other classics like the "The Ride of Paul Revere, and then my most beloved, favorite poem and children's story, "A Visit From St. Nicholas". " The moon on the breast of the new fallen snow gave a luster of mid day to objects below". And suddenly, we are children again, truly feeling the magic and believing.
A friend gave my son an old copy of "The Golden Treasury of Poetry" illustrated by Joan Walsh Anglund. There is something about old books that gives them such richness. An old fashioned girl, I just can't seem to embrace kindles and ebooks. I need to feel a book, hold the weight of it, see the marking of a favorite verse, the carelessly turned down corner, a water mark – it all gives it color and depth that an illuminated screen could never give. And then an old book of poems feels like a sage grandparent, passing down the wisdom of the ages.
We just discovered Jack Prelutsky who is whimsical and playful and sends the little ones off to bed with happy silly thoughts. Mary Ann Hoberman, Dr. Seuss, nursery rhymes – poems grow with us and sing the universal themes of childhood and life – David McCord's "every time I climb a tree, where have you been they say to me" and again Robert Louis Stevenson "how do you like to go up in a swing, up in the air so blue". These are as true today, as they were with our parents and grandparents, as they will be with our grandchildren. Children are children are children. The world changes, but they remain unchanged.
Rosemary Wells says it so perfectly, "read to your bunny, and your bunny will read to you". I like to think this has two meanings, one is that they will be better and stronger readers. And then I like to imagine myself, a grandmother, much like my Nana with a plenitude of grandchildren around me, and someone my child, perhaps a grandchild, is sitting beside me holding a worn well loved book, tenderly leaning close and saying "whose woods these are I think I know'.
Share this post
You might like...
Category: Activities, Art, Board Books, Books, Brilliant, Brilliant Authors, For Kids, For Moms, Nonfiction, Picture Books, Random and Fun
5 Comments »
Anne Schenendorf

on April 24, 2013 6:53 am

I love this MaryKate! I often find the babies "retelling" their favorite stories(Little Blue Truck, Trucks by Byron Barton and I'm Fast- see a theme here?). It melts my heart. If you leave out words they finish the sentences. It is timeless. Reading this did take me back to childhood. xo

---

Marykate

on April 24, 2013 7:25 pm

Love Little Blue Truck – so sweet Anne. Love the themes – all boy those two!

---

Joanne Schenendorf

on April 27, 2013 3:50 pm

This made me cry!! You are a beautiful writer. Definitely keep it up! It reminded me of my mother reading poems to me and I told Annie I still have my big fat favorite poetry book from those days. thanks!

---

Marykate

on April 27, 2013 9:09 pm

Thanks Joanne! I love that you still have the book. Now you can read to your bunnies, who will read to you!!! XXOO

---

Heidi Farmer

on April 28, 2013 9:27 pm

Wonderful, wonderful! We have cases and cases of books around here, but I find my guys reaching for the very same books, often my favorites from when I was young.

---
Leave Us Some Comment-Love