June 24, 2013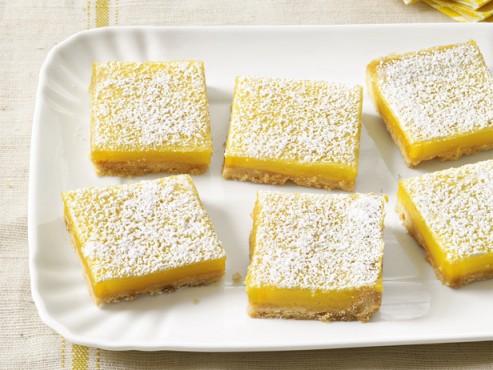 It's summer and I'm all about citrus this time of year.
This is a perennial favorite.
Note the crust is tricky – the butter has to be chilled, but pliable, but not at all runny.  I know – I can't tell you how many times I've had to make the crust twice.
Crust
1 cup (2 sticks) butter
1 cup sifted flour
1/2 cup sifted confectioner's sugar
Topping
4 eggs, slightly beaten
2 cups sugar
zest of 1 lemon
6 1/2 T lemon juice
6 T flour
1/2 tsp baking powder
powdered sugar for dusting
Instructions
1) Preheat oven to 350 degrees.
2) If using food processor, use chilled butter.  If not, use butter at room temperature. Butter can't be drippy or the dough turns to glop.
3) Cut butter into cup of sifted flour and powdered sugar.  When crumbly and well-mixed, press mixture into bottom of 9X13 pan.
4) Bake at 350 degrees for 25 minutes.
5) For topping, combine, eggs, sugar, lemon juice, zest, flour and baking powder.
6) Pour mixture over hot crust, bake for 25 minutes.  Sprinkle with powdered sugar.
7) Chill completely before cutting.
What are your favorite summertime recipes?
Share this post
You might like...
Category: Cookin'
1 Comment »
Anne Schenendorf

on June 25, 2013 6:50 am

These look amazing!!!!! A friend of ours taught us if you take a steak that is any cut, put in a ziplock with BBQ sauce and marinate overnight, it tastes utterly amazing. Let it sit in there for at least an hr if you are in a rush. It will become a seasonal go to. Lemon bars will be added to the list. Thanks!!!!!

---
Leave Us Some Comment-Love