March 4, 2013
I hope you had a great weekend!
Today's recipe is healthy, easy and delicious.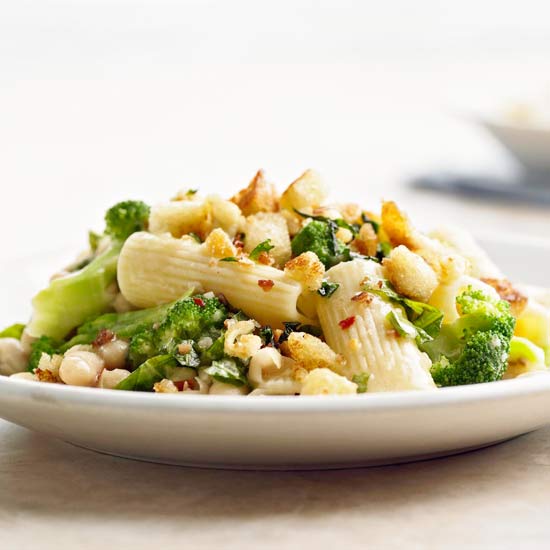 Ingredients
8 ounces dried rigatoni (about 3-1/2 cups)
2 cups fresh broccoli florets
1 19 ounce can cannellini beans, rinsed and drained
2 teaspoons minced garlic
1/4 cup olive oil
1/4 cup snipped fresh basil leaves
2 slices bread, cut in small cubes
1/4 teaspoon crushed red pepper
Snipped fresh basil (optional)
Directions
1. In Dutch oven cook pasta according to package directions, adding broccoli during the last 5 minutes of cooking. Reserve 3/4 cup of the pasta cooking water. Drain pasta and broccoli; return to pan.
2. Meanwhile, in large bowl combine beans, garlic, and 3 Tbsp. of the oil. Mash about 1/2 of the bean mixture. Stir in basil, pasta water, and 1/2 tsp. salt. Stir into pasta and broccoli in Dutch oven. Cover and keep warm.
3. For croutons, in skillet heat remaining oil over medium heat. Add bread cubes and red pepper. Cook and stir 1 to 2 minutes, until crisp. Top pasta with croutons and basil. Makes 4 servings.
Found this recipe at Better Homes and Gardens
Share this post
You might like...
Category: Cookin'
1 Comment »
Marykate

on March 4, 2013 8:53 pm

My kind of recipe – healthy, easy and yummy! Can't wait to try this!

---
Leave Us Some Comment-Love