January 5, 2012
Written by Contributing Writer, Sarah Farthing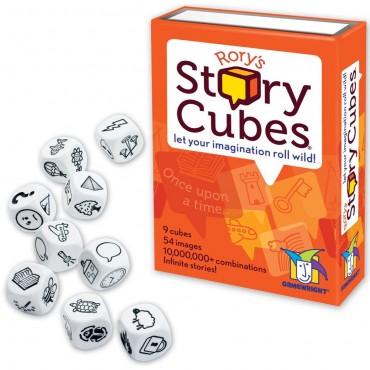 My Aunt and Uncle sent us Rory's Story Cubes this Christmas.  I had never heard of them and let me just tell you how fantastic they are!
The product description explains: "Rory's Story Cubes is a pocket-sized creative story generator, providing hours of imaginative play for all ages. There are infinite ways to play with Rory's Story Cubes – Try them as a party game or ice-breaker, for literacy development, speaking and listening skills, creative inspiration, a mental workout or problem solving. Anyone can become a great storyteller and there are no wrong answers. Simply roll the cubes and let the pictures spark your imagination."
I have my 4 year olds roll the dice (9 in total) and use the pictures in any order to generate a story.  They learned in about two days how to form their story with a beginning, middle and an end.  We talked about plot, characters, themes, etc…   This has been a wonderful tool for their imaginations!
Every time we get them out (which they suggest often), I think of new uses that would be just right for Story Cubes.  The Story Cubes fit in my purse and would be perfect to pull out at a restaurant while we wait for our food.  These would be perfect in a classroom for all ages- they could help spur and develop creative writing in high school students and first graders alike.  Can you imagine being able to answer "Get the Story Cubes!"  every time you hear "I can't think of anything to write!!"
These were such a fun, unique gift and have quickly become an important tool for me as much as a fun game for our whole family.
Share this post
You might like...
Category: Activities, Toys and Gift Ideas
5 Comments »
charlotte wandell

on January 5, 2012 8:59 am

This is great fun to visit…good for you…coming up with something foo helpful to many!!! Fun to see you and those sweet boys….

---

Yaya Kelley

on January 5, 2012 9:42 am

Just ordered a set! Thanks for the wonderful tip.

---

on January 5, 2012 9:46 am

Looks like a good thing to keep in the car.

---

on January 5, 2012 8:04 pm

I may be picking this one up! Another great, portable, not too noisy game is Scrabble Flash. My son received it as a Christmas gift, and I love it, too! Only 5 parts, plus the case, so it will be added to our packing list for camping trips.

---

Megan

on January 31, 2012 11:21 pm

Just bought this too because of your post! My boys loved it! Thanks!

---
Leave Us Some Comment-Love