March 28, 2012
Written by Contributing Writer, Sarah Farthing.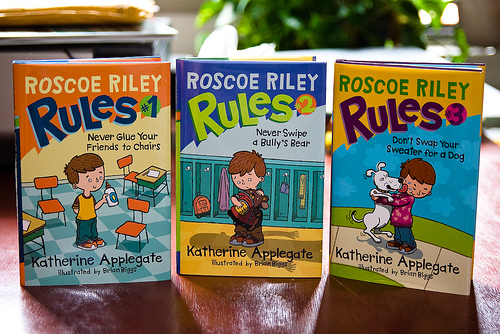 These short chapter books by Katherine Applegate are fantastic! I had a hard time finding chapter books that are engaging and appropriate to read to my sons that just turned 5 and the Roscoe Riley Rules series was exactly what I was looking for. There are 7 in the series so far and we really, really, really hope there will be many more!
The stories are compelling and endearing but that's not the only thing we found we love about these books. One day I picked up the audio recording when the next paperback in the series wasn't currently available at our library and we were absolutely blown away by the performance of young Jared Goldsmith, who narrates Roscoe Riley Rules on tape. We ended up going back for the rest of the series on tape.  This young actor is incredible and you need to hear him for yourself to see what I mean!
If you are in the car a lot with your kids, have a trip coming up for spring break or just want to spice up reading time at home… try these books and definitely try the audio version of one or all of them!

Share this post
You might like...
Category: Books, Brilliant Authors
3 Comments »
on March 28, 2012 9:26 am

Thanks for this! We're always looking for great books for boys. Currently we're making our way through the Mercy Watson series, illustrated by our favorite, Chris VanDusen. They are VERY fun and his illustrations make the books!

---

nancy

on April 11, 2012 11:39 am

Thanks so much for the rave reviews! Jared looooves audio recording work!
Sincerely, Nancy (Jared's mom)

---

keely

on December 6, 2012 1:24 am

We love the audio recording as well and I have been searching all over to buy the CD's, but all I can find is "downloadable" versions. Could you offer any help on where to purchase the actual CD's? Thanks!

---
Leave Us Some Comment-Love