February 29, 2012
Written by Contributing Writer, Sarah Farthing.
I found this license plate map at Hobby Lobby one day at 50% off and I knew my son Ian would just love to have it in his room. He loves all things vehicle related. In all seriousness, he has an oil filter on display in there. He is that into cars!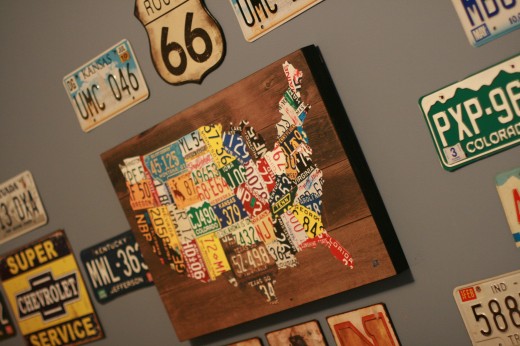 On a separate occasion months later I came across this little side table with top to bottom drawers.  It is covered in a faded, retro license plate fabric and it's the perfect size for the wall space between the bedroom door and closet door in Ian's room. I couldn't resist!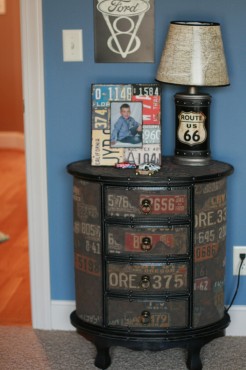 The same day all the metal signs in Hobby Lobby were on sale so I picked up all the car signs with appealing colors that I could find.  I also found this adorable license plate picture frame and a Route 66 lamp that was just the right size.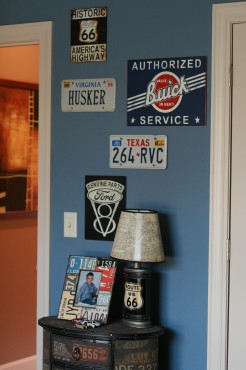 I remembered a collection of old license plates that hung in my parents' basement and had my mom send them to me while I put out a call for states we didn't have on facebook.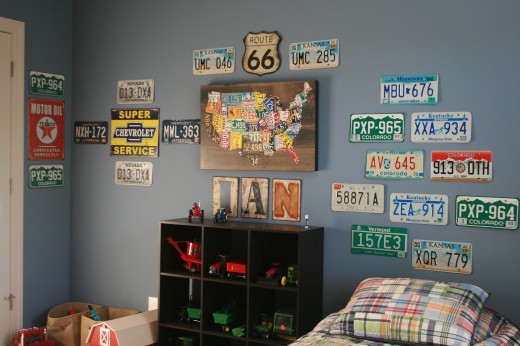 The result is Ian's new 'Route 66 Room,' as we're calling it.
So far we have plates from Texas, Virginia, Colorado, Nevada, Kentucky, Kansas, Minnesota, Vermont, Indiana, Hawaii and Missouri.   It will be fun to add plates to the wall as we find them  or receive them from different people.  If you have any plates to send, let me know! 😉

Share this post
You might like...
Category: For Kids, Kid Bedrooms
8 Comments »
Heidi Farmer

on February 29, 2012 9:07 am

There are no words for how much I love this room: the wall color, the patriotism, the color. You had me at hello with that License Plate US map!

---

on February 29, 2012 9:56 am

Really nicely done.

---

on February 29, 2012 9:58 am

So fun. The side table is awesome!

---

on February 29, 2012 11:01 am

Thank you! It was so fun to put together and I just can't tell you how much he loves it.

---

Danielle

on February 29, 2012 11:05 am

I need to check out Hobby Lobby more often. I never realized how much cool stuff they have. Love the room!

---

Jules Greenaway

on February 29, 2012 12:45 pm

I love, love, love this idea!!!! I adore the map!!!! My son is so into "Cars", he'd probably love this… And if he didn't, he'd learn to love it!!!! Hee Hee!!!!

---

Mary C.

on February 29, 2012 12:58 pm

Checking on Florida for you. Will let you know.

---

Mandy

on January 3, 2014 12:56 pm

please..please…tell me where you got that nightstand. I need one!!!

---
Leave Us Some Comment-Love