January 17, 2012
Written by Contributing Writer, Sarah Farthing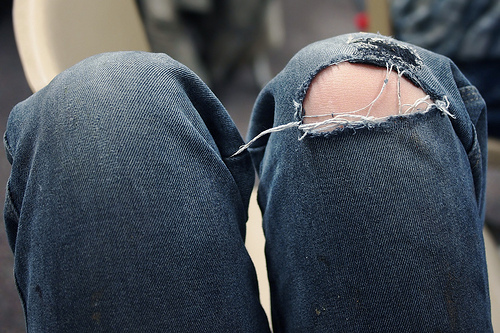 I recently swore off Old Navy jeans for my boys after we had no less than four pairs develop full on knee holes after less than a month of wear.  It seems like the bigger the size, the thinner the fabric gets.
I was so frustrated that I went back to basics and turned to good-old fashioned Levi's.  We love them and my goodness they must have 10 times the fabric of those Old Navy jeans, they are so sturdy.
It was not until after we were all stocked up on Levi's from Kohls that someone told me about the Sears Kidvantage Club, where they will replace *for free* any kids clothes that wear out before your child outgrows them!  We are absolutely getting on board with this!

Here are the details from their website:
Join the club that saves you money on kids' clothing & shoes only at Sears:

Moms, dads, grandparents, aunts, uncles—anyone can save 15%! Just give your name, phone number and email address to the sales associate at the register in any full-line Sears store. No forms to fill out, no cards to carry.
Every time you purchase clothes or shoes for infants through tweens, we'll add the total amount to your KidVantage Club account. You'll get a coupon good for 15% off your next kids' clothing or shoe purchase each time your account reaches $100. Plus, you'll get special offers and news by email throughout the year.
It's easy to earn 15% savings
Shop for kids' clothes & shoes at Sears. Every kids' clothing & shoe purchase is added to your account instantly and printed on your receipt.
We track your balance automatically, so you don't have to.
Keep receipts that have 15% off coupons. Every time your account reaches $100, your receipt will include a coupon for 15% savings on your next kids' clothing or shoe purchase.
There's no limit to the savings you can earn with KidVantage Club!
WEAR-OUT GUARANTEE
You want the kids' clothes and shoes you buy to last—especially in today's economy. That's why KidVantage Club members get this great guarantee: if the kids' clothes or shoes you buy at Sears wear out before they're outgrown, we'll replace them for free. You'll get an identical item, whenever possible, or a similar item of equal value in the same size. Please note that you must present your receipt to replace worn-out national brand clothing and shoes.
Sign me up!
Share this post
You might like...
3 Comments »
Danielle

on January 17, 2012 2:18 pm

I actually signed up for this a few months ago. When I was checking out, the cashier asked me if I wanted to join and since it was no hassle, I did. Haven't had to use the worn-out guarantee, but it's good to know it's there if need be. But you do have to save the receipt (as it says), which I do anyway for any of the kids clothing because sometimes issues occur with any brand, any store. This is definitely good for older kids. Obviously for my baby, she outgrows everything too quickly anyway Thanks for sharing this. It's nice when a store works to help parents out.

---

Amanda

on April 27, 2012 8:14 am

I have used the Kid Vantage program for a few years now. I am a mother of 3 boys and we mainly use it with the shoes we purchase. We love it so much that we refuse to buy shoes for the kids anywhere else. That being said, I was just informed that Sears is going to be discontinuing the Kid Vantage program. The last time we were in the cashier told us there would be changes within the next couple months, but a friend of mine was just their last night and they said the changes will be the cancelling of the program as of June 1st.

---

bert

on March 19, 2014 5:03 pm

The KidVantage Club Program was terminated on July 14, 2012.

The KidVantage Wear-Out Guarantee tied to the former KidVantage Club Program was eliminated for any purchases made June 1, 2012 or thereafter. Sears will continue to honor the guarantee for eligible purchases made prior to June 1, 2012 with proof of purchase and in accordance with the terms and conditions of the original program. The terms and conditions of the original program applied only to purchases made and picked up at Sears stores in the United States and to sizes infant to children's 20 for clothes and children's shoes girls to size 4 and boys' to size 6. The program required that the replaced item be in the exact same size of the worn-out item being returned. The original program excluded stain damaged clothing.

---
Leave Us Some Comment-Love