May 6, 2013

Written by Marykate O'Malley, mother of three hungry children, Gladwyne, PA
Some women seem to exude loveliness. Their homes are warm and inviting, their recipes and dishes – superb. They make you feel welcome and relaxed whether it is a scheduled visit or you are popping by on your way to somewhere else. That is my friend Anita. She always has a simple display of fresh flowers on her kitchen island, along with something delicious she whips up at a moments notice. And she is one of the nicest people you will ever meet. And funny. And kind. And I miss her. When we were staying with her this past summer she made the following recipe for a barbecue with our friends. Because everything Anita does is always perfection, I was taking copious mental notes.
She sent her husband John to Balducci's and gave him a list that included 2 baguettes (you only need one – this was for about 4 families), cherry tomatoes and ricotta. The rest you will have already – olive oil, salt, pepper, honey. Not your spouse or children honey, the bee variety.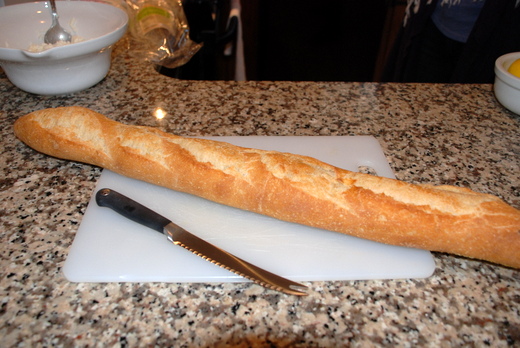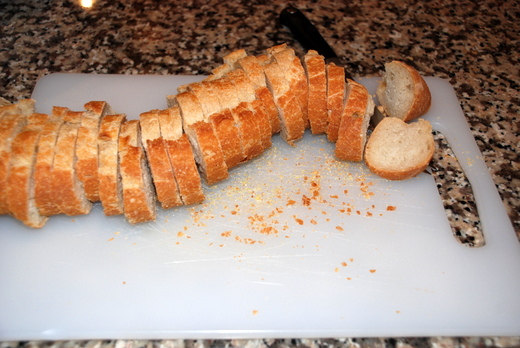 And this is what she did –
pre heat the oven to 400
slice the baguettes
mix in a bowl the olive oil with a pinch of kosher salt
Slice the baguette and brush with olive oil with salt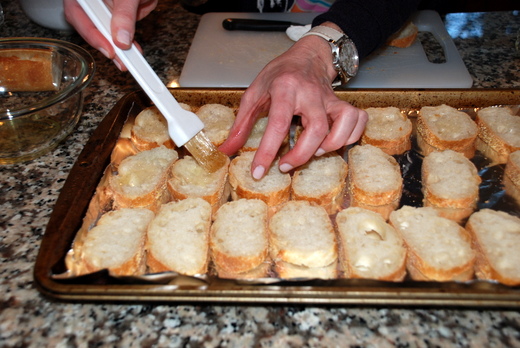 bake for about 10  -12 minutes or until golden and crispy
In the meantime mix the ricotta with a little salt. I warm it in the microwave so it isn't cold. When the baguettes are done add dollops of the ricotta to the slices, drizzle with honey.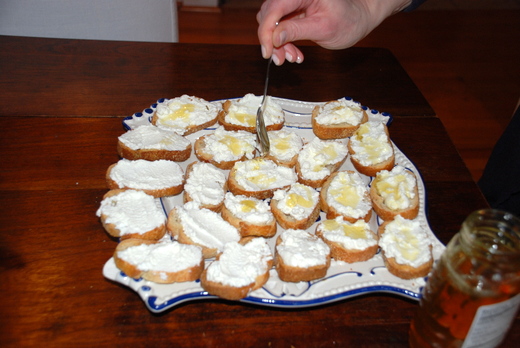 Bon Appetit!
The tomatoes can be roasted with olive oil, salt and pepper on about 400 until they start to pop. Don't forget to add tin foil to the pan to save yourself a messy clean up! I serve them on the side, they can be a topping for the baguette / ricotta.
Another nice addition is slices of fig on top of the ricotta and honey.
Simple, easy, delicious – thank you Anita! As a side note, I made this when Team Farmer was visiting. As I was putting it together Heidi whipped out her camera and started snapping away! Talk about multi tasking – we covered about 4 posts in that weekend – one more to come!
And completely random but I have a new found love of honey – on apples slices, and cheese, on pears. Delicious. Okay, I am done. Make this. You will not regret it.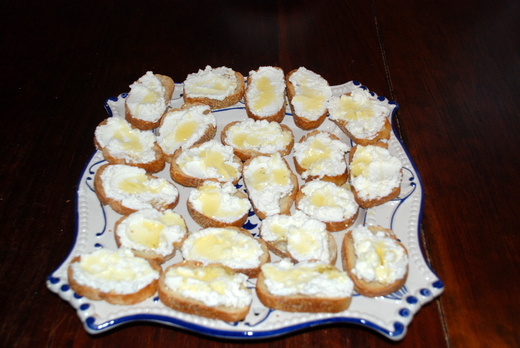 Share this post
You might like...
Category: Brilliant, Cookin', For Moms, For The Home, Girl Time, Kitchen, Kitchen Gadgets, Kitchen Pantry, Momzone, Random and Fun
4 Comments »
Heidi Farmer

on May 6, 2013 8:32 pm

I concur – these were delightful and VERY hard to resist!!

---

Anne Schenendorf

on May 7, 2013 6:40 am

These look so yummy!!! A great Mother's Day treat…

---

Rachel McGinn

on May 7, 2013 7:22 am

Would this Anita happen to be from Old Greenwich?? I feel the same way about her sister! xx

---

Marykate

on May 7, 2013 8:00 am

Rachel – yes!! XXOO

---
Leave Us Some Comment-Love